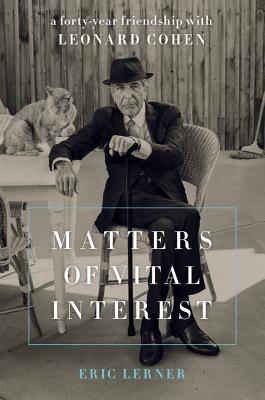 Matters of Vital Interest (Hardcover)
A Forty-Year Friendship with Leonard Cohen
Da Capo Press, 9780306902703, 304pp.
Publication Date: October 16, 2018
Other Editions of This Title:
Digital Audiobook (10/15/2018)
Compact Disc (10/16/2018)
Compact Disc (10/16/2018)
* Individual store prices may vary.
Description
A memoir of the author's decades-long friendship and spiritual journey with the late singer, songwriter, novelist, and poet Leonard Cohen

Leonard Cohen passed away in late 2016, leaving behind many who cared for and admired him, but perhaps few knew him better than longtime friend Eric Lerner. Lerner, a screenwriter and novelist, first met Cohen at a Zen retreat forty years earlier. Their friendship helped guide each other through life's myriad obstacles, a journey told from a new perspective for the first time.

Funny, revealing, self-aware, and deeply moving, Matters of Vital Interest is an insightful memoir about Lerner's relationship with his friend, whose idiosyncratic style and dignified life was deeply informed by his spiritual practices. Lerner invites readers to step into the room with them and listen in on a lifetime's ongoing dialogue, considerations of matters of vital interest, spiritual, mundane, and profane. In telling their story, Lerner depicts Leonard Cohen as a captivating persona, the likes of which we may never see again.

About the Author
Over a long career Eric Lerner has written a memoir of his early adventures in Buddhism; edited the off-the-wall journal Zero; was credited as writer and producer on the movies Bird on a Wire, Augustus, and Kiss the Sky; and has written several novels, including Pinkerton's Secret: The Original Manuscript.

Praise For Matters of Vital Interest: A Forty-Year Friendship with Leonard Cohen…
"Matters of Vital Interest is a portrait of a
decades-long friendship, and the vision of Leonard Cohen that emerges from it
is much like the persona he invents in his songs--seductive, knowing,
hyper-articulate, not always likable but always fascinating. More than a foil,
Lerner is the singer's partner in crime, spiritual questing, and, until Leonard
Cohen's death, sheer survival. They are brothers, and this is their story, told
from the heart."--Anthony DeCurtis, author of Lou Reed: A Life

"A remarkably intimate and insightful portrait of one of the
world's greatest songwriters--but more than that, a genuine and moving chronicle
of friendship, spiritual aspiration, aging, and love."--Alan Light, author of The
Holy or the Broken: Leonard Cohen, Jeff Buckley, and the Unlikely Ascent of "Hallelujah"

"An affectionate, closely observed memoir.... A sensitive portrait of a sly, charming, complicated man."—Kirkus Reviews

"Lerner's tender, moving memoir reveals Cohen as a devoted friend and father, a side of him not often seen in public."—Publishers Weekly

"This engaging memoir and chronicle of a long friendship offers generous glimpses of the private life of Cohen...fans will devour this book, hoping to find clues about the man behind the legend."—Library Journal

"An entertaining memoir...[and] a poignant account of a friendship and the last days of a remarkable life."—Booklist

"A remarkable for its gritty depiction of both Cohen the hustling, sly, broken survivalist, and Cohen the tender, present, and devoted father."—Tricycle

"[Matters of Vital Interest] is wonderful...There is a lot of beauty in this book, the beauty that exists between two old friends who love and understand one another."—New York Journal of Books

"An amusing yet endearing account...Matters of Vital Interest lifts the veil on an intensely personal artist whose life was refracted-not necessarily mirrored-in his work."—Shepherd Express

"A sensitive, compelling look at how a friendship grows and survives."—Ink19