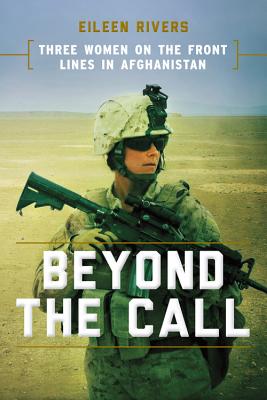 Beyond the Call (Hardcover)
Three Women on the Front Lines in Afghanistan
Da Capo Press, 9780306903076, 288pp.
Publication Date: November 6, 2018
Other Editions of This Title:
Digital Audiobook (11/5/2018)
* Individual store prices may vary.
Description
A riveting account of three women who fought shoulder-to-shoulder with men and worked with local women to restore their lives and push back the Taliban

They marched under the heat with 40-pound rucksacks on their backs. They fired weapons out of the windows of military vehicles, defending their units in deadly battles. And they did things that their male counterparts could never do--gather intelligence on the Taliban from the women of Afghanistan. As females they could circumvent Muslim traditions and cultivate relationships with Afghan women who were bound by tradition not to speak with American military men. And their work in local villages helped empower Afghan women, providing them with the education and financial tools necessary to rebuild their nation--and the courage to push back against the insurgency that wanted to destroy it. For the women warriors of the military's Female Engagement Teams (FET) it was dangerous, courageous, and sometimes heartbreaking work.

Beyond the Call follows the groundbreaking journeys of three women as they first fight military brass and culture and then enemy fire and tradition. And like the men with whom they served, their battles were not over when they returned home.
About the Author
Eileen Rivers is a USA Today editor and editorial board member. Formerly with the Washington Post, she has been writing and reporting on veteran affairs for more than fifteen years and has produced several multi-media online interactives covering the wars in Iraq and Afghanistan. A veteran of the US Army, she served in Kuwait following Desert Storm where she was sent into the former combat zone as an Arabic linguist, collecting and translating information from enemy targets. Rivers lives in Laurel, Maryland.
Praise For Beyond the Call: Three Women on the Front Lines in Afghanistan…
"A riveting story about three remarkable women soldiers and the incredible impact their service as a Female Engagement Team (FET) had on the war efforts in Afghanistan. They were able to win the trust of Afghan women and children, restoring faith in the future and improving quality of life...all this while still doing the heavy lifting required of a United States soldier in combat."--General Ann Dunwoody (U.S. Army, Ret.), author of A Higher Standard


"A compelling story, too long untold. Eileen Rivers reveals the power of women--of women in the U.S. military in Afghanistan, playing a crucial role in intelligence gathering that was impossible for their male counterparts. And the power of the Afghan women with whom they forged a bond. For the Afghan women, the war isn't over, of course. And the American women faced battles of their own when they got home. If you start reading Eileen Rivers's book, you won't be able to stop. Some of it will make you angry. Much of it will make you proud."--Susan Page, Washington Bureau Chief, USA TODAY


"Today, women are on the front lines of our nation's wars all over the globe. Yet little has been written about them or the struggles they endure--both on and off the battlefield. Until now. Eileen Rivers's account of three women who served in Afghanistan is both a gripping narrative and a sharp analysis of a historic cultural shift in our nation's military. We owe it to the men and women who serve in our armed forces to understand this pressing issue. This book is a great place to start."--Jim Michaels, author of A Chance in Hell: The Men Who Triumphed Over Iraq's Deadliest City and Turned the Tide of War


"[The] story of the fight for women's rights in a country where the male power structure opposes them...Compelling. The author's own military experience gives the book a perspective that is especially useful. A solid, fact-filled look at an underreported piece of the American military."—Kirkus Reviews

"As an intimate primer on the FET program, Rivers' account, which includes a historical overview of American women in combat, is of clear interest."
—Booklist

"Beyond the Call...makes an important contribution to understanding the evolving role of women in service to their country. [Rivers] ably documents how females in arms, who represent 16 percent of America's military, make their nation stronger."—USA Today

"Author Eileen Rivers, besides being an Army veteran herself, is now a USA Today editor and has been reporting on veteran affairs for 15 years, so it is evident that she knows whereof she speaks."
—New York Journal of Books

"Will please both casual readers and those seeking a deeper understanding of American efforts in Central Asia...[Rivers] maintains tension and interest in the women's stories without relying too heavily on descriptions of combat, wartime atrocities or battlefield trauma...Beyond the Call deserves a place on military professional reading lists."—Military Times

"These untold stories detail accounts of the fight for gender equality within the American military and within Afghanistan, shedding light on the relationships and experiences that shaped the war effort. As a veteran herself, the author weaves in her own experiences, which add useful insight to the narrative...Well worth a read. Recommended to those with an interest in the war in Afghanistan, military history, women's history, gender studies, and biography."—Library Journal