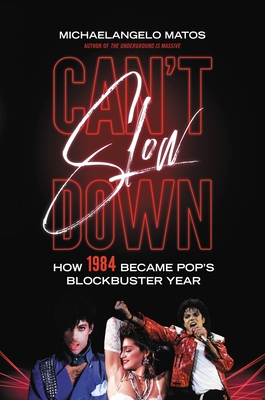 Can't Slow Down
How 1984 Became Pop's Blockbuster Year
Hardcover

* Individual store prices may vary.
Other Editions of This Title:
Digital Audiobook (12/7/2020)
Paperback (12/31/2050)
Description
A Rolling Stone-Kirkus Best Music Book of 2020

The definitive account of pop music in the mid-eighties, from Prince and Madonna to the underground hip-hop, indie rock, and club scenes Everybody knows the hits of 1984 - pop music's greatest year. From "Thriller" to "Purple Rain," "Hello" to "Against All Odds," "What's Love Got to Do with It" to "Wake Me Up Before You Go-Go," these iconic songs continue to dominate advertising, karaoke nights, and the soundtracks for film classics (Boogie Nights) and TV hits (Stranger Things). But the story of that thrilling, turbulent time, an era when Top 40 radio was both the leading edge of popular culture and a moral battleground, has never been told with the full detail it deserves - until now. Can't Slow Down is the definitive portrait of the exploding world of mid-eighties pop and the time it defined, from Cold War anxiety to the home-computer revolution. Big acts like Michael Jackson (Thriller), Prince (Purple Rain), Madonna (Like a Virgin), Bruce Springsteen (Born in the U.S.A.), and George Michael (Wham!'s Make It Big) rubbed shoulders with the stars of the fermenting scenes of hip-hop, indie rock, and club music. Rigorously researched, mapping the entire terrain of American pop, with crucial side trips to the UK and Jamaica, from the biz to the stars to the upstarts and beyond, Can't Slow Down is a vivid journey to the very moment when pop was remaking itself, and the culture at large - one hit at a time. 
Praise For Can't Slow Down: How 1984 Became Pop's Blockbuster Year…
A Rolling Stone-Kirkus Best Music Book of 2020

Pitchfork, Best Music Books of 2020

Variety, Best Music Books of 2020

Amazon, Best Books of December 2020 (Biographies & Memoir)

Chicago Review of Books, "10 Must Read Books of December (2020)"

Inside Hook, "9 Books You Should Be Reading This December"

Boston Globe, "Fall Music Books Roundup"

Forbes, "2020 Music Book Roundup"

"Imagine a time when people bought millions of CDs, pop musicians had the larger-than-life allure of movie stars, and nearly every genre, from Top 40 to hip-hop to indie, was thriving. That year was 1984, and Michaelangelo Matos' rollicking and deeply researched Can't Slow Down hurls you back to a time when pop music wasn't just thriving; it welcomed anyone and everyone to revel in its crossover dreams."—David Browne, author of Fire and Rain: The Beatles, Simon& Garfunkel, James Taylor, CSNY and the Lost Story of 1970

"Can't Slow Down reads like a "We Are the World"-style celebrity mega-single in book form. It is a delightfully jam-packed group bio that brings together characters from Morrissey to Cyndi Lauper, Michael Jackson to Sade. All jostle for their star turns in this ingeniously structured account of pop music's watershed year. Wearing a massive amount of research lightly and displaying his gift for both the industry "big picture" and the (at times hilarious) artist thumbnail sketch, Matos proves himself to be among the most entertaining and erudite chroniclers of contemporary American popular music."—Emily J. Lordi, author of The Meaning of Soul

"Through rigorous research and engaging storytelling, Michaelangelo Matos offers a comprehensive look at a breakthrough year in pop music. By giving equal weight to major and lesser-known cultural signposts, Can't Slow Down is an insightful read for even the staunchest music fan."—Marcus J. Moore, author of The Butterfly Effect: How Kendrick LamarIgnited the Soul of Black America

"At last-the whole glorious saga of the 1984 pop explosion. Can't Slow Down has the full untold story of how rockers and rappers and dance-floor rebels came together to invent the future, changing how music has sounded ever since. Michaelangelo Matos tells this epic tale in all its detail-it's a definitive scholarly history, but he also turns it into a thriller and a love story, with an infectious joy that practically dances off the page. A pure delight."—Rob Sheffield, author of Dreaming theBeatles

"[A] savvy, effervescent, and definitive document of a pivotal time in pop."—Kirkus Reviews

"Pop fans with an appetite for nostalgia will find much to like."—Library Journal

"Drawn from a wealth of archival material, including oral history transcripts, books, and magazines, Matos' in-depth look encompasses that landmark year's hits, stars, and trends and the cultural, social, and financial conditions that helped change the face of popular music. This robust volume provides an abundance of material here for music fans, especially those fascinated by 1980s pop culture, to savor."—Booklist

"[A] carefully researched and remarkably ambitious work that immediately takes a place on the shelf of indispensable books about music in the 1980s."  —Slate

"[A] warm trip down musical memory lane." —Houston Press

"The book feels like an ensemble television show, prioritizing shifting perspectives over a tightly-organized narrative. It's informative, entertaining, and fully immersive."—Pitchfork

"Informed and witty... [with] volumes of information and perspectives even for those of us who were there."—Variety

"Compared to other music periods, the 1980s have been short-shrifted when it comes to critical studies. But with Matos' book... that period's exciting music and times have been now depicted in an important and accurate historical light."—Forbes

"[This book is] suffused with such entertaining and illuminating vignettes, and unlike a lot of music books, it doesn't trade gossip or legends... it sets an awfully high bar for future books on '80s music that will hopefully follow."—Washington Examiner

"Phenomenal... [and] detail-rich."—Mother Jones

"[The] definitive account of pop music in the mid-1980s."—The HYPE Magazine

"Music fans who miss, or missed, the long party that was mainstream music in the mid-'80s will be skillfully taken back to fast times."—Arts Fuse

"A phenomenal piece of research."—And It Don't Stop
Hachette Books, 9780306903373, 480pp.
Publication Date: December 8, 2020
About the Author
MICHAELANGELO MATOS is the author of The Underground Is Massive: How Electronic Dance Music Conquered America (Dey Street, 2015) and Sign 'O' the Times (Bloomsbury, 2004). He contributes regularly to Mix-mag and the New Yorker and lives in St. Paul, Minnesota.