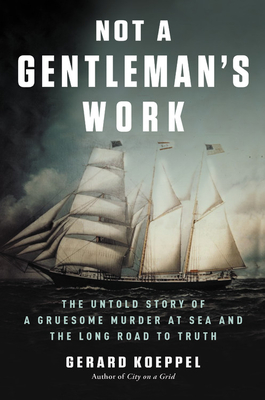 Not a Gentleman's Work
The Untold Story of a Gruesome Murder at Sea and the Long Road to Truth
Hardcover

* Individual store prices may vary.
Other Editions of This Title:
Digital Audiobook (6/15/2020)
Compact Disc (6/16/2020)
Description
The true story of the most notorious crime in American nautical history -- a uniquely grotesque triple murder -- and the long journey to truth.
The Herbert Fuller, a three-masted sailing ship loaded with New England lumber, left Boston bound for Buenos Aires on July 8, 1896 with twelve people on board: captain and owner Charles Nash, his wife and childhood sweetheart Laura, two mates, the "mulatto" steward, six crewmen, and one passenger. Just before 2 A.M. on the sixth day at sea, the captain, his wife, and the second mate were slaughtered in their individual bunkrooms with the ship's axe, seven or eight blows apiece. Laura Nash was found with her thin nightgown pushed above her hips, her head and upper body smashed and deformed. Incredibly, no one saw or heard the killings . . . except the killer.
After a harrowing voyage back to port for the survivors, the killer among them, it didn't take long for Boston's legal system to convict the first mate, a naturalized American of mixed blood from St. Kitts. But another man on board, a twenty-year-old Harvard passenger from a proper family, had his own dark secrets. Who was the real killer, and what became of these two men?
Not a Gentleman's Work is the story of the fates of two vastly different men whose lives intersected briefly on one horrific voyage at sea -- a story that reverberates with universal themes: inescapable terror, coerced confession, capital punishment, justice obscured by privilege, perseverance, redemption, and death by tortured soul.
Praise For Not a Gentleman's Work: The Untold Story of a Gruesome Murder at Sea and the Long Road to Truth…
"Not a Gentleman's Work takes readers on several gripping journeys: a high-seas crime scene and a powerful courtroom drama. But it doesn't stop there. Gerard Koeppel peers deeply into issues of race, class and money that were as relevant then as they are now."—Brian Murphy, author of Adrift: A True Story of Tragedy on the Icy Atlantic and the One Who Lived to Tell about It

"A gruesome triple axe-murder on the North Atlantic waves with no motive and multiple suspects. It's a tale Agatha Christie would have been proud to write--only this dark whodunit is true. With the historian's eye for detail and the novelist's flare for story, Gerard Koeppel brings to life the bizarre happenings on board the Herbert Fuller and illuminates a puzzling mystery that still endures. A bloody and worthwhile addition to any true crime library."—Simon Read, award winning journalist and author of Winston Churchill Reporting and The Human Game

"It starts with the 1896 axe murders of a ship captain, his wife, and second-mate. Afterwards, the truth is splintered, justice is twisted, and strong opinions fracture the case into a thousand pieces. One hundred and twenty-four years later, author Gerard Koeppel found those pieces and put them back together. His own experience as a sailor, his impeccable research, and detective-like deductions eliminate suspects and lead the reader to the person responsible. To this day, we have no way of knowing if the author is right; but it's impossible to say he is wrong."—Jason Lucky Morrow, award-winning journalist and author who writes vintage true crime stories for his blog, HistoricalCrimeDetective.com

"An epic who dunnit...True crime at its best."—New York Journal of Books

"This captivating and thorough true crime work reads like a suspenseful novel."—Booklist

"Stupendous."—Kirkus Reviews
Hachette Books, 9780306903380, 240pp.
Publication Date: June 16, 2020
About the Author
Gerard Koeppel is the author of Water for Gotham, Bond of Union, and City on a Grid. He has contributed to numerous other books, including the Encyclopedia of New York City, of which he was an associate editor. He was an editor for many years at CBS News. He lives in New York City.
or
Not Currently Available for Direct Purchase