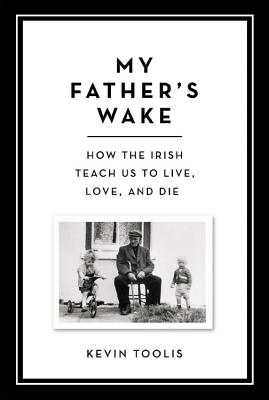 My Father's Wake (Hardcover)
How the Irish Teach Us to Live, Love, and Die
Da Capo Press, 9780306921469, 288pp.
Publication Date: February 27, 2018
Other Editions of This Title:
Digital Audiobook (2/26/2018)
Compact Disc (2/27/2018)
Compact Disc (2/27/2018)
* Individual store prices may vary.
Description
An intimate, lyrical look at the ancient rite of the Irish wake--and the Irish way of overcoming our fear of death

Death is a whisper for most of us. Instinctively we feel we should dim the lights, pull the curtains, and speak softly. But on a remote island off the coast of Ireland's County Mayo, death has a louder voice.

Each day, along with reports of incoming Atlantic storms, the local radio runs a daily roll call of the recently departed. The islanders go in great numbers, young and old alike, to be with their dead. They keep vigil with the corpse and the bereaved company through the long hours of the night. They dig the grave with their own hands and carry the coffin on their own shoulders. The islanders cherish the dead--and amid the sorrow, they celebrate life, too.

In My Father's Wake, acclaimed author and award-winning filmmaker Kevin Toolis unforgettably describes his own father's wake and explores the wider history and significance of this ancient and eternal Irish ritual. Perhaps we, too, can all find a better way to deal with our mortality -- by living and loving as the Irish do.
About the Author
Kevin Toolis is a writer and BAFTA-winning filmmaker. The author of a celebrated chronicle of Ireland's Troubles, Rebel Hearts: Journeys within the IRA's Soul, he has written for the New York Times Magazine and the Guardian and reported on conflicts around the world. His family has lived in the same village on an island off the coast of County Mayo for the last two hundred years. Toolis makes his home on the island and in London.
Praise For My Father's Wake: How the Irish Teach Us to Live, Love, and Die…
"The windswept Irish island of
My
Father's Wake
is one of the final remote outposts of true death engagement
in the Western world. Toolis's book is both memoir and anthropology, and serves
as a refreshing counterpoint to the industrialized, for-profit death industry
we've come to wrongly believe is our only option."--Caitlin Doughty, author of
the
New York Times
bestsellers
Smoke Gets in Your Eyes
and
From Here to Eternity

"As a boy, he learned to kiss the corpse at a traditional island wake. As a filmmaker and witness to death in many conflict zones around the world, Kevin Toolis has written a profound book on the culture of grief and death, placing the personal alongside the political in a vivid exploration of our ancient ways of coming together around the dead. This is a moving family story, a memoir of loss and exile, a deep understanding of what makes us alive, casting a cold eye on what is precious and so often denied."--
Hugo Hamilton
"The 'Western Death Machine' has hidden the dead and dying, but in a remote island off the west coast of Ireland, an almost Homeric society clings to the old ways. The dying are treasured and tenderly watched over, the dead are honored with the ancient rites and rituals. Contemporary western ideas about death are dominated by individualism;
My Father's Wake
is a lyrical description of how community and tradition help us deal with our mortality."--
Seamus O'Mahony
, author of
The Way We Die Now

"A heartwarming and very personal account of a life well-lived."
--Irish Times
"A long meditation on death, dying, and our attitudes to mortality--our own and others'.... Toolis posits an acceptance of the inevitable which, while it does not banish the pain of grief, invests it with a resignation and a grace that is, in essence, healing and somehow life-affirming."--
The Guardian
"A gut-wrenching exploration of death from an Irish perspective...A fascinating view of what most of us try not to consider: the end of life...This book is not for the faint of heart, as the experiences [Toolis] shares will leave readers emotionally raw. It is unquestionably rewarding, however, a thought-provoking argument against a sterile and industrial view of death...Intimate, eye-opening."—
Kirkus (starred review)
"[A] poetically written and heartfelt memoir."
—
Irish Voice
"An exceptionally personal and moving story."—
BookPage
"In this stimulating and poignant narrative, Kevin Toolis armed with his Irish heritage gives a heart wrenching description of the death and wake of his father as he delves into the broader history, rituals, and meaning of the Irish wake...With an inspiring and refreshing message at its core,
My Father's Wake
rejoices in the spiritual depth of the Irish views on mortality."—
New York Journal of Books
"A book especially for St. Patrick's Day, to be sure, but filled with powerful advice for every day."
—
WTBF Radio
"Visceral and profound."
—
New York Times Book Review
"Read Kevin's book for a peek into the rites and rituals of an ancient past. My Father's Wake teaches us that death does not need to be reinvented, we don't need to find new ways...we need to uncover and rediscover the old ways."
—
The Order of the Good Death
A New York Times Book Review Editors' Choice
"Syntax and word, rhythm and rite roll and surge in this tribute to a wordsmith's dying father, Sonny-and to the neglected Irish practice of 'waking the dead'...A worthy read."—
Englewood Review of Books
"At once heartwarming and horrifying."—
Norfolk Virginian-Pilot
"A former war correspondent, Toolis has seen more than his fair share of death and is here to shake us out of our complacency."—
Times Literary Supplement
"[Toolis] blends the realities of his real-world journalistic experiences of war, famine, natural disaster and death with an elegant overlay of the humanities and culture...His depiction of the ancient ritual of the wake and other customs is not sentimental, but an unflinching description of death, grief, and mourning...His description of the collective experience of his father's death, wake and funeral are poetic and unforgettable...My Father's Wake is a beautifully written work which deserves our attention. There are portions of this book which should be required reading for medical and nursing students."—
Pallimed
"A powerful exploration of mortality, loss, and Western death denial."—
Talk Death