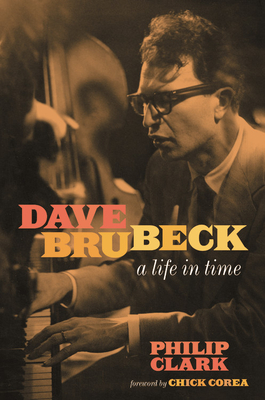 Dave Brubeck
A Life in Time
Hardcover

* Individual store prices may vary.
Other Editions of This Title:
Digital Audiobook (2/17/2020)
Paperback (2/16/2021)
Description
THE DEFINITIVE, INVESTIGATIVE BIOGRAPHY OFJAZZ LEGENDDAVE BRUBECK("TAKE FIVE") In 2003, music journalist Philip Clark was granted unparalleled access to jazz legend Dave Brubeck. Over the course of ten days, he shadowed the Dave Brubeck Quartet during their extended British tour, recording an epic interview with the bandleader. Brubeck opened up as never before, disclosing his unique approach to jazz; the heady days of his "classic" quartet in the 1950s-60s; hanging out with Duke Ellington, Charlie Parker, Louis Armstrong, and Miles Davis; and the many controversies that had dogged his 66-yearlong career. Alongside beloved figures like Ella Fitzgerald and Frank Sinatra, Brubeck has achieved name recognition beyond jazz. But finding a convincing fit for Brubeck's legacy, one that reconciles his mass popularity with his advanced musical technique, has proved largely elusive. In Dave Brubeck: A Life inTime, Clark provides us with a thoughtful, thorough, and long-overdue biography of an extraordinary man whose influence continues to inform and inspire musicians today. Structured around Clark's extended interview and intensive new research, this book recounts one of the last untold stories of jazz, unearthing the secret history of "Take Five" and many hitherto unknown aspects of Brubeck's early career-and sharing details about his creative relationship with his star saxophonist, Paul Desmond. Woven throughout are cameo appearances from a host of unlikely figures, from Sting, Ray Manzarek of The Doors, and Keith Emerson to John Cage, Leonard Bernstein, Harry Partch, and Edgard Varèse. Each chapter explores a different theme or aspect of Brubeck's life and music, illuminating the core of his artistry and genius. To quote President Obama, as he awarded the musician with a Kennedy Center Honor: "You can't understand America without understanding jazz, and you can't understand jazz without understanding Dave Brubeck."
Praise For Dave Brubeck: A Life in Time…
"Biography, social history, musicological
exploration ... this wonderful book is many things. But above all, it is a sort
of intoxicating literary jam session. Words and sentences spit and spin and
swing, creating rhythms and harmonies worthy of Brubeck himself. The sheer
descriptive verve, page after page, made me want to listen to every single
musical example cited. A major achievement."—STEPHEN HOUGH, classical pianist and composer

"This is the writing about jazz that we've been
waiting for. By keeping the music at the center, and interweaving the
background of cultural, political and social change to illuminate the
development of the music, Clark gives us a complete picture of the artist's
life and work."—MIKE WESTBROOK, jazzpianist and composer

"DAVE BRUBECK: A Life in Time is about the timeless life of the inspired and inspiring jazz master Dave Brubeck. This biography, written with love and passion, is a landmark document that is insightful and inspiring all in itself. Bravo!"—JOE LOVANO, jazz saxophonist

"A nontraditional biography that sings...as unconventional and compelling as its subject."—KIRKUS REVIEWS

"A concise but comprehensive biography... [Clark] hits the right notes for die-hard Brubeck disciples and jazz neophytes alike."—PUBLISHERS WEEKLY

"[A] remarkable biography... [Clark writes] intelligently and joyously... [and] fittingly, for a Brubeck biography, this is also a multifarious work; adventurous with narrative and structure."—MOJO

"The emphasis on the technical side of Brubeck's music, and on Brubeck's impact on rock and other nonjazz music, is thought provoking."

—BOOKLIST

"[This book] is that rare beast: an uncompromisingly analytical study that absorbs and entertains, illuminating both its subject and his social context."—LONDON JAZZ NEWS

"A brilliant book."—JAZZ PROFILES

"[A]n engaging new biography... we feel the grain and texture and historical weight of single moments, but only because we also understand the larger picture. It's a rare jazz biography that gives us both, so eloquently."—THE SUNDAY TELEGRAPH

"Time Out may be what Brubeck (1920-2012) is known for, but, as Philip Clark reveals in Dave Brubeck: A Life in Time, it is merely the highlight of his long career as a composer, pianist and bandleader. Mr. Clark, a British music journalist, has been writing about Brubeck for more than 20 years. The present book is a crystallization of an interview he conducted with his subject over the course of several days in 2003, supplemented by further interviews with Brubeck, his family, his musicians and associates, and extensive research in the Brubeck archives. Thorough and authoritative, Mr. Clark has done a great service to his subject's legacy."—The Wall Street Journal

"Richly detailed... a great achievement."—The Wire

"An articulate, scrupulously-researched account based on first-hand
information, this book presents Brubeck's contribution to music with the
critical insight that it deserves."—BBC Music Magazine

"Compelling... By starting in [Brubeck's] autumnal years, the book almost cinematically conjures flashbacks to the past, which get fleshed out by interviews along the way."—Jazz Times

"Detailed, informed and engaging... Philip Clark's revealing study enables a deeper and more complete understanding of this artist and pioneer's life and work."—Gramophone

"It's hard to imagine anyone more qualified to write a Brubeck bio than Philip Clark, who spent long periods of time with the man, his band members, and his wife Iola; had unlimited access to his papers and correspondence; and has been a flag-waving fan of the music for ages. His book contains a head-spinning amount of detail bordering on micro-history, with in-depth accounts of recording dates and tours going back to the beginning, as well as the kind of musical analysis that could only have come from years of close listening. To call it 'exhaustive' is to undersell it."—The Los Angeles Review of Books
Da Capo Press, 9780306921643, 464pp.
Publication Date: February 18, 2020
About the Author
PHILIP CLARK is a music journalist who has written for many leading publications including The Wire, Gramophone, MOJO, Jazzwise, and The Spectator. He also writes for the Guardian, Financial Times, London Review of Books, and Times LiterarySupplement. He trained as a composer but these days prefers to produce his own sounds, playing piano as part of a weekly free improvisation workshop. Clark lives in Oxford with his wife, two children, two cats, and more recorded music than he can ever listen to.