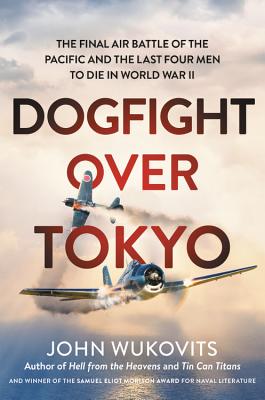 Dogfight over Tokyo (Hardcover)
The Final Air Battle of the Pacific and the Last Four Men to Die in World War II
Da Capo Press, 9780306922053, 336pp.
Publication Date: August 27, 2019
Other Editions of This Title:
Compact Disc (8/27/2019)
Compact Disc (8/27/2019)
Pre-Recorded Audio Player (12/1/2019)
* Individual store prices may vary.
Description
From an expert in the Pacific theater of World War II comes the tragic story of the pilots who fought the last fight of the war during the first hour of peace

When Billy Hobbs and his fellow Hellcat aviators from Air Group 88 lifted off from the venerable Navy carrier USS Yorktown early on the morning of August 15, 1945, they had no idea they were about to carry out the final air mission of World War II. Two hours later, Yorktown received word from Admiral Nimitz that the war had ended and that all offensive operations should cease. As they were turning back, twenty Japanese planes suddenly dove from the sky above them and began a ferocious attack. Four American pilots never returned--men who had lifted off from the carrier in wartime but were shot down during peacetime.

Drawing on participant letters, diaries, and interviews, newspaper and radio accounts, and previously untapped archival records, historian and prolific author of acclaimed Pacific theater books, including Tin Can Titans and Hell from the Heavens, John Wukovits tells the story of Air Group 88's pilots and crew through their eyes. Dogfight over Tokyo is written in the same riveting, edge-of-your-seat style that has made Wukovits's previous books so successful. This is a stirring, one-of-a-kind tale of naval encounters and the last dogfight of the war--a story that is both inspirational and tragic.
About the Author
John Wukovits is a military expert specializing in the Pacific theater of World War II. He is the author of many books, including Tin Can Titans, Hell from the Heavens, For Crew and Country, One Square Mile of Hell, and Pacific Alamo. He has also written numerous articles for such publications as WWII History, Naval History, and World War II. He lives in Michigan.
Praise For Dogfight over Tokyo: The Final Air Battle of the Pacific and the Last Four Men to Die in World War II…
"What we know of war usually comes from survivors. This book is about four young flyers who didn't come back. Those who die give up all that they have, all their hopes and dreams, all the infinite potential life offers. Wukovits captures that tragedy in a powerful way. Superb."—Stephen Coonts, New York Times bestselling author

"But for one tragic hour, they would have returned safely to the loved ones who worried over them so much. Instead, four Navy fighter pilots became the final combat casualties of World War II. As he did in Tin Can Titans and Hell from the Heavens, John Wukovits skillfully entwines the personal stories of young men at war with the horrors of the larger conflict. Dogfight Over Tokyo is a haunting tale of heroism and sacrifice and the continuing agony of those left to grieve."—Walter R. Borneman, bestselling author of Brothers Down: Pearl Harbor and the Fate of the Many Brothers aboard the USS Arizona

"In this meticulously researched work, John Wukovits provides rare personal insight to the aviators who fought the U.S. Navy's LAST major combat of World War II-and those supporting them on the home front. If it's true that no war truly ends while some still remember it, then Dogfight Over Tokyo extends our national memory of those who brought the world's greatest conflagration to a joyous, painful, and bittersweet end."—Barrett Tillman, author of Whirlwind and On Wave and Wing

"An expertly researched addition to the military history/biography genre"—Kirkus Reviews