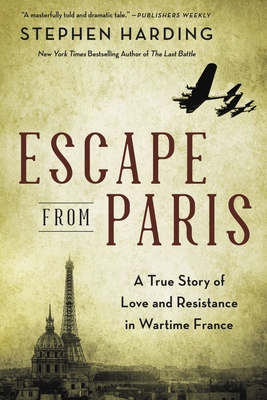 Escape from Paris
A True Story of Love and Resistance in Wartime France
Paperback

* Individual store prices may vary.
Other Editions of This Title:
Digital Audiobook (10/7/2019)
Hardcover (10/8/2019)
Compact Disc (10/8/2019)
Description
This thrilling wartime adventure tells the true story of the downed American aviators who were rescued by French resistance fighters, taken to Nazi-occupied Paris, and hidden under the very noses of the Gestapo.
Escape from Paris is the true story of a small group of U.S. aviators whose four B-17 Flying Fortresses were shot down over German-occupied France on a single, fateful day: July 14, 1943, Bastille Day. They were rescued by brave French civilians and taken to Paris for eventual escape out of France. In the French capital, where German troops walked on every street and Gestapo agents hid around every corner, the flyers met a brave Parisian resistance family living and working in the Hôtel des Invalides, a complex of buildings and military memorials, where Nazi officials had set up offices. Hidden in the complex the Americans, along with dozens of other downed Allied pilots and resistance operatives, hatched daring escape plots. The danger of discovery by the Nazis grew every day, as did an unlikely romance when one of the American airmen begins a star-crossed wartime romance with the twenty-two-year old daughter of the family sheltering him—a noir tale of war, courage and desperation in the shadows of the City of Light.

Based on official American, French, and German documents, histories, personal memoirs, and the author's interviews with several of the story's key participants, Escape from Paris crosses the traditional lines of World War II history with tense drama of air combat over Europe, the intrigue of occupied Paris, and courageous American and Allied pilots and French resistance fighters pitted against Nazi thugs. All of this set in one of the world's most beautiful and captivating cities.
Praise For Escape from Paris: A True Story of Love and Resistance in Wartime France…
"Stephen Harding has done it again. With this well-researched, well-written and genuinely exciting account of American airmen shot down over Occupied France and hidden by the French Resistance in Paris, he has proved that he has an extraordinary feel for the hitherto untold stories of World War II."—Andrew Roberts, bestselling author of Churchill: Walking with Destiny

"Escape from Paris is a thrilling, brilliantly told true tale of heroism, love, and escape, set in the dark shadows of Nazi Paris. Tense and compulsively readable from beginning to end."—Alex Kershaw, bestselling author of The First Wave

"Escape from Paris has the emotional pull of a great thriller, yet it's a true and memorable account of the interlinked heroism of courageous American bomber crews downed in enemy territory and intrepid French resisters who risked everything to spirit them to safety. History of a high order rendered with verve and riveting authenticity."
—Donald L. Miller, bestselling author of Masters of the Air

"From the first exhilarating moments of a fierce air battle over France, Stephen Harding delivers page-after-page of high adventure, intrigue and drama. He paints a vivid, unforgettable portrait of Nazi-occupied Paris and the efforts of a band of resistance fighters who risk everything to secret downed Allied airmen to freedom. Bravo!"—Neal Bascomb, author of The Escape Artists

"From Stephen Harding, a brilliant and thrilling recreation of a great World War II story, a story of love in time of war. Harding is a scrupulous and knowledgeable author and, caution; you will not put Escape from Paris down until you've finished it. Very highly recommended."—Alan Furst, New York Times bestselling author of Mission to Paris

"Stephen Harding's Escape from Paris is fascinating and a terrific read. I honestly could not turn the pages fast enough. It is thrilling and terrifying in equal measure; an amazing story of love and resistance that -- almost unbelievably -- happens to be true."
—Anne Sebba, award-winning author of Les Parisiennes

"In this thrilling WWII history,... Harding masterfully recreates thrilling details of air combat, the intrigue of the French Resistance, and the horrors of war. This masterfully told and dramatic tale will keep readers spellbound until the final page."—Publishers Weekly

A poignant World War II saga of the relationship between an American gunner shot down over France and the French family who helped him...an engaging human story—Kirkus Reviews
Hachette Books, 9780306922152, 288pp.
Publication Date: October 12, 2021
About the Author
Stephen Harding is the author of nine books, including the New York Times bestseller The Last Battle, which is in production as a major motion picture, and The Castaway's War, optioned as a major motion picture. He is currently the editor-in-chief of Military History magazine and lives in Northern Virginia.