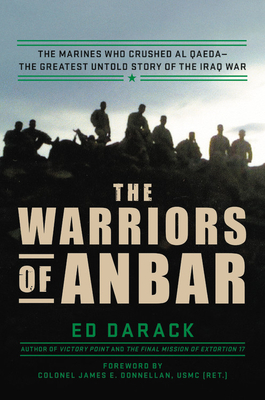 The Warriors of Anbar
The Marines Who Crushed Al Qaeda--the Greatest Untold Story of the Iraq War
Hardcover

* Individual store prices may vary.
Other Editions of This Title:
Digital Audiobook (11/4/2019)
Compact Disc (11/5/2019)
Description
A riveting, edge-of-your seat account of how a battalion of Marines faced off against the most brutal of Al Qaeda at its most desperate and vicious moment--and how the Marines decisively crushed the terroristsWhen the 2nd Battalion of the 3rd Marine Regiment ("2/3") arrived in the little-known "Haditha Triad" region of western Iraq's Al Anbar Province in September of 2006, the region exploded in a storm of terrorist violence. The most battle-hardened of Al Qaeda had fled to the Triad, and, taking their last, desperate gasps for survival after years of bloody war, lashed out at the battalion with everything they could muster. The Marines sent into this firestorm of violence immediately lunged into a complex, double-edged mission: crush Al Qaeda and help the locals rebuild their terrorist-smashed lives and homes. After months of grueling, fearsome battle--and the loss of twenty-three of their ranks--the warriors of 2/3 stood tall in victory. This is their incredible story.Warriors of Anbar is one of the greatest untold stories of modern war, one of grit, incredible courage, and utmost sacrifice. It is a story that illustrates the U.S. Marine Corps at its very finest.
Praise For The Warriors of Anbar: The Marines Who Crushed Al Qaeda--the Greatest Untold Story of the Iraq War…
"Darack succeeds in putting together a coherent military history of a crucial conflict with al-Qaeda, passing along important lessons learned....Students of military history and military servicemembers looking for lessons in asymmetrical warfare will find this account illuminating and informative."—Publishers Weekly

"The Warriors of Anbar is a classic story of perseverance, deceit, frustration, ambition, loss and the search for meaning. By laying bare the tough truths, Ed Darack details how it really was in Iraq. Every time the battalion was hit, someone found a way to strike back. These thousand Marines refused to quit or to strike out in blind anger. Even when some at the top failed, the battalion improvised, absorbed punishment, adapted from beatings and hammered forward by unexpected means. This is a classic story of grit, loss and redemption."—Bing West, former assistant secretary of defense, and an award-winning, New York Times bestselling author

"Ed Darack earned the right to tell this riveting tale the hard way, by embedding with the Marines. The Warriors of Anbar puts you right in the middle of one of the toughest, bloodiest and most vicious fights of the Iraq war."—Sean Naylor, New York Times bestselling author of Relentless Strike and award-winning reporter for Foreign Policy

"The Warriors of Anbar is one of those intimate stories that is often lost when the sacrifices of the military are overshadowed by bad decisions and politics. Ed Darack skillfully reports the story of everyday Marines trying to complete an impossible mission."—Kevin Maurer, award-winning journalist and the bestselling co-author of No Easy Day

"From his two previous books, Victory Point to The Final Mission of Extortion 17, Ed Darack has emerged as one the best, and most meticulous, reporters about the military in the country. Anything he writes is a must read."—R.M. Schneiderman, former deputy editor of Newsweek

"One of the U.S. Marine Corps' finest-yet largely untold-stories.... A very human story of 'bravery, sacrifice, incredible hardship, horror, and ultimate victory.'"—Kirkus Reviews

"The 2nd Battalion of the 3rd Marine Regiment deployed to an area of Al Anbar province called the Haditha Triad in September 2006 amid a surge in violence by the terrorist group Al Qaeda in Iraq (AQI). Their mission was to defeat the terrorists and rebuild civil government with a functioning native police force capable of defending the population so normal life and commerce could resume. Darack... is a longtime embedded journalist with firsthand knowledge of the counterinsurgency campaign (COIN) in Haditha at this time, who also interviewed dozens of the battalion's officers and enlisted members. He has nothing but the highest praise for these Marines and their professionalism, humanity, empathy, efficiency, and willingness to sacrifice for the civilians of Haditha to achieve what he describes as a decisive victory over AQI. His account is a well-written, keenly detailed success story and a significant tribute to the Marines who risked their lives, including the 23 fallen and the hundreds who were wounded in action, to bring peace and stability to the Haditha Triad."—Booklist

"The Warriors of Anbar is a story of unmatched bravery and sacrifices and horrors which led to America's victory against AQI...This informed account of America's recent military history is meticulously researched and beautifully written. Ed Darack is veritably a superb military historian...The Warriors of Anbar is as engrossing as a war novel can be, although it is a true and scholarly story. Both students and experts of war on terror will find it full of new insights and perspectives."—TheWashington Book Review
Da Capo Press, 9780306922657, 256pp.
Publication Date: November 5, 2019
About the Author
Ed Darack is the author of six previous books, including the critically acclaimed Victory Point about Operations Red Wings and Whalers, and The Final Mission of Extortion 17, the story behind the single deadliest day for US troops in the War in Afghanistan. He has embedded with US forces four times in Afghanistan and twice in Iraq, where he did the field work for Warriors of Anbar. Darack is the author of hundreds of feature articles on a broad spectrum of topics for publications including the New York Times Magazine, Newsweek, Smithsonian's Air & Space (where he's a contributing editor), Leatherneck, Marine Corps Gazette, Proceedings of the United States Naval Institute, Foreign Policy, Weatherwise (where he's a contributing editor), and many others.
or
Not Currently Available for Direct Purchase