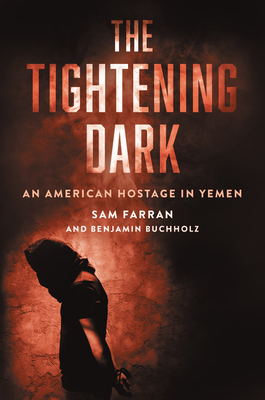 The Tightening Dark
An American Hostage in Yemen
Hardcover

* Individual store prices may vary.
Other Editions of This Title:
Digital Audiobook (7/26/2021)
Compact Disc (7/27/2021)
Description
This riveting memoir follows a Lebanese-Muslim-American and thirty-year US Marine veteran who suffered a six-month ordeal at the hands of a brutal regime in Yemen—and remained loyal to his country through it all.
As air strikes carpeted Yemen's capital, Sam Farran was one of only a few Americans in the war-ravaged country. He was there to conduct security assessments for a variety of international firms. Days after his arrival, he was brutally seized and taken hostage by Houthi rebels. Sam would spend the next six months suffering a horrific ordeal that would test his endurance, his loyalty and his very soul. 
Every day his captors asked him—as a fellow Muslim—to betray America and his Marine heritage in exchange for his freedom. Would he give in to the Houthis and return to his Middle Eastern roots? In the end--and despite daily threats to his life—Sam found the strength to resist, and came out of his ordeal with an increased sense of being, foremost, a US Marine. 
The Tightening Dark
is an intimate, riveting and inspiring memoir of heroic strength, courage, survival and commitment to country. And a reminder that the best parts of the American dream are the dreamers—those who pledge to being American, regardless of where they are born.
Praise For The Tightening Dark: An American Hostage in Yemen…
"Like so many diplomats and Marines around the world, Sam Farran's decades' long career involved tremendous risk. This story captures the riveting nightmare of the dreadful scenario we all train for, and hope never happens: being taken hostage."—
Ali Soufan
,
author of The Black Banners and prominent terrorism expert
"Sam Farran, like so many other Marines and servicemembers of all kinds, fought to keep America safe, ready to make the ultimate sacrifice. As a Muslim boy who immigrated to Dearborn, Michigan, he represents the best of America, its diversity, its open arms, and its opportunity. Sam's powerful story is worthy of your time."—
Tom Ridge
,
first Secretary of Homeland Security and 43rd Governor of Pennsylvania
"This gripping story sheds important light on one of the Middle East's most entrancing but troubled countries. It should be added to the reading list of anyone seeking to understand Yemen's recent turmoil and its ongoing struggle to emerge from conflict and poverty."—
Matthew H. Tueller
,
former US Ambassador to Yemen and current US Ambassador to Iraq
"Farran offers insightful details about the complex situation in Yemen and the larger forces at play in the Middle East. This is an illuminating look behind the headlines."—
Publishers Weekly
"A fine memoir and a disturbing hostage drama with a happy ending"
—
Kirkus Reviews
"An interesting glimpse into Farran's bifurcated identity."—
Booklist
Hachette Books, 9780306922718, 320pp.
Publication Date: July 27, 2021
About the Author
Haisam "Sam" Farran was born in Lebanon but moved to the US at age ten. He joined the US Marines and served in many locations and in many roles around the world, culminating as a Warrant Officer working from the Military Attaché Office in Yemen. Sam fell in love with Yemen and returned time and again to work there as an analyst and facilitator for US and other companies. Sam married a Yemeni woman and now lives in Beirut.
 
Benjamin Buchholz served in Yemen as the Chief of Attaché Operations at the US Embassy during and up to the Houthi overthrow of the Yemeni government. He is the author of the novel One Hundred and One Nights, the non-fiction book Private Soldiers, and the forthcoming novel Sirens of Manhattan. Ben lives in Tashkent, Uzbekistan, where he currently serves in the US Embassy as the Senior Defense Official.