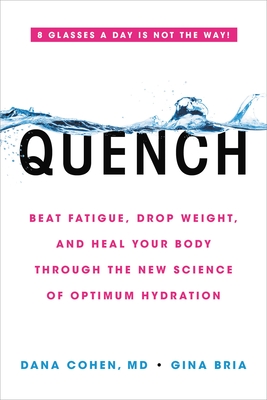 Quench
Beat Fatigue, Drop Weight, and Heal Your Body Through the New Science of Optimum Hydration
Paperback

* Individual store prices may vary.
Other Editions of This Title:
Digital Audiobook (6/11/2018)
Hardcover (6/12/2018)
CD-Audio (6/19/2018)
Compact Disc (6/12/2018)
Description
Based on breakthrough new science in the field of hydration, Quench debunks many popular myths about "getting enough water" and offers a revolutionary five-day jump start plan that shows how better hydration can reduce or eliminate ailments like chronic headaches, weight gain, gut pain, and even autoimmune conditions.
Chronic headaches, brain fog, fatigue, weight gain, insomnia, gut pain, autoimmune conditions. We may think these and other all-too-common modern maladies are due to gluten intake or too much sugar or too little exercise. But there is another missing piece to the health puzzle: Proper hydration.
Yes, even in this era of Poland Spring many of us are dehydrated due to moisture-lacking diets, artificial environments, medications, and over-dependence on water as our only source of hydration. For this reason, that new diet or exercise plan may fail because our body doesn't have enough moisture to support it.
Quench presents a wellness routine that can reverse all of that, based on breakthrough new science in the field of hydration. Readers will be surprised to learn that drinking too much water can flush out vital nutrients and electrolytes. Here is where "gel water" comes in: the water from plants (like cucumber, berries, aloe), which our bodies are designed to truly absorb right down to the cellular level. In fact, Ms. Bria's work as an anthropologist led her to the realization that desert people stay hydrated almost exclusively from what they eat, including gel plants like cactus.
Based on groundbreaking science from the University of Washington's Pollack Water Lab and other research, Quench offers a five-day jump start plan: hydrating meal plans and the heart of the program, smoothies and elixirs using the most hydrating and nutrient-packed plants. Another unique feature of their approach is micro-movements -- small, simple movements you can make a few times a day that will move water through your fascia, the connective tissue responsible for hydrating our bodies. You will experience more energy, focus, and better digestion within five days . . . then move onto the lifetime plan for continued improvements, even elimination of symptoms.
Praise For Quench: Beat Fatigue, Drop Weight, and Heal Your Body Through the New Science of Optimum Hydration…
"For those of you who know or suspect that you don't drink enough to compensate for daily water losses, the good news is you don't have to rely entirely on your liquid intake to remain well hydrated.... That's the message in a new book Quench, by Dr. Dana Cohen, an integrative medicine specialist...and Gina Bria, an anthropologist...of the Hydration Foundation. I feel comfortable recommending an increased reliance on these hydrating foods because, at the very least, they can result in a more nutritious diet and foster better weight control."—Jane Brody, The New York Times

"[Quench] is wow-worthy intel about the liquid we can't live without."—O Magazine

"Quench is the first book I have ever read that makes the connection between true hydration and the function of the connective tissue network known as fascia. Moreover, Dr. Cohen and Bria's explanation of what fascia is and what it does is compelling and brilliant. Finally, a book about the importance of hydration--and how to actually do it. Hint: It's not about drinking more water."—ChristianeNorthrup, MD, NewYork Timesbestselling author of Women's Bodies, Women's Wisdom and The Wisdomof Menopause

"Water is a scientific mystery and a complex subject that most of us take for granted and don't really understand its profound healing potential. Enter Dr. Dana Cohen and Gina Bria! They have written a long overdue and extremely important book on the merits of optimal hydration. As a clinical cardiologist, I can attest that the section on fat and hydration is absolutely outstanding! Highly recommended, this book will help put you on the right track toward optimum health, hydration and recovery. A must read!"—Dr. Stephen Sinatra, cardiologist and co-author of Health Revelations from Heaven

"Everyone knows that we must drink enough water. But Cohen and Bria, two authorities on hydration, tell us how we can obtain our water even more effectively from foods. I found their presentation refreshing and comprehensive--including a practical guide for achieving proper hydration in a painless (and delicious) way in your own kitchen. This book will set the standard for understanding the life-giving issue of keeping hydrated."—Gerald H. Pollack, PhD., professor at the University of Washington and author of The Fourth Phase of Water: Beyond Solid, Liquid, and Vapor
Hachette Go, 9780306923357, 304pp.
Publication Date: January 12, 2021
About the Author
Dr. Dana Cohen served on the Board of Directors of the American College for the Advancement of Medicine (ACAM), the leading voice of Integrative Medicine, for four years. She is currently an advisor to their Board of Directors and on the education committee and has served as the program director for their yearly conferences, which train more 1,500 master-level health-care providers. She received her MD from St. George's University School of Medicine, and completed her three-year internal medicine residency at Albany Medical Center.
Gina Bria is a cultural anthropologist researching ritual, ritual foods, and food strategies for over twenty-five years. She is Founder and Executive Director of the Hydration Foundation and CEO of HYCHIA, LLC. Trained at Columbia University, she is a former Berlin Fellow with the Social Science Research Council, a National Endowment for the Humanities finalist and has been featured at the Institute for Integrative Nutrition. She weds ethnographic strategies to the new science on hydration to serve the elderly, school children, athletes and hydrating while traveling. She has coached many of TED speakers on better brain performance. An innovator and inspiring speaker, her work has appeared in such diverse places as the New York Times, Grand Central Station, Harvard University, and the Wissenschaftskollege, Berlin. She is the recipient of the Buckminster Fuller Institute Design Science Award.