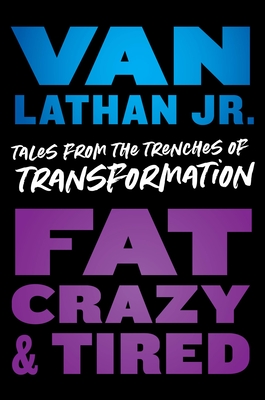 Fat, Crazy, and Tired
Tales from the Trenches of Transformation
Hardcover

* Individual store prices may vary.
Description
Van Lathan Jr's sharp, funny, and brutally honest cultural critique of the unspoken obstacles and extreme anxiety that keep us from achieving and maintaining good health in America's "wellness waistland," explored through vignettes about his own weight loss and mental health journey
 
When the Covid‑19 pandemic first hit, many Americans coped with the impending crisis the only way they knew how: by stockpiling snacks by the pound and alcoholic beverages by the bulk, and binging Netflix and Hulu until their eyes bugged out. After dedicating years to improving his physical and mental health, media personality and podcast host Van Lathan soon found himself stuck in a similar boat—surrounded by carbs galore, non‑stop exhaustion, and crippling waves of anxiety and depression.
 
A formerly chubby kid who self‑identified for much of his life as "the fat friend," Van has struggled with physical and mental health his entire life. He was used to being his besties' wing man on the dating scene, the slack bench‑dweller at the gym, and his mother's biggest fan at every meal, especially whenever she served up her infamous mac and cheese with five different kinds of cheese. At 365 lbs, Van hated being fat, but more than anything, he hated himself for being fat. And so, he got to work on healing his anxiety and started shedding the extra weight. Before the pandemic struck, Van had successfully lost 85 pounds—only to gain much of it back during a year that decimated not just his health, but the health of Americans across the country.
 
Fat, Crazy & Tired isn't just about Van's rollercoaster, ultimately unsuccessful journey to an Instagram‑able body; it's about the unspoken personal battlefield of attaining and maintaining that good health. Unlike the self‑help gurus that push you to go "all or nothing" and "keep it 100," Van argues for us to be happier and healthier at 50% without totally killing ourselves to get there. After all, Van nearly lost his life on what he deems "the Hood Atkins Diet" by indulging on bacon. He also explores the real reasons behind our unending physical and mental health battles—culture, family, and the baggage of life—and demonstrates how we can better understand our bodies by better understanding ourselves.
 
Forget all those self‑help books, diets‑of‑the‑week, and extreme exercise fads. "Detox" cleanses? Weight loss pills? Celery juice? No, thank you. Instead, this book provides a close look at how to really take control of your health—in all areas—one step at a time, with patience, compassion, and a dose of humor. If you're DONE with feeling fat, crazy & tired—or you know someone else who is, well then, this book is for YOU.
 
Legacy Lit, 9780306923722, 240pp.
Publication Date: April 26, 2022
About the Author
Van Lathan Jr. is the Executive Producer for Two Distant Strangers, the 2021 Academy Award Winner for Best Live Action Short Film. He is the cohost of Higher Learning podcast along with The Bachelorette's Rachel Lindsay and is best known as a former cohost and senior producer on TMZ  Live. Whether on his podcast or media appearances, Lathan is best known for provocative interviews with influencers, celebrities, and politicians providing unparalleled perspective on key issues in society and entertainment.