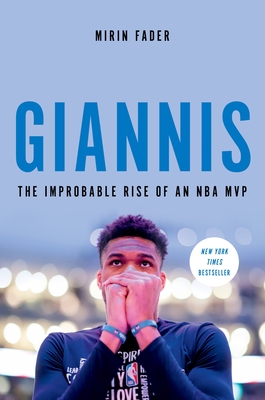 Giannis
The Improbable Rise of an NBA MVP
Hardcover

* Individual store prices may vary.
Other Editions of This Title:
Digital Audiobook (8/9/2021)
Paperback (4/12/2022)
Compact Disc (8/17/2021)
Description
The story of Giannis Antetokounmpo's extraordinary rise from poverty in Athens, Greece, to superstardom in America with the Milwaukee Bucks—becoming one of the most transcendent players in history and an NBA Champion—from award-winning basketball reporter and feature writer at The Ringer Mirin Fader.
 
As the face of the NBA's new world order, Giannis Antetokounmpo has overcome unfathomable obstacles to become a symbol of hope for people all over the world; the personification of the American Dream. But his backstory remains largely untold. Fader unearths new information about the childhood that shaped "The Greek Freak"—from sleeping side by side with his brothers to selling trinkets on the street with his family to the racism he experienced. Antetokounmpo grew up in an era when Golden Dawn, Greece's far-right, anti-immigrant party, patrolled his neighborhood, and his status as an illegal immigrant largely prevented him from playing for the country's top clubs, making his NBA rise all the more improbable. Fader tells a deeply human story of how an unknown, skinny, Black Greek teen, who played in the country's lowest pro division and was seen as a draft gamble, transformed his body and his game into MVP material.

Antetokounmpo's story has been framed as a feel-good narrative in which everyone has embraced him—watching him grow up, sign a five-year supermax contract extension worth $228 million, and lead the underdog Bucks to the NBA Championship in 2021. Giannis reveals a more nuanced story: how lonely and isolated he felt, adjusting to America and the NBA early in his career; the complexity of grappling with his Black and Greek identities; how he is so hard on himself and his shortcomings—a drive that fuels him every day; and the responsibility he feels to be a nurturing role model for his younger brothers. Fader illustrates a more vulnerable star than most people know, a person who has evolved triumphantly into all of his roles: father, brother, son, teammate, and global icon.

**Instant New York Times Bestseller, Los Angeles Times Bestseller, Wall Street Journal Bestseller, USA Today Bestseller, Publishers Weekly Bestseller**

**Mirin Fader Selected as the 2021 Sports Media Author of the Year by The Big Lead**
Praise For Giannis: The Improbable Rise of an NBA MVP…
"Giannis…captures an endearing portrait of Antetokounmpo by using his family as its primary through-line as he made his way to the N.B.A. and the United States. The framing makes for a more compelling journey than what would normally be expected of a parade of tough coaches, on-court rivals and personal uncertainty."—The New York Times Book Review

"Mirin Fader gives readers a gorgeous portrayal of one of the most unique talents to ever play professional basketball. But Giannis is more than just the comprehensive story of a once-in-a-generation athlete. It is the story of how American promise intersects with iron will, and heartwarming vulnerability."—Jemele Hill, host of "Jemele Hill Is Unbothered"

"For years, I have admired Mirin Fader's ability to tell a long-form journalism story. I'm happy (and unsurprised) to say her skillset has translated over perfectly to books. This book is engaging, smart, and unputdownable."—Shea Serrano

"Around the time that the Greek Freak was busting out in the NBA, Mirin Fader was doing the same thing in her line of work. In a journalism world that had become more and more about opinions, Fader decided that she would be a storyteller, and she invariably spins her tales with vividness and clarity, fueled by endless curiosity."—Jack McCallum, author of Dream Team

"Mirin Fader traces an upbringing marked by deep family ties, extreme poverty, racism, and xenophobia. Like its subject, this biography is serious, engaging, and, more than anything, inspiring."—Ben Golliver, author of Bubbleball

"Giannis the basketball player is almost too good to be true—and so is his story, told here with vivid writing and meticulous reporting. Mirin Fader's portrait of the young superstar is as graceful, understated, and powerful as Giannis himself. A superb biography."—Jonathan Eig, author of Ali and Luckiest Man

"We think we know everything about modern-day superstars. We're sure we know everything about modern-day superstars. Then along comes Mirin Fader with this nuanced, detailed, revealing portrait of a man who has lived one hundred lives in twenty-six years. A fantastic read that proves most dreams go unaccomplished without toil, despair, grit, and an unyielding quest to soar."—Jeff Pearlman, author of Three Ring Circus and Showtime

"The stories. My goodness, the stories. Mirin Fader's ability to find and tell the most illustrative and humanizing tales really shines through. A player this great deserves his story to be told like this."—Marcus Thompson, author of Golden and KD

"[Mirin Fader] wrote the book on Giannis… at the moment that he is transmogrifying into an all-time great."—David Shoemaker, The Press Box

"[Fader's] biggest skill is her accumulation of details through deep reporting — that's when she's in her bag, as basketball fans like to say. Some of these details might seem trivial (the smell in an intern's car after a trip to upstate Wisconsin to fetch a goldendoodle puppy for Giannis's girlfriend), but they transport the reader to a place and time. The vividness of the stories she tells, the memories she's able to pull out of people, unmask facets of Giannis's playful and endearing personality. Though we see him on television as the king of the court, the book reveals a humble soul shaped by his upbringing."—Washington Post

"Fader is a gifted writer who shares vivid details about Antetokounmpo…the book is dotted with the Greek star's humility and good humor that has made him one of the NBA's most endearing stars."—The Los Angeles Times

"Eye-opening….Over the course of 400 pages, Fader manages to pull at the threads of Antetokounmpo's Horatio Alger-esque tale to reveal a deeply human story that is as forged by politics as it is by sport….Fader has done something pretty remarkable….The depth of Fader's Giannis – using basketball as just one of many lenses to view its subject – [creates] a work that feels complete, even while only being the beginning of the story."—Milwaukee Mag

"A new name must be entered into the conversation of the great sports biographers…there's enough detail, stories, and nuance to make these pages breeze by without wondering 'When are we getting to the good stuff?' It's all good stuff….The book is simply terrific, and it's one that readers don't have to be fans of basketball to enjoy."—Plainview Herald

"[A] masterpiece...the epitome of great sportswriting....Fader's book is reminiscent of a David Halberstam masterpiece, as she uses her hundreds of interviews to paint as complete a picture of Antetokounmpo's still young life as there is."—The Chattanoogan
Hachette Books, 9780306924125, 400pp.
Publication Date: August 10, 2021
About the Author
Mirin Fader is a senior staff writer for The Ringer. She wrote for Bleacher Report from 2017 to 2020. Her work has been honored by the Pro Writers Basketball Association, the Associated Press Sports Editors, the U.S. Writers Basketball Association, the Football Writers Association of America, and the Los Angeles Press Club. She was named a Top Women in Media in the "Up and Comer" category in 2019, and her work has been featured in the "Best American Sports Writing" series. Fader has profiled some of the NBA's biggest stars, including Giannis Antetokounmpo, Ja Morant, Brandon Ingram, and LaMelo Ball, but she focuses more on the person rather than the player. Her approach is that she writes about people who happen to play sports, telling the backstories that shape some of our most complex, most dominant, heroes.
or
Not Currently Available for Direct Purchase