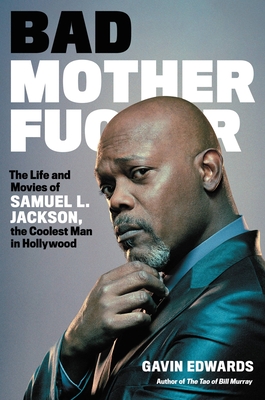 Bad Motherfucker
The Life and Movies of Samuel L. Jackson, the Coolest Man in Hollywood
Hardcover

* Individual store prices may vary.
Other Editions of This Title:
Digital Audiobook (10/18/2021)
Compact Disc (10/19/2021)
Description
Enjoy this fascinating exploration and celebration of the life and work of the coolest man in Hollywood, Samuel L. Jackson—from his star-making turns in the films of Spike Lee and Quentin Tarantino to the ubiquity of his roles in the Star Wars and Marvel franchises.

Bad Motherfucker explains why Jackson's embodiment of cool is not just inspirational, it's important. It lays out how that attitude interacts with his identity as an African-American man, why being cool matters in the modern world, and how it applies to the current social and cultural moment in which everyone is losing their cool. Edwards details Jackson's fascinating personal history, from stuttering bookworm to Black revolutionary to crack addict to A-list star. The book features original reporting and explores not only the major events of Jackson's life but his obsessions: golf, kung fu movies, profanity. Bad Motherfucker also includes a detailed filmography of Jackson's movies—140 of them and counting! The book provides a must-read road map through the vast territory of his filmography and more: a vivid portrait of Samuel L. Jackson's essential self.
Praise For Bad Motherfucker: The Life and Movies of Samuel L. Jackson, the Coolest Man in Hollywood…
"Bad Motherfucker is as cool and smooth as Samuel L. Jackson himself. Gavin Edwards is an insightful biographer and pop culture analyst who knows how to unearth key details that shine a new light on the most beloved of subjects."—Jennifer Keishin Armstrong, author of Seinfeldia: How a Show About Nothing Changed Everything

"Samuel L. Jackson has blessed more than 100 films with his intensity and target-seeking line delivery—so much swagger, Marvel remodeled a superhero in his likeness—and Gavin Edwards' page-turning almanac, crammed with insights, is the map for mainlining those thrills, the shepherd to guide your righteous ass through the valley of darkness."—Sean Howe, author of Marvel Comics: The Untold Story

"There is no harder working man in Hollywood than Samuel L. Jackson, and Gavin Edwards' addictive book is a deep dive into every twist and turn of his epic life and career—from Pulp Fiction and Jurassic Park to Snakes on a Plane."—Andy Greene, author of The Office: The Untold Story of the Greatest Sitcom of the 2000s

"I didn't know half this stuff—especially the golf stories—and I worked with the bad motherfucker! Sam Jackson is a national treasure."
 —Stel Pavlou, screenwriter of Formula 51 and host of Hunting Atlantis on Discovery

"A rollicking, expletive-filled look at the life and career of 'The King of Cool'…. Edwards is especially adept in his handling of Jackson's personal life, including his triumph over cocaine addiction and involvement in the civil rights movement. This highly entertaining consideration of the prolific actor is long overdue."
 —Publishers Weekly (starred)
Hachette Books, 9780306924323, 368pp.
Publication Date: October 19, 2021
About the Author
Gavin Edwards is the New York Times bestselling author of twelve books, including The Tao of Bill Murray: Real-Life Stories of Joy, Enlightenment, and Party Crashing; Last Night at the Viper Room: River Phoenix and the Hollywood He Left Behind; and Kindness and Wonder: Why Mister Rogers Matters Now More Than Ever. His books include the 'Scuse Me While I Kiss This Guy series of misheard lyrics, which has sold over a half-million copies.

Edwards has contributed to numerous publications including The New York Times, The Washington Post, Los Angeles Times, Wired, Vogue, GQ, Details, and Rolling Stone (where he was a longtime contributing editor and columnist, writing cover stories on figures such as Rosario Dawson, the Red Hot Chili Peppers, and George Lucas). He lives in Charlotte, North Carolina, with his wife and two children.