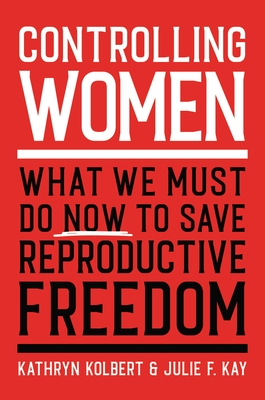 Controlling Women
What We Must Do Now to Save Reproductive Freedom
Hardcover

* Individual store prices may vary.
Other Editions of This Title:
Digital Audiobook (7/12/2021)
Description
**Shortlisted for the 2021 Stephan Russo Goddard Riverside Book Prize for Social Justice**

This definitive account of the battle for reproductive freedom includes a bold new strategy to safeguard our rights, from two lawyers at the forefront of the movement.

Reproductive freedom has never been in more dire straits. Roe v. Wade protected abortion rights and Planned Parenthood v. Casey unexpectedly preserved them. Yet in the following decades these rights have been gutted by restrictive state legislation, the appointment of hundreds of anti-abortion judges, and violence against abortion providers. Today, the ultra-conservative majority at the Supreme Court has overturned our most fundamental reproductive protections.

With Roe toppled, abortion is now a criminal offense in nearly one-third of the United States. At least six states have enacted bans on abortion as early as six weeks of pregnancy—before many women are even aware they are pregnant. Today, 89% of U.S. counties do not have a single abortion provider, in part due to escalating violence and intimidation aimed at disrupting services. We should all be free to make these personal and private decisions that affect our lives and wellbeing without government interference or bias, but we can no longer depend on Roe v. Wade and the federal courts to preserve our liberties.
 
Legal titans Kathryn Kolbert and Julie F. Kay share the story of one of the most divisive issues in American politics through behind-the-scenes personal narratives of stunning losses, hard-earned victories, and moving accounts of women and health care providers at the heart of nearly five decades of legal battles. Kolbert and Kay propose audacious new strategies inspired by medical advances, state-level protections, human rights models, and activists across the globe whose courage and determination are making a difference. 

No more banging our heads against the Court's marble walls. It is time for a new direction.
Praise For Controlling Women: What We Must Do Now to Save Reproductive Freedom…
"An extraordinary book with great history lessons…incredible stories….There's something for everyone….Bold and wonderful."—
Cecile Richards, former President of Planned Parenthood and New York Times bestselling author of Make Trouble
"Urgent and timely...Kolbert and Kay's pressing, informative, and engaging book is leading the charge in the right direction."—
Gloria Steinem
"Kathryn Kolbert and Julie F. Kay, unparalleled experts, have written a rich, smart, and engaging book about why reproductive freedom is the crux of women's rights and equality. It's essential reading for anyone concerned with the future of democracy."—
Soraya Chemaly, author of Rage Becomes Her
"
Controlling Women
is a remarkably thorough account of the history of the legal fight for abortion rights in the United States and sets the stage for the work that still must be done to ensure that the broad spectrum of reproductive rights are a reality for all. Kolbert and Kay have added a vital resource to the pantheon."—
Nancy Northup, President and CEO, Center for Reproductive Rights
"The story feels both old and new. The wins, the backlash—it's exhausting. How many times do women have to shout their abortions? How many times do women have to demand to have a voice about our own skin? But while Kay and Kolbert provide a necessary and urgent primer on the history of reproductive rights in America, they don't just end the story here in this moment, where reproductive rights are under attack like never before, they push the conversation forward. Instead of making their mission smaller, they are expanding the vision of reproductive justice to include 'healthcare for all,' better sex ed, expanding access to birth control, reducing sexual abuse, violence, and harassment, and reducing maternal deaths."—
Lyz Lenz, author of Belabored
"I've been waiting for the handbook on reproductive rights and THIS IS IT."—
Tess Holliday
"[
Controlling Women
] could not come at a more timely moment. A great book."—
Leta Hong Fincher, author of Betraying Big Brother and Leftover Women
"A passionate and essential reframing of the abortion issue based on common sense, historical fact, and human decency,
Controlling Women
will not just enrage, but inspire you."—
NPR's "The Weekly Reader"
"Controlling Women… aims to revive robust discussion of reproductive rights – and not a moment too soon – by making it clear just how much is at stake in whether abortion remains legal….The heart of this book is the detailed menu of legal and policy changes that Kolbert and Kay propose to help secure women's reproductive rights in a world without Roe…Controlling Women seeks to motivate the supermajority of Americans who support Roe to appreciate the imminent threat…and, more important, to get them actively involved in restoring universal access….The road map that Kolbert and Kay provide is one that all of us must follow—with urgency."
—
Ms. Magazine
"A knowledgeable, essential reframing of an incendiary issue based on common sense, historical fact, and simple decency."
—
Kirkus Reviews (starred)
"[Kolbert and Kay] make a powerful case for rethinking the legal and political strategies…This impassioned and well-argued rallying cry rings loud and clear."—
Publishers Weekly
"[A] passionate, informative debut."—
Booklist
"A concise and pragmatic discourse on abortion rights. [Kolbert and Kay's] book is neither reassuring nor despairing, and the authors outline steps for activists to take.... An essential guide."—
Library Journal (starred)
"For anyone wanting to learn more about abortion access and the hidden hurdles, personal stories and [the] complete history of the fight for reproductive justice, Controlling Women is a must-read. Regardless of your knowledge of the topic, every feminist can learn more. Kolbert and Kay share their experiences since entering the reproductive justice fight from the legal point of view and provide an in-depth history of abortion restrictions with resources and narratives of abortion seekers….Controlling Women carefully explains the landscape of abortion access in America while keeping readers informed and encouraged to fight for better options. Pre-dating Roe v. Wade all the way to the modern age, Controlling Women provides a comprehensive look at what has changed but more so, what we are still waiting on."
—
Rebellious Magazine
"Urgently needed....Both authors are undeniably experts in reproductive health policy and law; thankfully, they also know how to explain issues clearly and without rhetoric. Controlling Women includes a concise and accessible history of US abortion laws and the movement for reproductive justice and offers cogent recommendations that go beyond protecting abortion to include women's rights more generally. It's a good read... the pair's reflections jolt the familiar and offer a fascinating behind-the-curtain glimpse at court machinations."—
Women's Review of Books
"A book filled with the nuts and bolts of how our rights have been stripped from us, yes, but it's also a book that contains hope."—
Bookriot
**One of LitHub's Nonfiction Books You Should Read This Summer**
**One of LitHub's Most Anticipated Books of 2021, Part Two**
**A Newsday Summer Beach Read**
Hachette Books, 9780306925634, 304pp.
Publication Date: July 13, 2021
About the Author
Kathryn Kolbert has had a long and distinguished career advancing women's rights. In 1992, she made her second appearance before the U.S. Supreme Court, arguing Planned Parenthood v. Casey, the landmark case that has been widely credited with saving Roe v. Wade. A co-founder of the Center for Reproductive Rights and the Athena Film Festival, she also created NPR's Justice Talking and the Athena Center for Leadership at Barnard College. 

Julie F. Kay began her legal career at the Center for Reproductive Rights and has spent the ensuing decades developing innovative legal and policy initiatives to advance gender equality and religious freedom in the U.S. and internationally. She helped lay the groundwork for the legalization of abortion in Ireland through the first direct challenge to the country's absolute ban before the European Court of Human Rights and has fought for legal reform to protect the parenting rights of people leaving ultra-religious communities.