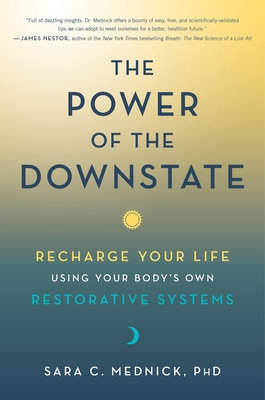 The Power of the Downstate
Recharge Your Life Using Your Body's Own Restorative Systems
Hardcover

* Individual store prices may vary.
Other Editions of This Title:
Digital Audiobook (4/18/2022)
Compact Disc (4/19/2022)
Description
Leverage your built-in rhythms of Upstates and Downstates to enhance energy, sharpen thinking, balance moods, fuel fitness, and more
.
If you're like most people, the relentless daily grind of go-go-go, do-do-do, can run down your energy and deplete your resources. While most of us find our lives full of "Upstate" moments that rev up our stress engines, it doesn't have to be this way. World-renowned sleep researcher Sara C. Mednick, PhD, shows us how we can access the most replenishing and repairing aspects of sleep through activities and moments that happen during our day by diving into our "Downstate." Dr. Mednick shows that bringing ourselves back to the Downstate is critical for our health, well-being, and cognitive longevity. 
Drawing on her original findings—and those of others across many fields of medicine—Dr. Mednick creates a comprehensive picture of the Upstate/Downstate rhythms that orchestrate all of our bodies' vital systems, along with a novel theory that aging is caused by spending less and less time in Downstate activities.
The Power of the Downstate
 offers practical, evidence-based insight into how we can all enable those systems to work together in better harmony. You'll learn:
How our bodies and minds are guided by a natural Upstate/Downstate rhythm—and how our modern lifestyles disrupt these rhythms to our detriment;
How our vital organs and systems benefit from spending more time in the Downstate –  which decreases the risk for Alzheimer's disease, chronic illness, and early death;
How we can activate the Downstate through rethinking how to breathe, eat, sleep and exercise; and
The practical four-week Downstate RecoveryPlus Plan.
Get ready to be more alert, productive, and cognitively sharp during the day, feel greater intimacy and affection, and enjoy consolidated, restorative sleep at night . . . not to mention expand your years of mental and physical vitality.
Praise For The Power of the Downstate: Recharge Your Life Using Your Body's Own Restorative Systems…
"Full of dazzling insights. Dr. Mednick presents a new way of understanding chronic diseases and offers a bounty of easy, free, and scientifically-validated tips we can adopt to reset ourselves for a better, healthier future."—James Nestor, author of the New York Times bestselling Breath: The New Science of a Lost Art

"Dr Sara Mednick is known for her pristine sleep research work on napping and I have quoted her work consistently throughout my career in lectures and books. Her latest work, The Power of the Downstate, is at the top of my reading list, and should be at the top of yours as well. Recognizing the Downstates and Upstates in your life will help you find the balance we are all looking for, all the time. As a Sleep Specialist, I hate to admit it, but I may stay up late just to keep reading it!"—Dr. Michael Breus, PhD, author of The Power of When and Energize

"The world is in crisis, and people are stressed out and burned out. Sara Mednick has a remedy. First she brought us the new and improved nap. Now she brings us the Downstate, a science-backed system for reclaiming balance and vitality at the physical, cognitive and emotional level. We need this new take on rest and renewal now more than ever." —Arianna Huffington, Founder & CEO, Thrive Global

"The Power of the Downstate is the book everyone needs to understand not only how the downstate of sleep works to recharge, restore and reinvigorate your brain and body, but also about all the downstate opportunities you have during your day, and importantly, how to incorporate these valuable practices  into your life right now."
 —Dr. Wendy Suzuki, PhD, Professor of Neural Science, internationally bestselling author of Healthy Brain Happy Life and Good Anxiety

"The recommendations are  bolstered by the studies Mednick cites throughout. Those feeling burnt out will find much to consider."—Publishers Weekly
Hachette Go, 9780306925795, 352pp.
Publication Date: April 19, 2022
About the Author
Dr. Sara C. Mednick is Professor of Psychology at the University of California, Irvine, where she directs the Sleep and Cognition (SaC) lab. Her first book, Take a Nap! Change Your Life put forth the scientific basis for napping to improve productivity, cognition, mood, and health. A world-renowned scientist, Dr. Mednick's lab investigates the mind and body mechanisms that support performance improvement. Her work has been continuously federally funded with grants from the National Institute of Health, National Science Foundation, Department of Defense Office of Naval Research, and the Defense Advanced Research Projects Agency (DARPA), a United States Department of Defense agency. She has been interviewed by every major magazine and newspaper, including the New York Times, New Yorker, Los Angeles Times, Washington Post, and BBC, and has been featured on Good Morning America, among others. She resides in San Diego, and with her wife in the Hudson Valley.