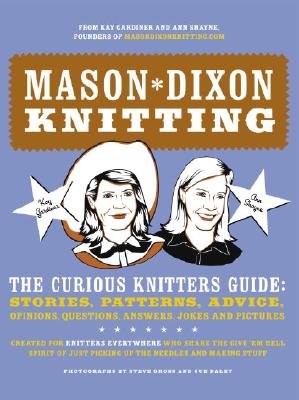 Mason-Dixon Knitting
The Curious Knitters' Guide: Stories, Patterns, Advice, Opinions, Questions, Answers, Jokes, and Pictures
Hardcover

* Individual store prices may vary.
Description
Enjoy the practical advice, real-life knitting instruction, and irreverent humor of Yankee Kay Gardiner and Tennessean Ann Shayne, the duo behind the renowned knitting web log masondixonknitting.com. The ladies of Mason-Dixon Knitting will take you on a thrilling adventure through Knitopia, a place where knitting and creativity unite through the zaniest knitted items imaginable. Kay and Ann reveal that a pattern is a starting line, a launching pad, the front doors of Saks the day after Thanksgiving: oh, the potential
Mason-Dixon Knitting
is a collection of unbelievable patterns, a how-to manual, and a crazy quilt of hilarious narrative, all in one. In this book, Kay and Ann chitchat their way through a series of more than thirty incredible patterns. Drawing creative inspiration from their surroundings, they present colorful blankets, sassy nightgowns, a delicate curtain, and much more to reveal that knitting can weave its way into just about every aspect of life. Most of these projects are the epitome of ease, but you can make them as simple or complicated as you prefer.
Kay and Ann invite you to use your creative vision to interpret each pattern and give it your own personal touch. Full-color photography of these delightful home- and family-inspired knits accompanies each project. Along the way, Kay and Ann will introduce you to incredible knitting personalities, share their own knitting experiences, and present eye-popping knitting phenomena.
Mason-Dixon Knitting
explores the humor, fun, and outrageous possibilities of a realm in which knitting is much more than a craft it's a lifestyle.
Inspiration, Guidance, and 30 Projects to Knit
Featuring: Technical hints; Great (knitted) things you will do; How to cope with disaster; Must-knit tv; Mistakes you will definitely make; Knitting for the common good; Knitting something that looks like something else.
Praise For Mason-Dixon Knitting: The Curious Knitters' Guide: Stories, Patterns, Advice, Opinions, Questions, Answers, Jokes, and Pictures…
"Mason-Dixon Knitting is one of those books that makes a home in the heart of knitters. Like a couple of favorite aunts ushering you into a sunny kitchen for tastes of cookie dough and the sharing of secrets, the authors comfort, inspire, amuse, and brighten the life of the lucky reader who steps into their world. I fell in love right away with the book's colors, playful approach, and designs... Ann and Kay's friendly repartee and wry senses of humor, genuine friendship, and the steady rhythm of cheerful and obsessive knitting interwoven with the pulsing music of family life make this a book to curl up on the couch with as well as to knit from." —Cat Bordhi, author of A Magical Treasury of Knitting
"Receiving a pre-publication review copy of this sparkling new book is one of the happiest things that's happened to me in good long while. To read Mason-Dixon Knitting is to find yourself surrounded by a world of smiles; it is to remember what's really important in this world (hint: it has to do with loved ones, home and joy); and, to discover some amazingly good, exciting knitting!" —Nancy Parsons, author and editor of Knittersbookshelf.com

"When I heard that Kay Gardiner and Ann Shayne were writing a book, I was intrigued. Gardiner and Shayne are the two voices behind Mason-Dixon Knitting, an ingenious blog based on the ongoing correspondence of two friends (they met in an online knitting forum, and one lives in New York while the other resides in Tennessee–hence Mason-Dixon). Their blog is a warm and welcoming place, and their creative endeavors never cease to inspire me. The book is slated for a late March release, but I got my hands on an early copy at TNNA last week. I tucked it in my bag and promptly forgot about it until later that night when I was back in my hotel room and getting ready for bed. Having already read the room-service menu not once but twice, I figured I'd let Kay and Ann put me to sleep. But they didn't. An hour later I was still wide awake, relishing every word and unable to believe the book could be this good." —Knittersreview.com, Clara Parkes
Potter Craft, 9780307236050, 160pp.
Publication Date: March 28, 2006
About the Author
Kay Gardiner learned to knit as a child, but put aside her needles for twenty years to obtain a law degree from Columbia, become an assistant United States attorney in Manhattan, and start a family. Luckily for us, she returned to knitting with a vengeance. After stints in the New York publishing world, Ann Shayne returned to her hometown of Nashville to edit "BookPage." She has since chosen to devote her time to her family and knitting.Two years ago, Kay and Ann met on an online knitting-message board, and their correspondence has grown into a close-knit community of more than ten thousand who regularly log on to masondixonknitting.com."
or
Not Currently Available for Direct Purchase