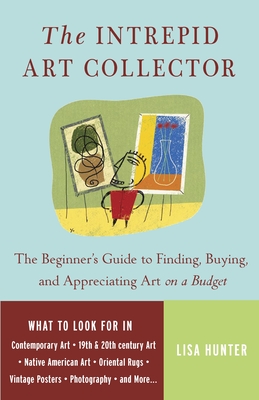 The Intrepid Art Collector (Paperback)
The Beginner's Guide to Finding, Buying, and Appreciating Art on a Budget
Three Rivers Press, 9780307237132, 368pp.
Publication Date: October 24, 2006
* Individual store prices may vary.
Description
Ready to upgrade your artwork from framed Monet posters but intimidated by what you see in galleries?

In The Intrepid Art Collector, Lisa Hunter shows you how to start a fine art collection without spending a fortune. This accessible, jargon-free resource contains up-to-date information on the most popular original art—everything from photography and posters to African art and animation—including where to find it and how to buy it at a fair price. Easy-to-use checklists help you evaluate original art and steer clear of clever fakes. In addition, Hunter has interviewed top dealers, curators, arts lawyers, and appraisers to bring you the best advice on:

• Advantages to buying real art instead of reproductions
• Determining if a piece of art is fairly priced
• Predicting if an artist's work will go up in value
• Techniques for negotiating a price with a dealer
• Developing your artistic taste, so you'll know if you'll still love your purchase ten years down the road
• How to preserve art in your home
• Resources, websites, and magazines that will help you learn more about the market and where to find different types of art
About the Author
Arts journalist
Lisa Hunter
has been an editor and publicist for cultural organizations for the past 15 years. She was the associate managing editor of
Natural History
magazine, published by the American Museum of Natural History, and also edited several of the museum's exhibition catalogs. Most recently, as director of media relations for the New York Botanical Garden, she publicized all exhibitions in the garden's Rondina Gallery of Rare Books and Prints, as well as a loan exhibition of sculpture from the Museum of Modern Art.
 Ms. Hunter has a degree in writing and fine arts from Columbia University and has written more than 100 articles on science and culture for such publications as Archaeology, Curator, and Natural History, as well as the book The Intrepid Art Collector: The Beginner's Guide to Finding, Buying, and Appreciating Art on a Budget. She has been shopping for art and antiques since her teens.