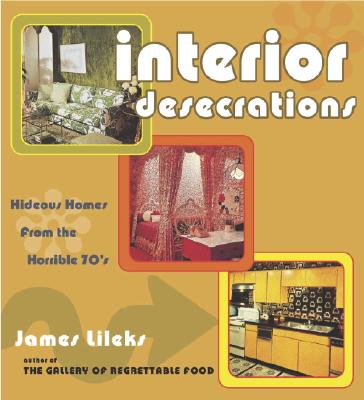 Interior Desecrations: Hideous Homes from the Horrible '70s (Paperback)
Hideous Homes from the Horrible '70s
Three Rivers Press (CA), 9780307238726, 175pp.
Publication Date: October 4, 2005
Description
Warning
This book is not to be used in any way, shape, or form as a design manual. Rather, like the documentary about youth crime "Scared Straight," it is meant as a caution of sorts, a warning against any lingering nostalgia we may have for the 1970s, a breathtakingly ugly period when even the rats parted their hair down the middle. (Please note that the author and publisher are not responsible for the results of viewing these pictures.)
James Lileks came of age in the 1970s, and for him there was no crueler thing you could inflict upon a person. The music: either sluggish metal, cracker-boogie, or wimpy ballads. Television: camp without the pleasure of knowing it's camp. Politics: the sweaty perfidy of Nixon, the damp uselessness of Ford, the sanctimonious impotence of Carter. The world: nasty. Hair: unspeakable. Architecture: metal-shingled mansard roofs on franchise chicken shops. No oil. No fun. Syphilis and Fonzie.
Interior Desecrations is the author's revenge on the decade. Using an ungodly collection of the worst of 1970s interior design magazines, books, and pamphlets, he proves without a shadow of a doubt that the '70s were a hideously grim period. This is what happens when Dad drinks, Mom floats in a Valium haze, the kids slump down in the den with a bong, and the decorator is left to run amok. It seemed so normal at the time. But this book should cure whatever lingering nostalgia we have. So adjust your sense of style, color, and taste. beware
You've been warned.
About the Author
James Lileks is the author of several books, including The Gallery of Regrettable Food: Highlights from Classic American Recipe Books and the forthcoming Mommy Knows Worst: Highlights from the Golden Age of Bad Parenting Advice. He is a columnist for the Star-Tribune in Minneapolis and a syndicated political humor columnist for Newhouse News Service. Visit his popular website, lileks.com, for the whole James Lileks experience.
Advertisement