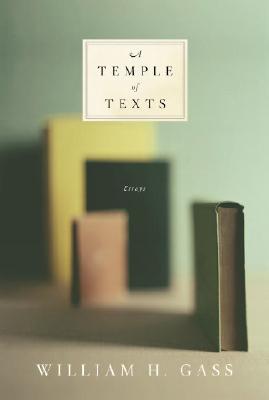 A Temple of Texts (Hardcover)
Knopf, 9780307262868, 432pp.
Publication Date: February 14, 2006
* Individual store prices may vary.
or
Not Currently Available for Direct Purchase
Description
From one of the most admired essayists and novelists at work today: a new collection of essays—his first since Tests of Time, winner of the National Book Critics Circle Award for Criticism.

These twenty-five essays speak to the nature and value of writing and to the books that result from a deep commitment to the word. Here is Gass on Rilke and Gertrude Stein; on friends such as Stanley Elkin, Robert Coover, and William Gaddis; and on a company of "healthy dissidents," among them Rabelais, Elias Canetti, John Hawkes, and Gabriel García Márquez.

In the title essay, Gass offers an annotated list of the fifty books that have most influenced his thinking and his work and writes about his first reaction to reading each. Among the books: Ludwig Wittgenstein's Tractatus Logico-Philosophicus ("A lightning bolt," Gass writes. "Philosophy was not dead after all. Philosophical ambitions were not extinguished. Philosophical beauty had not fled prose.") . . . Ben Jonson's The Alchemist ("A man after my own heart. He is capable of the simplest lyrical stroke, as bold and direct as a line by Matisse, but he can be complex in a manner that could cast Nabokov in the shade . . . Shakespeare may have been smarter, but he did not know as much.") . . . Gustave Flaubert's letters ("Here I learned—and learned—and learned.") And after reading Malory's Le Morte d'Arthur, Gass writes "I began to eat books like an alien worm."

In the concluding essay, "Evil," Gass enlarges upon the themes of artistic quality and cultural values that are central to the books he has considered, many of which seek to reveal the worst in people while admiring what they do best.
As Gass writes, "The true alchemists do not change lead into gold, they change the world into words."

A Temple of Texts is Gass at his most alchemical.
About the Author
William H. Gass--essayist, novelist, literary critic--was born in Fargo, North Dakota. He has been the recipient of the first PEN/Nabokov Award, the PEN/Spielvogel-Diamonstein Award for the Art of the Essay, three National Book Critics Circle Awards for Criticism, a Lannan Foundation Lifetime Achievement Award, the Award for Fiction and the Medal of Merit for Fiction from the Academy and Institute of Arts and Letters, and fellowships from the Rockefeller and Guggenheim Foundations. He lives in St. Louis.
Advertisement