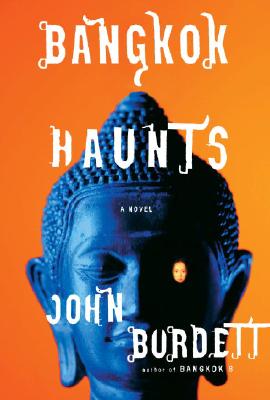 Bangkok Haunts
Hardcover

* Individual store prices may vary.
Other Editions of This Title:
Paperback (6/10/2008)
Description
Sonchai Jitpleecheep—the devout Buddhist Royal Thai Police detective who led us through the best sellers Bangkok 8 and Bangkok Tattoo—returns in this blistering new novel.

Sonchai has seen virtually everything on his beat in Bangkok's District 8, but nothing like the video he's just been sent anonymously: "Few crimes make us fear for the evolution of our species. I am watching one right now."

He's watching a snuff film. And the person dying before his disbelieving eyes is Damrong—a woman he once loved obsessively and, now it becomes clear, endlessly. And there is something more: something at the end of the film that leaves Sonchai both figuratively and literally haunted.

While his investigation will lead him through the office of the ever-scheming police captain, Vikorn ("Don't spoil a great case with too much perfectionism," he advises Sonchai); in and out of the influence of a perhaps psychotic wandering monk; and eventually into the gilded rooms of the most exclusive men's club in Bangkok (whose members will do anything to protect their identities, and to explore their most secret fantasies), it also leads him to his own simple bedroom where he sleeps next to his pregnant wife while his dreams deliver him up to Damrong . . .

Ferociously smart and funny, furiously fast-paced, and laced through with an erotic ghost story that gives a new dark twist to the life of our hero, Bangkok Haunts does exactly that from first page to last.
Praise For Bangkok Haunts…
"Spellbinding . . . To conjure Burdett's unique blend of garishness and gravitas, imagine a Conrad novel transformed into a video game . . . Burdett is equally good with male and female characters. His portrayal of Sonchai gains depth with each Bangkok novel, his apprehension of women ever more nuanced . . . [These] characters are scintillating; even more powerful is Burdett's depiction of an economy with prostitution as a fundament . . . Shadowing Sonchai on his trip to the heart of darkness is haunting indeed."
–Carlo Wolff, Boston Globe

"Bangkok 8 turned out to be such a dazzlingly unusual detective story that I bought 25 copies of the thing and began giving them away. John Burdett is the mastermind behind these cops and robbers tales set in Thailand. This is not the tourist's Thailand! You won't read anything else like Burdett, nor will you ever escape the spell of his extraordinary Buddhist detective, Sonchai Jitpleecheep . . . Now, happily, he has another one titled Bangkok Haunts . . . Highly recommended."
–Liz Smith

"Full of his usual insights into the subculture for which Thailand is known, Bangkok Haunts is Burdett's best mystery yet in the series . . . Burdett has found his voice with Bangkok Haunts. The plot is more complex, the observations of Thai, American and Southeast Asian cultures more nuanced, the reach of his story greater. I found it hard to put down this book and loved its pace, wit and humor. Many writers would tell such a story with an air of condescension or disapproval, but not Burdett . . . Good story, this. And fun to read, too. A perfect diversion for summer."
–Repps Hudson, St. Louis Post-Dispatch

"Who knew that Bangkok 8 and Bangkok Tattoo were just the warm-up acts? As vibrantly as those sizzling thrillers captured the exotic flavor of crime and corruption in Thailand's capital city, Bangkok Haunts opens up new avenues of awe . . . The wonder of Burdett's hallucinatory brand of Southeast Asian magic–which puts his novels in range of the fabulous Yellowthread Street procedurals William Marshall set in Hong Kong and of Colin Cotterill's fanciful mysteries featuring the Laotian coroner-sleuth Dr. Siri Paiboun–is that this spooky stuff is manifested in a real world . . . The author, who clearly knows his territory, has a fine skill for distilling the morbid beauty (not to mention the grotesque humor) in scenes of everyday misery."
–Marilyn Stasio, New York Times Book Review

"A wonderful mystery series that is at once sprightly and densely layered, like the Thais themselves . . . In Burdett's always amazing Thailand, [Sonchai's] differentness has made him a keen cultural anthropologist whose principles are as admirable as his insights are professionally useful and often deliciously droll . . . His captivating, sometimes teasing voice and Burdett's affectionate take on everything visiting farangs find fascinatingly upside down and backward in Thailand never falter."
–Richard Stevenson, Washington Post

"Along with its rich and haunting subplots, this whodunit also offers a commentary on a culture that has retained its uber-exotic purity because 'nobody colonized us,' says Sonchai . . . [A] sly thriller."
–Jane Furse, New York Daily News

"It's a rare and fine thing to discover an author of genre fiction who can craft such a strikingly original character as John Burdett has done with his trio of novels . . . Burdett's novels suck you in like a boozy back-alley peep show, submerging the reader in a hot, sticky murk of nuanced characterizations and sultry Thai realities. You can almost feel the tropical humidity of the place while reading Burdett's whip-smart, zenlike first person narration, and the daily doomery of lower-echelon badge-holders is as intense as being in the third-world hot spot itself. Why fly Thai Air when you can savor the mad, manic capital city minus its legendary pollution from the comfort of your own home, farang?"
–Marc Savlov, Austin Chronicle

"Strikingly original . . . Burdett's best novel in the series . . . Sonchai is engaging, funny, and animated by a penetrating intelligence . . . Bangkok Haunts will offer the best evidence that it is still possible to write utterly innovative horror fiction that is in all respects very different from everything else out there. Mystery readers will find an equally fresh approach to the genre . . . There's a particularly vivid and terrifying climax that will remain in mind long after you close the covers . . . You will indeed be haunted."
–Rick Kleffel, The Agony Column

"So rich with intellect and humor, with Thai atmosphere and Buddhist philosophy, even a denizen of Planet Yin may find herself bewitched and amused . . . Sonchai's narrative is awash in a unique combination of mysticism and irony."
–Marion Winik, Newsday

"First-person is a magic act most authors can't work [but] Sonchai Jitpleecheep is, by contrast, as complex–and as conflicted–as his culture . . . Bangkok Haunts is a dreamy, dirty, remarkably nuanced book, a jewel half-buried in sordid earth, yet still aglitter."
–David Fulmer, Paste magazine

"Burdett's first two Sonchai Jitpleecheep novels heralded the arrival of a distinctive new voice in crime fiction. His third effort goes further, building on the exquisite moral ambiguity implicit in both setting and hero with tighter plotting and, if possible, an even more potent mix of underworld seaminess, startling tenderness, and Buddhist wisdom . . . Burdett's Bangkok may be the most vibrant landscape of any in current crime fiction, and Sonchai–an improbable mix of West and East, the fact-seeking investigator meets the tranquil Buddhist, at ease with contrary realities–is certainly the genre's most intriguing sleuth.
–Booklist (starred)

"Not for your Agatha Christie—loving maiden aunt, but good grisly fun for those who like their noir rated NC-17 . . . Vice spins the wheels of this third gritty procedural . . . Burdett conduct[s] another mordant whirlwind tour of Bangkok's darkest places . . . The story, narrated in Sonchai's urbane voice is filled with intriguing nuggets of Buddhist wisdom and custom and graced by brief but telling appearances of recurring characters . . . Burdett holds our attention throughout a breezy tale reminiscent of the late, great Ross Thomas's byzantine Asian-inflected capers."
–Kirkus Reviews

"At the start of Burdett's superb third mystery-thriller to feature Thai police detective Sonchai Jitpleecheep, Jitpleecheep shows old friend Kimberley Jones, an American FBI agent, a vicious snuff film he's received depicting the murder of an ex-lover of his named Damrong . . . Expertly juggling elements that in lesser hands would become confused or hackneyed, Burdett has created a haunting, powerful story that transcends genre."
–Publishers Weekly (starred)
Knopf, 9780307263186, 320pp.
Publication Date: June 5, 2007
or
Not Currently Available for Direct Purchase