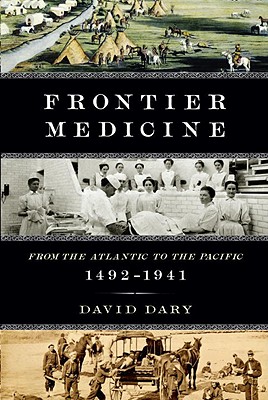 Frontier Medicine: From the Atlantic to the Pacific, 1492-1941 (Hardcover)
From the Atlantic to the Pacific, 1492-1941
Knopf, 9780307263452, 400pp.
Publication Date: November 4, 2008
* Individual store prices may vary.
or
Not Currently Available for Direct Purchase
Description
In his new book, David Dary, one of our leading social historians, gives us a fascinating, informative account of American frontier medicine from our Indian past to the beginning of World War II, as the frontier moved steadily westward from the Atlantic coast to the Pacific Ocean.

He begins with the early arrivals to our shores and explains how their combined European-taught medical skills and the Indians' well-developed knowledge of local herbal remedies and psychic healing formed the foundation of early American medicine.

We then follow white settlement west, learning how, in the 1720s, seventy-five years before Edward Jenner's experiments with smallpox vaccine, a Boston doctor learned from an African slave how to vaccinate against the disease; how, in 1809, a backwoods Kentucky doctor performed the first successful abdominal surgery; how, around 1820, a Missouri doctor realized quinine could prevent as well as cure malaria and made a fortune from the resulting pills he invented.

Using diaries, journals, newspapers, letters, advertisements, medical records, and pharmacological writings, Dary gives us firsthand accounts of Indian cures; the ingenious self-healings of mountain men; home remedies settlers carried across the plains; an early "HMO" formed by Wyoming ranchers and cowboys to provide themselves with medical care; the indispensable role of country doctors and midwives; the fortunes made from patent medicines and quack cures; the contributions of army medicine; Chinese herbalists; the formation of the American Medical Association; the first black doctors; the first women doctors; and finally the early-twentieth-century shift to a formal scientific approach to medicine that by the postwar period had for the most part eliminated the trial-and-error practical methods that were at the center of frontier medicine.

A wonderful—often entertaining—overview of the complexity, energy, and inventiveness of the ways in which our forebears were doctored and how our medical system came into being.
About the Author
David Dary is the author of more than a dozen previous books including "The Buffalo

Book, Cowboy Culture, Entrepreneurs of the Old West, Seeking Pleasure in the Old West, Red Blood and Black Ink, The Santa Fe Trail, The Oregon Trail, "and" True Tales of the Prairies and Plains." He is the recipient of two Wrangler Awards from the National Cowboy and Western Heritage Museum, two Western Writers of America Spur Awards, the WWA's Wister Owen Award for lifetime achievement, the Westerners International Best Nonfiction Book Award, and the Oklahoma Center for the Book 2008""Arrell Gibson""Award for lifetime achievement. He lives in Norman, Oklahoma.
Praise For Frontier Medicine: From the Atlantic to the Pacific, 1492-1941…
"Bear attacks. Syphilis. Bullet wounds. Malaria. Scalpings. Cholera. Arrows shot into the skull. Scurvy. Rabies. Ax mishaps. Crushing by moving wagon on wheels. Outsize tumors. Snake bites. . . David Dary relates the story of Westward expansion while examining these misfortunes, and many others, from the point of view of men and women who tried to heal the often ruinously injured. The results are both a horror show and undeniably engrossing: "MASH" meets Edgar Allan Poe.
He knows his material cold, and his narrative accumulates authority and dignity as it rolls along. As he piles story upon story and anecdote upon anecdote, you'll find yourself walking around the house reading horrific bits out loud to anyone who will listen, to the great distress of the squeamish."
—Dwight Garner, The New York Times

"Masterly . . . enthralling . . . [Dary] does an admirable job of pulling together stories about health care as practiced by the Native Americans, Lewis and Clark, Civil War doctors and even 20th-century quacks. Moving briskly from one episode to the next, Mr. Dary is particularly effective at showing us the strengths and foibles of early American doctors, an often suspect class of professionals who now and again did more harm than healing. It is entertaining, enlightening material." —Ira Rutkow, The Wall Street Journal
Advertisement