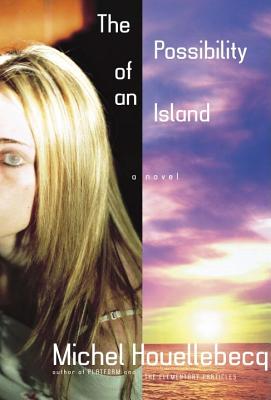 The Possibility of an Island (Hardcover)
Knopf, 9780307263490, 352pp.
Publication Date: May 23, 2006
Other Editions of This Title:
Paperback (5/8/2007)
* Individual store prices may vary.
Description
A worldwide phenomenon and the most famous French novelist since Camus, Michel Houellebecq now delivers his magnum opus—a tale of our present circumstances told from the future, when humanity as we know it has vanished.

Having made a fortune producing comedies that skewer mankind's consumerism, religious fundamentalism, sexual profligacy, and other affronts, Daniel is forty before he falls prey to the human condition himself: his beloved's body sags with age, their marriage dissolves, and true happiness seems a luxury reserved for their dog, Fox. After the colossal failure of his second great love affair, he joins a cult of health fanatics determined to produce a misery-free eternal life—manifested here in the voices of Daniel's subsequent clones, who enjoy the umpteenth Fox's companionship but shun the bands of fugitive "humans" on the horizon. Their commentary on Daniel's fate, and on the race as a whole, illuminates the basic tenets of our existence—laughter, tears, love, remorse—and their nostalgia for such emotions, all of which have long since disappeared.

Laugh-out-loud funny, philosophically compelling, and flatly heartbreaking, The Possibility of an Island is at once an indictment, an elegy, and a celebration of everything we have and are at risk of losing.
Praise For The Possibility of an Island…
"Brutally honest, hilarious and often crudely explicit . . . The social criticism offered in this novel is often surprisingly relevant and revealing, [with] an underlying empathy for the plight of humanity."
--Will Carter, Richmond Times-Dispatch

"Houellebecq takes on some of the biggest--and most elemental--questions, not only about the dangerous trajectory on which mankind currently seems to be headed but also about the very nature of what may be wrong with humans as a species and with life, the world and the universe in general. The Possibility of an Island [is] a skillful amalgam of prophesy, satire and science fiction, covering some of the same ground as Margaret Atwood's Oryx and Crake but with much more finesse and conviction."
--Merle Rubin, Washington Post Book World

"[A] provocative, often funny, intellectually engaging novel . . . combining lurid sexuality with an avalanche of philosophically informed reflections on desire and death."
--Steven E. Alford, South Florida Sun-Sentinel

"Bewitching . . . Ingenious . . . The Possibility of an Island is often brilliant and searing [as] the logic of sexual liberation [is] run to its absolute extreme."
--Stephen Metcalf, The New York Times Book Review

"A sharp check on our hubris, our complacent assumption that things are getting better and better. It is always worth asking whether they are."
--Brian A. Brown, Wall Street Journal

"Houellebecq has never written better."
--Publishers Weekly

"A bleak comment on contemporary society, at times funny, brutal, and revolting, which pushes notions of hope and hopelessness to a dismal and logical conclusion."
--The Economist
or
Not Currently Available for Direct Purchase