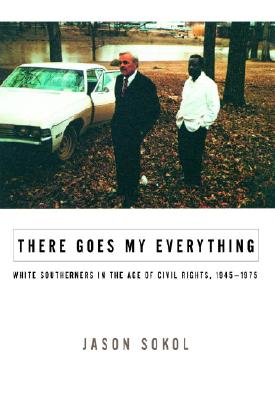 There Goes My Everything: White Southerners in the Age of Civil Rights, 1945-1975 (Hardcover)
White Southerners in the Age of Civil Rights, 1945-1975
Knopf, 9780307263568, 448pp.
Publication Date: August 22, 2006
* Individual store prices may vary.
or
Not Currently Available for Direct Purchase
Description
While the landmarks of the civil rights movement have become indelible parts of our collective memory, few have written about what life was like for white southerners who lived through that historic time. Now, in his brilliant debut book, historian Jason Sokol explores the untold stories of ordinary people experiencing the tumultuous decades that forever altered the American landscape. So often historical accounts of the era have focused on the movement's most dramatic moments and figures, and paid greatest attention to the brave steps taken by blacks to effect long-awaited change. In this riveting book, Sokol goes beyond the 1955 Montgomery bus boycott, the 1960 student sit-ins, and the soul-stirring speeches of Martin Luther King, Jr., and into the lives of middle- and working-class whites whose world was becoming unrecognizable to them. He takes us to New Orleans's Ninth Ward, where, in 1960, a painful episode of school integration brought out the fiercest prejudices in some and made accidental radicals of others; to Ollie's Barbecue in Birmingham and Pickrick Fried Chicken in Atlanta, and thousands of lunch counters in between, where "some white employees greeted black customers as though they had been patrons for years; others slammed doors in their faces; still more served them hesitantly and reluctantly."

There Goes My Everything traces the origins of the civil rights struggle from World War II, when some black and white American soldiers lived and fought side by side overseas (leading them to question Jim Crow at home), to the beginnings of change in the 1950s and the flared tensions of the 1960s, into the 1970s, when strongholds of white rule suddenly found themselves overtaken by rising black political power. Through it all, Sokol resists the easy categorization of whites caught in the torrent of change; rather, he gives us nuanced portraits of people resisting, embracing, and questioning the social revolution taking place around them. Drawing on recorded interviews, magazine bureau dispatches, and newspaper editorials, Sokol seamlessly weaves together historical analysis with firsthand accounts. Here are the stories of white southerners in their own words, presented without condescension or moral judgment.

An unprecedented picture of one of the historic periods in twentieth-century America.
Praise For There Goes My Everything: White Southerners in the Age of Civil Rights, 1945-1975…
Advance Praise for Jason Sokol's There Goes My Everything:

"For most of us, 'white southerners' remain an undifferentiated mass of forces hostile to the social and political progress of African-Americans in the civil rights era. Jason Sokol brilliantly reveals, for the first time, that this image was only one dimension of a vastly more complex range of emotions and opinions within the white southern community between 1945 and 1975. There Goes My Everything is a subtle, nuanced, and strikingly original study that explores the ways in which the white community was not only threatened by but also conflicted about the black revolution that engulfed it, and it does so with sympathy and grace."
--Henry Louis Gates, Jr.

"It's difficult not to approach Sokol's book with sheer astonishment that it has been written by one so young...but in truth, just about any scholar in the field would be happy to claim There Goes My Everything as his or her own work."
--The Washington Post Book World

"A fascinating and remarkably empathetic assessment of how white southerners experienced the civil-rights movement."
--The Atlantic Monthly

"Sokol never apologizes or attempts to mitigate the often brutal and violent consequences of Southern racism. His eloquent presentation, with all of its complications, provides an invaluable and much-needed addition to our understanding of how the Civil Rights movement was actually lived."
--Publishers Weekly

"This debut...is an insightful, incisive analysis of a critical period of change in American history...Sokol offers an original and penetrating perspective on what all too often is assumed to be one singular progression."
--Library Journal

"A well-conceived study of the changes...that swept the white South as its privileged position came under challenge in the Civil Rights era."
--Kirkus Reviews

"An apt and even arresting narration of the ways that the white South included hard and soft racism, iron certainty and deep doubt."
--The Chronicle of Higher Education

"A fascinating look at a side of the civil rights movement that has not been a widely explored aspect of one of the greatest social transformations in U.S. history."
--Booklist
Advertisement