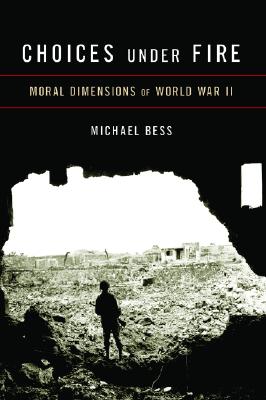 Choices Under Fire: Moral Dimensions of World War II (Hardcover)
Moral Dimensions of World War II
Knopf, 9780307263650, 416pp.
Publication Date: November 7, 2006
* Individual store prices may vary.
or
Not Currently Available for Direct Purchase
Description
World War II remains a celebrated event in our collective memory—a time of great high-minded clarity, patriotic sacrifice, and national unity of purpose. It was the quintessential "good war," in which the forces of freedom triumphed over the forces of darkness. Now, in his provocative new book, historian Michael Bess explodes the myth that this was a war fought without moral ambiguity. He shows that although it was undeniably a just war—a war of defense against unprovoked aggression—it was a conflict fraught with painful dilemmas, uneasy trade-offs, and unavoidable compromises. With clear-eyed, principled assurance, Bess takes us into the heart of a global contest that was anything but straightforward, and confronts its most difficult questions: Was the bombing of civilian populations in Germany and Japan justified? Were the Nuremberg and Tokyo war crimes trials legally scrupulous? What is the legacy bequeathed to the world by Hiroshima? And what are the long-term ramifications of the Anglo-American alliance with Stalin, a leader whose atrocities rivaled those of Hitler?

Viewing the conflict as a composite of countless choices made by governments, communities, and—always of the utmost importance—individuals, Bess untangles the stories of singular moral significance from the mass of World War II data. He examines the factors that led some people to dissent and defy evil while others remained trapped or aloof, caught in the net of large-scale operations they saw as beyond their control. He explains the complex psychological dynamics at work among the men of Reserve Battalion 101, a group of ordinary working-class Germans who swept through the Polish countryside slaughtering Jews, and among the townspeople of the Plateau Vivarais-Lignon, who rescued thousands of Jewish refugees at their own peril. He asks poignant hypothetical questions, such as what would have happened had the Catholic Church taken a hard line against Nazism, placing an imperative on its members to choose between their loyalties.

As Bess guides us through the war's final theater, the politics of memory, he shows how long-simmering controversies still have the power to divide nations more than half a century later. It is here that he argues against the binaries of honor and dishonor, pride and shame, and advocates instead an honest and nuanced reckoning on the part of the world's nations with the full complexity of their World War II pasts.

Forthright and authoritative, this is a rigorous accounting of the war that forever changed our world, a book that takes us to the outer limits of moral reasoning about historical events.
Praise For Choices Under Fire: Moral Dimensions of World War II…
"Wise, judicious, eloquent." —Geoffrey Ward

"A stunning and brilliantly written case for using history as a filter to examine the great traumas of our more recent past, adding a moral compass to see the true roots of war and violence in our time." —Rocky Mountain News

"Meticulous, unsparing, and a brilliant case study in the complexity -but also the necessity--of coming to moral judgments even in a time of "total war." —Sanford Lakoff, Professor Emeritus of Political Science, University of California, San Diego

"A tough-minded, courageous, ultimately optimistic book, sure to spark debate among readers interested in the history of warfare and the future of our planet." —The Tennessean
Advertisement