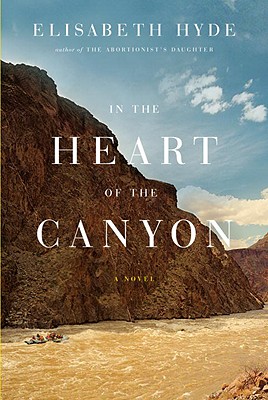 In the Heart of the Canyon (Hardcover)
Knopf, 9780307263674, 336pp.
Publication Date: July 14, 2009
Other Editions of This Title:
Digital Audiobook (7/13/2009)
Paperback (7/13/2010)
Compact Disc (7/14/2009)
* Individual store prices may vary.
Description
From the author of The Abortionist's Daughter, a gripping new novel about a rafting trip through the Grand Canyon that changes the lives of everyone on board.

Meet Peter, twenty-seven, single, and looking for a quick hookup; Evelyn, a fifty-year-old Harvard professor; and Ruth and Lloyd, river veterans in their seventies. There's Mitchell, an overeager history buff with no qualms about upstaging the guides with his knowledge. There's Jill from Salt Lake City, wanting desperately to spark some sense of adventure in her staid Mormon family; and seventeen-year-old Amy, so woefully overweight that she can barely fit into a pup tent, let alone into a life jacket.

Guiding them all is JT Maroney, who loves the river with all his heart and who, having made 124 previous trips down the Colorado, thinks he has seen everything. But on their first night, a stray dog wanders into their campsite, upsetting the tentative equilibrium of this makeshift family. Over the next thirteen days, as various decisions are second-guessed and sometimes regretted, both passengers and guides find that sometimes the most daunting adventures on a Colorado River trip have nothing to do with white-water rapids, and everything to do with reconfiguring the rocky canyons of the heart.
About the Author
Elisabeth Hyde is the author of four previous novels. Born and raised in New Hampshire, she has since lived in Vermont, Washington, D.C., San Francisco, and Seattle. In 1979 she received her law degree and practiced briefly with the U.S. Department of Justice. She currently lives in Colorado with her family.
Praise For In the Heart of the Canyon…
Praise for Elisabeth Hyde

In the Heart of the Canyon

"Hyde is well qualified to guide her readers through this . . . journey. . . . Her prose is vigorous and natural, her perception subtle, her voice and those o f her characters all-American."
—Liesl Schillinger, The New York Times Book Review

"Engaging. . . . Hyde has a keen eye for social dynamics, but she's just as good at keeping the adrenaline pumping. . . . She expertly evokes the thrill and terror of rapid-running. . . . A bracing ride."
—Kim Hubbard, People

"There's nothing predictable about either Hyde's plot or her searing conclusion."
—Tina Jordan, Entertainment Weekly

"Hyde vividly portrays both the wonders and horrors of white-water rafting."
—Diane White, The Boston Globe

"An astute, engrossing, character-driven affair. . . . The novel succeeds as both a study of strangers striving toward a common goal and as a suspenseful drama filled with angst and humanity. Hyde outshines herself with this wild ride."
—Publishers Weekly (starred review)

"People say that a river trip down the Grand Canyon can change your life. But sometimes, as Elisabeth Hyde's quirky characters soon discover, it's best to let go of expectations–because on the river nothing, nothing, is what you expect. This finely wrought page-turner will keep you on a wild ride for all 226 miles. You won't want to put it down."
—Page Lambert, author of In Search of Kinship, leader of creative river journeys for women

"The reader is swept along with the characters through the strikingly beautiful canyon and the potentially deadly river. Great scenic description and fully believable characters make this adventure story well worth the ride."
—Susan Clifford Braun, Library Journal

"Hyde has concocted a near perfect blend of humor and drama, heartbreak and redemption."
—Beatriz Terrazas, The Dallas Morning News

"Hyde's novel unfolds on a harrowing rafting trip down the Colorado, during which 12 strangers share life-and-death moments and some lasting transformations."
—Good Housekeeping

"In the Heart of the Canyon is a book that flows like the river described within its pages. . . . Hyde has crafted a page-turner that is full of suspense and populated with interesting and emotionally appealing characters. . . . In the Heart of the Canyon is a great read for hot summer days and cool nights."
—Leslie Doran, The Durango Herald



The Abortionist's Daughter

"A smart and powerful thriller."
—Chris Bohjalian

"Arresting. . . . Astute. . . . Hyde is an author who should be with us for some time."
—Anita Shreve, The Washington Post Book World

"Darkly witty. . . . [The Abortionist's Daughter] accordions out into a suspense story and a comic noir, a novel of manners and an improbably romance. . . . Striking."
—Maureen Corrigan, Fresh Air (NPR)

"Fascinating and complex."
—The New York Times Book Review

"What a pleasure it is to read this well-crafted novel with complicated characters and interesting ideas."
—The Boston Globe

"This is ferociously paced, up-all-night suspense, an exquisitely wrought murder mystery that's also richly layered and morally complex, as intelligent and provocative as it is impossible to put down. Elisabeth Hyde is a master."
—Joseph Finder, author of Company Man and Killer Instinct

"In keeping with the truly best writers, Hyde examines both sides of the issue, but offers only questions that probe deep into the secret hearts of readers everywhere. For answers, they will have to turn to themselves. . . . Compelling and timely. . . . A must-read."
—The Denver Post

"Hyde does a terrific job of fleshing out her characters and dissecting all their problems."
—USA Today

or
Not Currently Available for Direct Purchase