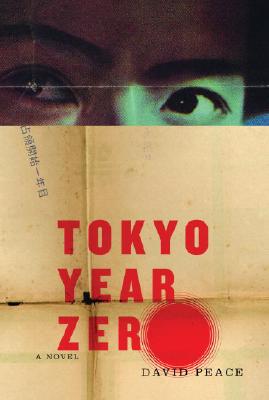 Tokyo Year Zero
Hardcover

* Individual store prices may vary.
Other Editions of This Title:
Digital Audiobook (7/21/2010)
Paperback (8/12/2008)
MP3 CD (8/1/2010)
Compact Disc (8/1/2010)
Compact Disc (8/1/2010)
Paperback (9/4/2008)
Audio Cassette (8/1/2010)
Description
From "British crime fiction's most exciting new voice in decades" (GQ) comes an electrifying novel that revisits a series of shocking crimes committed in post–World War II, bombed-out, American-occupied Tokyo.

On August 15, 1946—the first anniversary of the Japanese surrender—the partially decomposed, raped, and strangled bodies of two women are found in Shiba Park. More murders will soon be uncovered: women killed in the same way, and, it becomes clear, by the same hand.

Narrated by the irreverent, despairing yet determined Detective Minami of the Tokyo Metropolitan Police, Tokyo Year Zero tells a fictionalized story of the real-life hunt for "the Japanese Bluebeard"—a decorated Imperial soldier who raped and murdered at least ten women amid the bleak turmoil of post-war Japan ("one huge sea of displaced persons . . . one minute here and one minute gone"). And it is the story of Detective Minami: chasing down, and haunted by, memories of atrocities that he can no longer explain or forgive.

Unblinking in its vision of a nation in a chaotic, hellish period in its history; of the rawness of emotion left in the wake of war; and of the moral and psychological corruption engendered by its aftermath—Tokyo Year Zero is unforgettable, a darkly lyrical and stunningly original crime novel.
Praise For Tokyo Year Zero…
"Too often the mystery today seems ossified. How exhilarating, then, to discover David Peace through his brilliant, perplexing, claustrophobic and ambiguous seventh novel, Tokyo Year Zero . . . Peace's masters would seem to be Dostoyevsky; postmodern collagists like William S. Burroughs and Kathy Acker; and practitioners of the French nouveau roman like Alain Robbe-Grillet . . . Marvelous."
–New York Times Book Review

"A writer can be psychologically penetrating, or socially significant, or spooky as hell (Stephen King, Patrick Suskind, Chuck Palahniuk). Noir novelists drench the whole affair in atmosphere. And then there is David Peace's method–which is to be all these things, all at once . . . Once this hellish locomotive of a book hooks onto its tracks it becomes difficult to hop off."
–San Francisco Chronicle

"Astounding . . . Tokyo Year Zero is Peace's most accessible work, the culmination of years of fine-tuning his idiosyncratic voice to its truest frequency . . . What we have here is not just a novel with voice, but also with rhythm, which must be learned and sharpened by the writer and is extraordinarily difficult to get right."
–Los Angeles Times Book Review

"The big post-war Japan novel, a fierce marriage of mood and narrative drive. David Peace continues to polish and advance his particular brand of literary crime fiction."
–George Pelecanos

"Riveting . . . Peace, whose complex style feels like a cross between Haruki Murakami and James Ellroy, delivers an expressionistic portrait of a harrowing, devastated time and place."
–Publishers Weekly (starred)

"Peace is clearly making something that is absolutely and unquestionably unique . . . His books are doubly exciting, and doubly disturbing, because Peace demonstrates what we instinctively know and fear to be true about the world: that there are, of course, moral absolutes, but that we all live, in our daily lives, as moral relativists. What Peace then adds to this already compelling schema is a vivid and detailed depiction of place and a strong poetic use of language."
–The Guardian (UK)

"Out of the facts [of postwar Tokyo], Peace weaves a thriller that is both a gory psychological whodunit and a meditation on the origins of modern Japan. The result is something dark and bloody, the tone lying somewhere between Kurosawa's Macbeth and the caricatures of the more violent manga cartoons."
–The Observer (UK)

"A stunning piece of writing, powerful, moving, unsentimental but deeply felt . . . A detective novel? Perhaps. A thriller? Certainly. But its core is more attuned to Dostoevsky than Conan Doyle . . . Peace controls everything with a poise that steals your breath . . . He is a writer whose dark, dramatic gifts have produced some of the most disturbing books of our time. His body of work is stacking up to become a landmark in modern fiction."
–The Scotsman (UK)

"A triumph, an audacious, dazzling, furiously-paced, admirably intelligent page-turner that both tugs at the heart and chills the blood. This is Peace at the peak of his form . . . It does David Peace a disservice to describe him as a crime writer. He is, quite simply, one of the most compelling and original contemporary authors anywhere, in any context. That he has chosen to write crime fiction is cause for fans of the genre to give thanks. And they should certainly give thanks for Tokyo Year Zero."
–Yorkshire Post (UK)

"A lyrical tour through the dark, bubbling chaos of post—World War II Japan, Tokyo Year Zero is both an inquiry into a local atrocity and an investigation into the greatest collective identity crisis in modern history. By laying before us the black re-birth of a nation in 1946, Peace provides essential insight into the world of today."
–John Burdett

"Tokyo Year Zero is part historical stunner, part Kurosawa crime film, an original all the way. David Peace's depiction of a war-torn metropolis both crumbling and ascendant is peerless, and the story itself is beautifully wrought."
–James Ellroy
Knopf, 9780307263742, 368pp.
Publication Date: September 11, 2007
or
Not Currently Available for Direct Purchase