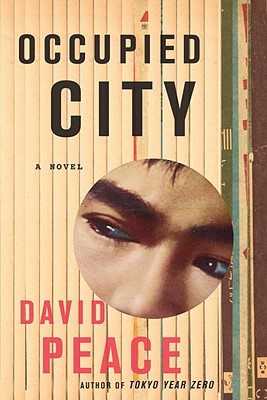 Occupied City
Hardcover

* Individual store prices may vary.
Other Editions of This Title:
Digital Audiobook (7/13/2010)
Paperback (2/8/2011)
MP3 CD (8/1/2010)
Compact Disc (8/1/2010)
Audio Cassette (8/1/2010)
Compact Disc (8/1/2010)
Description
A fierce, exquisitely dark novel that plunges us into post–World War II Occupied Japan in a Rashomon-like retelling of a mass poisoning (based on an actual event), its aftermath, and the hidden wartime atrocities that led to the crime.

On January 26, 1948, a man identifying himself as a public health official arrives at a bank in Tokyo. There has been an outbreak of dysentery in the neighborhood, he explains, and he has been assigned by Occupation authorities to treat everyone who might have been exposed to the disease. Soon after drinking the medicine he administers, twelve employees are dead, four are unconscious, and the "official" has fled . . .

Twelve voices tell the story of the murder from different perspectives. One of the victims speaks, for all the victims, from the grave. We read the increasingly mad notes of one of the case detectives, the desperate letters of an American occupier, the testimony of a traumatized survivor. We meet a journalist, a gangster-turned-businessman, an "occult detective," a Soviet soldier, a well-known painter. Each voice enlarges and deepens the portrait of a city and a people making their way out of a war-induced hell.

Occupied City immerses us in an extreme time and place with a brilliantly idiosyncratic, expressionistic, mesmerizing narrative. It is a stunningly audacious work of fiction from a singular writer.
Praise For Occupied City…
"An extraordinary and highly original crime novel . . . This is a truly remarkable work. It is hugely daring, utterly irresistible, deeply serious and unlike anything I have ever read."
 —New York Times Book Review
 
"Hypnotic postmodern noir of almost unrivaled fury . . . Expect to be enthralled and maybe amazed . . . Occupied City takes no prisoners . . . Hardly any writer can invoke T. S. Eliot and The Waste Land and expect to get away with it, but Peace does. He's an original and ambitious writer."
—Los Angeles Times Book Review

"Like the novels of Stieg Larsson, Peace's books are fueled by political passion . . . Occupied City [is] genuinely hypnotic."
—Harper's
 
"This is a savagely beautiful, richly startling novel . . . The raw beauty of Peace's language envelops you . . . Peace writes brilliantly of shattered roads, shattered lives, a fragmenting self, fragmenting society . . . He is an astonishing storyteller."
—The Times (UK)

"A genre-busting mystery and meditation on the ambiguity of elusive reality . . . Peace writes with boatloads of style . . . The most compelling character is Tokyo itself, a ruined city in a ruined country, a place of shadows and lies that feels not unlike Vienna in The Third Man or wartime Europe in Alan Furst's novels."
—Austin American-Statesman

"This original amalgam of storytelling, history, and style compares to Haruki Murakami in its content and scope but challenges the reader to unravel the mystery in 12 distinct voices . . . Maintains the fast pace of a historical thriller."
—Library Journal
 
"A tour de force."
—Publishers Weekly (starred)
 
"Occupied City is a stunning—and stunningly challenging—novel, a product of extensive historical research, remarkable imagination, and deep insight. It is certainly among the best books of the new year."
—Booklist (starred)

"Tokyo Year Zero was a gripping performance [but] Occupied City [is] a tighter read, with greater momentum, than its predecessor . . . The novels Peace produces are uncommonly serious about the nature of the tissues that bind together history, rumour, politics, psychology, community and fiction."
—Observer (UK)

"Powerful and ambitious . . . Peace [is] immensely talented."
—Kirkus Reviews (starred)
 
"Peace's breathtaking skill renders all [the voices] vividly, forcefully alive . . . His pulp-modernist style feels honed and refined to scalpel-sharp efficiency . . . Peace is like a fearsome tornado turning the world on its head."
—Financial Times 
 
"A marvellous book."
—Daily Telegraph (UK)
 
"Undoubtedly one of the best British novelists working today."
—Birmingham Post (UK)

"Peace doesn't simply examine wartime Japan's dark heart. He punches through the rib cage to rip it out, vivisect it, and write page after hallucinatory page in its hot, black blood . . . Occupied City is a gripping crime story, too . . . My copy of Occupied City won't be going anywhere near a second-hand bookshop."
—Independent (UK)
 
Knopf, 9780307263759, 288pp.
Publication Date: February 2, 2010
About the Author
David Peace is the author of the Red Riding Quartet, "GB84, The Damned Utd, "and "Tokyo Year Zero." He was chosen as one of "Granta"'s Best Young British Novelists of 2003, and has received the James Tait Black Memorial Prize, the German Crime Fiction Award, and France's Grand Prix du Roman Noir for Best Foreign Novel. In 2007, he was named as "GQ" (UK) Writer of the Year. He lived in Tokyo for fifteen years before returning to his native Yorkshire.
or
Not Currently Available for Direct Purchase