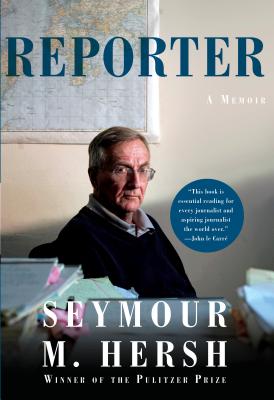 Reporter
A Memoir
Hardcover

* Individual store prices may vary.
Other Editions of This Title:
Digital Audiobook (6/4/2018)
Paperback (5/14/2019)
Library Binding, Large Print (9/5/2018)
Description
"Reporter is just wonderful. Truly a great life, and what shines out of the book, amid the low cunning and tireless legwork, is Hersh's warmth and humanity. This book is essential reading for every journalist and aspiring journalist the world over." —John le Carré 

From the Pulitzer Prize-winning, best-selling author and preeminent investigative journalist of our time—a heartfelt, hugely revealing memoir of a decades-long career breaking some of the most impactful stories of the last half-century, from Washington to Vietnam to the Middle East.

Seymour Hersh's fearless reporting has earned him fame, front-page bylines in virtually every major newspaper in the free world, honors galore, and no small amount of controversy. Now in this memoir he describes what drove him and how he worked as an independent outsider, even at the nation's most prestigious publications. He tells the stories behind the stories—riveting in their own right—as he chases leads, cultivates sources, and grapples with the weight of what he uncovers, daring to challenge official narratives handed down from the powers that be. In telling these stories, Hersh divulges previously unreported information about some of his biggest scoops, including the My Lai massacre and the horrors at Abu Ghraib. There are also illuminating recollections of some of the giants of American politics and journalism: Ben Bradlee, A. M. Rosenthal, David Remnick, and Henry Kissinger among them. This is essential reading on the power of the printed word at a time when good journalism is under fire as never before.
Praise For Reporter: A Memoir…
A Publishers Weekly Best Book of 2018 | A Times Literary Supplement Book of the Year

"What a story. What a life. It's hard to read this book without a tinge of envy and a lot of admiration." —Charles Glass, Times Literary Supplement

"A master class in the craft of reporting." —Alan Rusbridger, The New York Times Book Review

"Reporter is a miracle. . . The stories brim with humor, wit, poignancy, pointillist portraits of brilliant color—above all, [Hersh's] own voice." —Andrew Meier, Bookforum 

"One of the most compelling and significant books ever written about American journalism." —Jon Schwarz, The Intercept

"Intimate without ever turning to confession . . . Like all good memoirs, this one shows more than it says, and is a work of conscience as well as memory." —David Bromwich, Times Literary Supplement "Books of the Year"

"[Hersh] is a classic American archetype—the lone warrior on a quest for truth and justice . . . good books about the making of journalism are few and far between, and Hersh's memoir is a welcome addition." —Glenn Frankel, The Washington Post

"Cinematically-detailed and warmly human storytelling that's at once reminiscent of vintage Hersh and also tonally unlike anything else he's ever written . . . Ultimately the book yields up a warts-and-all picture not just of Hersh but of an entire era of journalism." —Steve Donoghue, Christian Science Monitor

"Riveting." —James Bovard, American Conservative

"When it comes time for the next generation of journalists to re-discover what this job is supposed to be about, they can at least read Reporter. It's all in here." —Matt Taibbi, Rolling Stone

"Hersh has been one of America's premier investigative journalist . . . an untethered operator whose scoops have resulted from veering from the pack. Reporter offers a best-practices guide to journalism as well as an implicit critique of the way it's practiced today." —Michael Massing, The Nation
 
"The experience of reading Hersh's memoir is like visiting a lost world . . . To put it in a callow way, this stuff is cool." —Josephine Livingstone, The New Republic
 

 
"In Reporter, even the footnotes are priceless . . . [the book] has more juicy background, action-packed storytelling and name-drops per page than any book in recent memory, all told in straightforward style. At its center is a profane, dogged, passionate, tireless, old-fashioned reporter who brought to light schisms, coverups and outrages that informed the world." —Claude Peck, Minneapolis Star Tribune

"Reading Reporter is to be reminded of the true power of journalism." —Lorraine Berry, Signature
  
"Reporter is just wonderful. Truly a great life, and what shines out of the book, amid the low cunning and tireless legwork, is Hersh's warmth and humanity. This book is essential reading for every journalist and aspiring journalist the world over." —John le Carré
 
"Once he catches the spoor of a My Lai, Hersh's tracking is a model of craft and control. He bargains with sources, gains knowledge by pretending to have it, or not have it, already; sneaks around; tricks, cajoles, plays his subjects; and engages in a one-man guerrilla war against an embarrassed U.S. government. He is calculating, cold-blooded, well-behaved, and professional." —Graeme Wood, The American Scholar

"Often reads like a case study in how to write a political thriller . . . A fascinating look at an era when quality reporting was the result of will and determination (and knowing the right contacts). An excellent choice for readers interested in late 20th-century politics." —Library Journal

"Reporter is a captivating memoir that could inspire a new generation of journalists." —Robert Weibezahl, BookPage

"There's gripping journalistic intrigue aplenty as [Hersh] susses out sources and documents, fences with officials, and fields death threats. . . . Hersh himself is brash and direct, but never cynical, and his memoir is as riveting as the great journalistic exposés he produced." —Publishers Weekly (starred review)

"Candid and revelatory . . . Compared to the contemporary field of blogs, bots, and opinion-driven reportage, the last half of the twentieth-century can look like the heyday of honest and critical journalism. But even now, Hersh remains at the vanguard of tenacious and purposeful writers who speak truth to power, and surely he's inspiring the best at work now. Journalism junkies will devour this insider's account of a distinguished career." —Booklist (starred review)

"Outstanding . . . Rarely has a journalist's memoir come together so well, with admirable measures of self-deprecation, transparent pride, readable prose style, and honesty." —Kirkus (starred review)
Knopf, 9780307263957, 368pp.
Publication Date: June 5, 2018
About the Author
SEYMOUR M. HERSH has been a staff writer for The New Yorker and The New York Times. He established himself at the forefront of investigative journalism in 1970 when he was awarded a Pulitzer Prize for his exposé of the massacre in My Lai, Vietnam. Since then he has received the George Polk Award five times, the National Magazine Award for Public Interest twice, the Los Angeles Times Book Prize, the National Book Critics Circle Award, the George Orwell Award, and dozens of other awards. He lives in Washington, D.C.
or
Not Currently Available for Direct Purchase