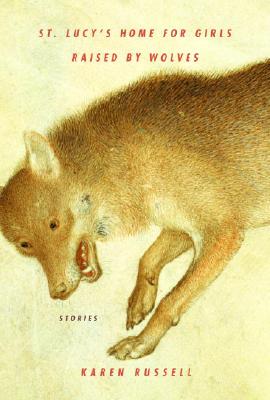 St. Lucy's Home for Girls Raised by Wolves
Stories
Hardcover

* Individual store prices may vary.
Other Editions of This Title:
Digital Audiobook (5/17/2010)
Paperback (8/14/2007)
Prebound (8/14/2007)
Paperback (8/1/2008)
Description
A dazzling debut, a blazingly original voice: the ten stories in St. Lucy's Home for Girls Raised by Wolves introduce a radiant new talent.

In the collection's title story, a pack of girls raised by wolves are painstakingly reeducated by nuns. In "Haunting Olivia," two young boys make midnight trips to a boat graveyard in search of their dead sister, who set sail in the exoskeleton of a giant crab. In "Z.Z.'s Sleepaway Camp for Disordered Dreamers," a boy whose dreams foretell implacable tragedies is sent to a summer camp for troubled sleepers (Cabin 1, Narcoleptics; Cabin 2, Sleep Apneics; Cabin 3, Somnambulists . . . ). And "Ava Wrestles the Alligator" introduces the remarkable Bigtree Wrestling Dynasty—Grandpa Sawtooth, Chief Bigtree, and twelve-year-old Ava—proprietors of Swamplandia!, the island's #1 Gator Theme Park and Café. Ava is still mourning her mother when her father disappears, his final words to her the swamp maxim "Feed the gators, don't talk to strangers." Left to look after seventy incubating alligators and an older sister who may or may not be having sex with a succubus, Ava meets the Bird Man, and learns that when you're a kid it's often hard to tell the innocuous secrets from the ones that will kill you if you keep them.

Russell's stories are beautifully written and exuberantly imagined, but it is the emotional precision behind their wondrous surfaces that makes them unforgettable. Magically, from the spiritual wilderness and ghostly swamps of the Florida Everglades, against a backdrop of ancient lizards and disconcertingly lush plant life—in an idiom that is as arrestingly lovely as it is surreal—Karen Russell shows us who we are and how we live.
Praise For St. Lucy's Home for Girls Raised by Wolves: Stories…
"Endlessly inventive, over–the–top, over–the–edge stories, all delivered in the most confident, exquisitely rambunctious manner. Fabulous fun."
—Joy Williams, author of The Quick and the Dead and State of Grace

"Hallelujah! Karen Russell's work sweeps the ground from beneath your feet and replaces it with something new and wondrous, part Florida swampland, part holy water. A confident, auspicious, unforgettable debut."
—Gary Shteyngart, author of The Russian Debutante's Handbook and Absurdistan

"This book is a miracle. Karen Russell is a literary mystic, channeling spectral tales that surge with feeling. A devastatingly beautiful debut by a powerful new writer."
—Ben Marcus, author of The Age of Wire and String and Notable American Women

"[Karen Russell] merges the satirical spirit of George Saunders with the sophisticated whimsy of recent animated Hollywood film. . . . Russell has powers of description and mimicry reminiscent of Jonathan Safran Foer . . . and her macabre fantasies structurally evoke great Southern writers like Flannery O'Conner."
—Publishers Weekly

"Unforgettable, gorgeously imaginative tales. . . . 25–year–old wunderkind Karen Russell—whose house–afire prose has already lit up the pages of Granta and The New Yorker—proves herself a mythologist of the darkest and most disturbing sort."
—Elle

"In spare but evocative prose, the 25–year–old conjures a weird world of young misfits and ghosts in the Everglades. Girls are swept off to sea in giant crab shells and fall in love with spirits; boys have Minotaurs for fathers and incurable dream disorders that cause them to live through humanity's greatest tragedies night after night."
—W Magazine

"Hey smartie, this is for your literary side! Edgy–lit lovers will adore this debut short-story collection set in imaginative venues like icebergs."
—Glamour

"[Russell's] stories begin, in prose form, where the jabberwock left off, inspiring a dangerous, often unflattering loosening of the vocabulary. . . . Like Peter Pan, a reader thinks she is traveling in fantasy worlds until Russell's subconscious burbles up and jogs something in the childhood memory department. Uh–oh. Run for your life. This girl is on fire."
—Los Angeles Times Book Review

"Originality, surrealism and eccentricity . . . one can sense Russell's enthusiasm and playfulness, both of which she has in spades."
—Chicago Tribune Sunday

"Most writers her age haven't yet matched Russell's chief achievement: honing a voice so singular and assured that you'd willingly follow it into dark, lawless territory. Which, as it happens, is exactly where it leads us."
—Time Out New York

"Already a master of tone and texture and an authority on the bizarre, Karen Russell writes with great flair and fearlessness. . . . The stories of shape-shifting and transmutation in St. Lucy's Home for Girls Raised by Wolves are so extreme and convincing, you fear for what Russell dreams."
—The Denver Post

"Karen Russell is a storyteller with a voice like no other. . . . Laced with humor and compassion, Russell's work has the charm of children's literature adapted for adults."
—People

"With this weird, wondrous debut, 25–year–old Russell blows up the aphorism 'Age equals experience.' She also suggests 'Write what you know' is similarly useless, unless she's a girl living on a Florida farm, two brothers who dive for the ghost of their dead sister, and children at a sleep–disorder camp. These stories are part Flannery O'Connor, part Gabriel García Márquez, and entirely her own."
—Entertainment Weekly

"[St. Lucy's] is in multifarious ways a marvelous book in the tradition of George Saunders and Katherine Dunn."
—New York Post

"Unforgettable. . . . Original and astonishing, joyful and unsettling, these are stories that will stay with readers."
—Booklist (starred review)

"Russell's first story collection is a thing of beauty. . . . This startlingly original set if stories, which feels as though it might have been written by Lemony Snicket and Margaret Atwood, is not to be missed, and author Russell, whose fiction debuted in The New Yorker and who was chosen by New York magazine as one of "25 People to Watch Under 25," is poised to become a literary powerhouse."
—Library Journal

"Karen Russell's startlingly original collection . . . features graceful and seductive prose that transports the reader into surreal and yet utterly plausible realms."
—Bookpage

"Karen Russell's fresh and original voice makes this a stunning collection to savor."
—Pages

"Russell makes her sparkling debut with these 10 curious, sophisticated and whimsical stories."
—OK! Weekly

"She's the real deal."
—Knight News

Knopf, 9780307263988, 256pp.
Publication Date: September 5, 2006
About the Author
Karen Russell, a native of Miami, has been featured in both "The New Yorker"'s debut fiction issue and "New York" magazine's list of twenty-five people to watch under the age of twenty-six. She is a graduate of the Columbia MFA program and is the 2005 recipient of the Transatlantic Review/Henfield Foundation Award; her fiction has recently appeared in "Conjunctions, Granta, Zoetrope, Oxford American, "and "The New Yorker." Twenty-five years old, she lives in New York City.
or
Not Currently Available for Direct Purchase