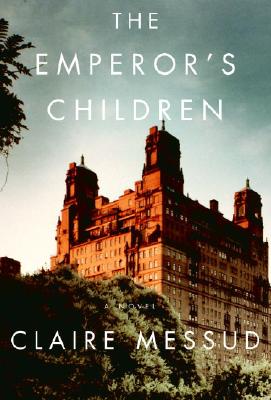 The Emperor's Children
Hardcover

* Individual store prices may vary.
Other Editions of This Title:
Digital Audiobook (2/10/2008)
Compact Disc (8/1/2006)
Paperback (6/26/2007)
Hardcover, Spanish (9/1/2007)
Paperback, Large Print, Large Print (6/1/2007)
Description
From a writer "of near-miraculous perfection" (The New York Times Book Review) and "a literary intelligence far surpassing most other writers of her generation" (San Francisco Chronicle), The Emperor's Children is a dazzling, masterful novel about the intersections in the lives of three friends, now on the cusp of their thirties, making their way—and not—in New York City.

            There is beautiful, sophisticated Marina Thwaite—an "It" girl finishing her first book; the daughter of Murray Thwaite, celebrated intellectual and journalist—and her two closest friends from Brown, Danielle, a quietly appealing television producer, and Julius, a cash-strapped freelance critic. The delicious complications that arise among them become dangerous when Murray's nephew, Frederick "Bootie" Tubb, an idealistic college dropout determined to make his mark, comes to town. As the skies darken, it is Bootie's unexpected decisions—and their stunning, heartbreaking outcome—that will change each of their lives forever.

            A richly drawn, brilliantly observed novel of fate and fortune—of innocence and experience, seduction and self-invention; of ambition, including literary ambition; of glamour, disaster, and promise—The Emperor's Children is a tour de force that brings to life a city, a generation, and the way we live in this moment.
Praise For The Emperor's Children…
"A subtly nuanced, vividly imagined . . . multilayered work of satiric comedy. Set predominantly in Manhattan in the months leading up to, and following, September 11, The Emperor's Children is Messud's first American-set novel, as it is her first work of fiction to rapidly shift perspective from chapter to chapter, leaping about, with authorial freedom, among a number of interlocked characters . . . The classic European novel which The Emperor's Children most resembles is Flaubert's L'Éducation sentimentale, considered his masterpiece . . . . The Emperor's Children['s] prevailing tone of crisp, bemused irony [also] suggests the less savage comedies of manners of Alison Lurie, Diane Johnson, and Iris Murdoch . . . How skillful, and how funny, Messud is as a satirist! . . . . Even as she unmasks them, Messud can't resist evoking sympathy for her mostly foolish, self-deluded characters . . . Bootie is an ideal comic creation. Messud has demonstrated a remarkable imaginative capacity . . . . [This] singular author would seem to exhibit, perhaps more convincingly than James Joyce himself did, those ideal attributes of the artist set forth in Stephan Dedalus's credo in A Portrait of the Artist as a Young Man . . . . [The Emperor's Children is] a mirror of our foundering times."
–Joyce Carol Oates, The New York Review of Books

"Superb . . . . Within several chapters, the spell of Messud's unerring, lissome prose is cast . . . . [The] story's power lies not in what happens to [the characters] but rather, as the book's epigraph from Anthony Powell avers, in 'what they think happens to them,' in the revelation of their carefully nurtured personal myths and what each has at stake in preserving them. With Murray [Thwaite], perhaps the novel's most marbled character, Messud renders this contradiction with exceptional nuance . . . This–the characters' consistency in getting themselves wrong–is what makes The Emperor's Children so richly tragicomic. It's also what puts Messud's narrative gifts brilliantly on display. [Messud] writes with the archness of a Muriel Spark, only more subtly and sympathetically wielded . . . Ultimately, most impressive is the way Messud relates 9/11 to her characters' lives: The public tragedy doesn't eclipse but rather seeps into and amplifies their private sorrows."
–Kate Levin, The Nation

"Hilarious . . . That Messud's book is coming out at this moment suggests that the planets may be aligning to loosen the MFA stranglehold on fiction . . . The Emperor's Children is a disturbingly credible tableau of the sort of people who develop in a cocoon of ambition, entitlement, and pride. Messud has curiosity in spades: Her portraits are done not from photographs, but from life. She is observant and honest . . . [We] have Evelyn Waugh, and, happily, we also have Claire Messud."
–Stefan Beck, The New Criterion

"In March 2001, while Americans were innocent of greater horrors, uninfected by the virus of fear, a trio of clever, beautiful Brown graduates attempts to conquer Manhattan . . . True to their generation, the friends, now 30, are as economically and professionally arrested as they are culturally blasé. Such is the premise of Claire Messud's The Emperor's Children, an exquisite, fully realized novel, which should establish her as one of our finest writers, granting her the audience she richly deserves . . . . Messud is brave enough to make her characters flawed, capable of casual cruelty and overblown gestures, all of which makes them more engaging . . . . By early September, everyone appears at risk of catastrophe. The book escalates in tension, all the more so wrapped in Messud's elegant prose, as the characters proceed toward what is to come . . . . Her agility with language displays [a] maturity, almost 19th-century in its complexity, that is rare in contemporary fiction. [The] voice and hand are authentic, and she never once loses her way in this glorious work."
–Karen Heller, Philadelphia Inquirer

"[Messud's] impeccably fun and thoroughly humane new novel, The Emperor's Children, has suddenly and deservedly become the literary hit of the season . . . [Messud] has an unerring ear for the way the cultured class talks . . . . [There's] an intensity to the way [she] wraps things around to the same points again and again . . . [Yet the] cold and thrilling calculation with which Messud dissects [her characters'] sins is balanced at all times by sympathy."
–Tom Nissley, The Stranger

"Drama–glistening prose, stunning plots, and full-blooded characters. [In] The Emperor's Children, Messud sets her story for the first time in America, weaving together the lives of three 30somethings at a critical moment in history, a fragment of time in which everything changes forever. The resulting novel is shimmering, hilarious, heartfelt, rooted in place, satiric, ironic, but beyond that, more importantly than that, deeply, deeply human."
–J. Rentilly, Pages magazine

"The book I'm recommending to all my friends is The Emperor's Children by Claire Messud. It's an insightful, slyly funny book about a group of 30ish friends trying to forge a life among New York City's cultural elite."
–Laurie Muchnick, Newsday Sunday

"Claire Messud's remarkable new novel The Emperor's Children is that mythical hybrid: a literary page-turner. In the tradition of Mary McCarthy's The Group, Messud follows three friends from Brown who have moved to New York City, marking their progress as they make their way in the world. The Emperor's Children belongs to the robust genre of very-late-coming-of-age novels–among them Nick Hornby's High Fidelity, Benjamin Kunkel's Indecision, Melissa Bank's Girls Guide to Hunting and Fishing, to name a few–where adolescence ends somewhere in one's 30s. Unlike many of the contemporary books of its ilk, The Emperor's Children is interested in the ideas behind the frivolous surfaces of urban life. (In many ways, Messud's commitment to digging beneath those surfaces gives the book the feel of a Jane Austen novel, or even that great classic of very-late-coming-of-age, Edith Wharton's House of Mirth.) Messud [also] shares Iris Murdoch's satirical richness, along with her elaborate plotting and fluent, readable prose. There is in The Emperor's Children the same impression of dense thought, the same psychological precision behind a deceptive ease of narrative that is Murdoch's signature . . . At the heart of this book isn't love, but work, which so rarely comes into the late-coming-of-age novel. With each character, she examines the secretly harbored illusions, the grand thoughts that we have about our talents, and how they careen to Earth . . . Another mark of Messud's originality is that friendship is in many ways a more vivid theme in this book than love. In evoking those lingering college friendships that often form the framework of young city life–their closeness and intricate pathologies–Messud revels in the tiny tensions, and prickly affections, and almost romantic love that exists between friends, especially female friends who have known each other for most of their adult lives. She observes with absolute accuracy the type of intricate, highly refined gossip that takes place in these sorts of circles."
–Katie Roiphe, Slate.com

"In a world of surface, deeply felt sympathy is hard to come by and hard to put much faith in. The characters in Claire Messud's deceptively enjoyable novel, deceptive in that her light, narrative touch and skill at stockpiling quirky, telling events make it initially hard to accept that she has a larger, darker purpose, seem constantly to be asking us whether we like them, whether we think they're doing the right thing, how it will all turn out for them, even when their behaviour is trivial, silly or morally dubious. A group of New Yorkers hovering around the awkward age of 30, privileged, bonded by lengthy friendship despite mutual irritations and bewilderments, they are ready to make their mark; but to what extent their ambitions are feasible, desirable or even justifiable is a question that quietly resonates [in this] . . . glittering, whirling narrative."
–Alex Clark, The Observer (UK)

"Elegantly written . . . . Messud draws the reader into the neurotic uncertainties and self-absorption of [her characters'] daily lives, with her pellucid prose and clear-eyed but compassionate observations. The personalities of the three characters subtly shift and change as the author switches the point of view between six people . . . This is unmistakably a story about New York, a place where the ultimate tool of seduction is success, and a person's self-worth stands or falls on how much success one achieves. Messud beautifully captures the uncertainties, kindnesses and betrayals acted out in the playground of the privileged, using the lightest of touches to change what appears to be black and white into subtle shades of grey."
–Lise Hand, Irish Independent (UK)

"Of all the works that have pored over the terrible events of [9/11], one novel is currently standing out from the crowd: Claire Messud's The Emperor's Children, longlisted for the 2006 Man Booker Prize . . . . In the best tradition of James and Wharton, Messud shows us a world where competing versions of the way to live one's life fight it out to the bitter end . . . That the characters in The Emperor's Children do in fact feel like people we know is testament to Messud's skills. She decided to set her book in New York because 'it's a place where almost everybody is from somewhere else,' a city full of strangers. And, as her novel so eloquently and startlingly shows, sometimes it is strangers who have the greatest impact on our lives."
–Lesley McDowell, The Scotsman (UK)

"Engrossing . . . As the . . . appealing characters pose and evade the question of what it means to be genuine or false, they draw you in. You're all theirs–and Messud's, for as long as this witty and substantial tale lasts."
–People (four stars)

"[A] witty examination of New York's chattering classes."
–The New Yorker

"Flawlessly drawn . . . . engrossing . . . Messud has pinned under glass members of a striking subspecies of the modern age: the smart, sophisticated, anxious young people who think of themselves as the cultural elite. Trained for greatness in the most prestigious universities, these shiny liberal arts graduates emerge with expensive tastes, the presumption of entitlement, and no real economic prospects whatsoever. If you're one of them or if you can't resist the delicious pleasure of pitying them, you'll relish every page of The Emperor's Children. Murray Thwaite, the regal figure around which all these characters orbit, is Messud's masterpiece. A journalist who's been skating on his reputation for decades, Murray is the quintessential public intellectual, the moral conscience of the age (a pompous old windbag and a serial adulterer). He's burnt to such a crisp under Messud's laser wit that real-life windbags all over New York may want to keep their heads down till the smoke clears. Messud is that bold spectator in the crowd willing to shout out that the emperor has no clothes–and neither do his children. Messud's real audience is broad . . . in the same way that Edith Wharton focused on a particularly rarefied class but spoke to any reader who could relish her piercing cultural commentary. For us, Messud's novel, so arch and elegantly phrased, is a chance to enter a world in which everything glistens with her wit, like waking to an early frost: refreshing, enchanting and deadly. The most remarkable quality of Messud's writing may be its uncanny blend of maturity and mirth. Somehow, she can stand in that chilly wind blowing on us all and laugh."
–Ron Charles, The Washington Post Book World

"A delicious depiction of tangled lives 'torn between Big Ideas and a party.' It has taken five years for Sept. 11, 2001, to receive a novelist's subtle and satisfying treatment, but it was worth the wait for Claire Messud's The Emperor's Children. Her intimation of the mark the attacks made on the American mind is convincing because in her comedy of manners, as in the nation's life, that horrific event is, oddly, both pivotal and tangential."
–George Will, The Washington Post

"Engaging and thought-provoking . . . . the characters take on intriguing nuances as Messud satirizes and challenges perceived notions of culture, class and social mobility. Her vivid, juicy writing ensures an exhilarating read throughout."
–Elysa Gardner, USA Today

"[A] suspenseful, dark, pitch-perfect comedy of manners and morals . . . The story is structured as a literary fugue, whose voices comprise a trio of Brown University graduates in New York City, all on the cusp of turning 30 . . . . Set in the spring, summer and fall of 2001, The Emperor's Children can also be considered a work of historical fiction: The reader is expected to open the book knowing that these late twentysomethings, who yearn to be stars in East Coast media and intellectual circles, developed their expectations of entitlement when they reached their majority in the early 1990's, [an age] of lavish magazine start-ups and 'renovations' of older publications . . . . Joyously for the reader, their expectations from life provide a gigantic target for the novelist, who, with grace and formidable expertise at plot-making, one by one dismantles them . . . . [Yet for] all their flaws and bad behavior, one cares about these characters . . . Outstanding."
–Mindy Aloff, New York Observer

"A masterly comedy of manners–an astute and poignant evocation of hobnobbing glitterati . . . On its surface, a stingingly observant novel about the facades of the chattering class–with its loves, ambitions, and petty betrayals–but it is also, more profoundly, about a wholesale collision of values . . . A penetrating testament to the power of the human imagination . . . A splendid novel . . . A novelist of unnerving talent."
 –Meghan O'Rourke, New York Times Book Review (cover)

"The Emperor's Children is a robust, canny and surprisingly searching novel [told] with a light-handed irony that is, by turns, as measured as Edith Wharton's and as cutting as Tom Wolfe's. [Messud is] an elegant, serious writer who can interweave intimate stories of individuals with wider considerations, both political and philosophical . . . In The Emperor's Children, Messud . . . creat[es] a delicious social satire about a small group of navel-gazing New York intellectuals (and their romantic and social shenanigans) on the eve of the end of the world as we knew it. Here, she shows us how history does and does not change us, how character is borne helplessly forward by external events while remaining stubbornly true to itself. This intractability is her characters' strength as well as their often hilarious–and ultimately sad–burden . . . Their self-importance, their social swagger, their intellectual gamesmanship are all drawn with satiric gusto, as Messud makes clever entertainment of her characters' parries and thrusts . . . The trouble that ensues is marvelously orchestrated and achieved with vivid winking humor, as Messud both skewers and loves her characters so that we may do the same . . . She conveys the landscape with precision and dead-on emotional accuracy . . . [Messud] is [a] keen observer of character and the world at large . . . [She] seems to be telling us that we must have our myths; we can't do otherwise and exist. They are our strength and our folly. And folly, as she so dazzlingly demonstrates, is the stuff that reveals us in all our hilarious, pathetic and, yes, sometimes even heroic glory."
–Marisa Silver, Los Angeles Times Book Review

"[A] big, readable, ambitious contemporary comedy of manners."
–Michelle Huneven, LA Weekly

"The aspiring young people in The Emperor's Children, are each looking, in different ways, for fame, love and excitement. All are desperately eager not to be taken for 'ordinary.' The result is an extraordinary novel . . . Messud weaves her storylines together ingeniously, portraying her characters with a shrewd perceptiveness and making their fates seem, for much of the novel, suspensefully uncertain and, by the end, morally illuminating and surprising. Her distinctive prose style reminds one of an updated Henry James . . . Ms. Messud has composed a comedy of manners, a satire on journalism and misplaced ambition, and a probing, poignant, drama about confused urban lives."
–Merle Rubin, The Wall Street Journal

"A splendidly entertaining achievement . . . a strikingly good story about family and betrayal, truth and ambition, fidelity and desire . . . Messud's writing is captivating. She has broad powers of embrace, catching emotion in mid-flight and giving us the feel of thought rather than the usual thoughts about feeling that many writers deliver . . . One of the slyest, most intelligent and entertaining novels of the year."
–Alan Cheuse, San Francisco Chronicle

"Messud is a remarkably gifted novelist, blessed with enormous poise, authority and emotional insight. Set in New York City on the eve of 9/11, [The Emperor's Children is] about three college classmates, now on the cusp of their 30's, trying to sort out questions about love, work and commitment . . . inhabit[ing] the margins of Manhattan's literary-media-arts world [and] uncertain how to balance the equation between moral seriousness and success, earnestness and irony. Messud delineates this world with quick, sure, painterly strokes . . . [She] does a nimble, quicksilver job of portraying her characters from within and without–showing us their pretensions, frailties and self-delusions, even as she delineates their secret yearnings and fears . . . [She] uses their stories to explore questions about how an individual hammers out an identity under the umbrella of a powerful family, questions about the ways in which people mythologize their own lives and the lives of those they love. Messud shift[s] gears effortlessly between the comic and the tragic, the satiric and the humane."
–Michiko Kakutani, The New York Times

"Engaging . . . At its finest, social comedy promises a soft landing without utterly turning its back on the world. Irony bumping into realism, in other words, and in Claire Messud's case, a bit of Jane Austen bumping into Tom Wolfe. The Emperor's Children is a big ol' New York novel--more particularly, a Manhattan novel, concentrating on the echelons of power and hipness. The setup is delicious . . . In her group portrait of young privileged friends from Brown she has devised a wicked way to penetrate the realms of journalism and publishing and liberals in wolves' clothing . . . . . . Messud's perspective is fierce but unbiased . . . . She is a literary writer both brainy and deep . . . her eye is keen for the elaborate tableau she's constructed . . . The Emperor's Children is funny and captivating."
–Gail Caldwell, Boston Sunday Globe

"Like a latter-day Edith Wharton, Claire Messud, in her sparkling new novel, has given us a story of striving young Manhattanites, a confident turn from a writer whose work has always been impressive, if never quite this much fun . . . Richly imagined and occasionally wicked . . . This is New York captured with the sharp focus of a local."
–Taylor Antrim, Vogue

"As if to flaunt her uncanny understanding of human nature, Claire Messud fleshes out the personalities of her characters so thoroughly and authentically [that] it is nearly impossible to imagine that they don't really exist. Add to that the book's setting–New York City in 2001, with historical events and pop-culture references accurately in place–and the story comes alive with astounding vividness . . . Messud's writing is poetic, her insights spot-on . . . [It] is heartening to read words that so skillfully capture the city, the time and such wonderfully textured people."
–Kate Lowenstein, Time Out New York

"A gripping story of clashing ambitions, compromised loyalties, and the love/hate relationship between the powerless and the powerful. As the characters hurl toward that terrible September day, the narrative goes beyond social satire, deepening into a hypnotic, moving read."
–Sara Eckel, The Village Voice

"The narrative point-of-view shifts freely among five characters, each reflecting on the others, alternately judging or absolving, and sometimes loving–which may, in the end, amount to the same thing. [Messud] paints them with color and detail and considerable skill. The pleasures of Messud's prose are enlivening. She turns a very elegant phrase . . . The most incidental of [her] descriptions are fresh and vivid . . . Messud wisely avoids describing the event [9/11] itself, but it has powerful reverberations for the characters and the plot. The tragedy does not offer neat redemption for anyone–each is still flawed, in his or her own way. But it does reveal how history, unexpected and irresistible, can alter lives and move us forward . . . The pulse of real life [is] on every page of The Emperor's Children."
–Tom Beer, Newsday

"Absorbingly intelligent . . . Sure-handed . . . [The Emperor's Children centers around] three privileged college chums who hover on the outskirts of New York intelligentsia in 2001. Months before Sept. 11, they are all questioning their choices and life goals . . . [and as] the year progresses toward fall, [their] lives take a darker turn . . . The characters are terrifically rendered . . . Messud is adroit at handling their insecurities and inner emotions . . . and her exploration of entitlement is both witty and astute."
–Yvonne Zipp, The Christian Science Monitor


"Delightful . . . [The Emperor's Children] impressively explores entitlement and waning youth."
–Gilbert Cruz, Entertainment Weekly

"Wonderful . . . fat, delicious, and very smart . . . With her own beefy degrees from Yale and Cambridge, [and] her award nominations for her previous books, Messud is clearly of the culturally elite world she writes about. But happily, she is not bound by it. She has thoughtfully overlaid this big, character-driven novel of how some of us live today with a deeply informed echoing of literary history. Rather than showing off her education by writing a flashy meta-novel about everything and nothing, Messud reaches into her literary kit-bag and reworks classic dilemmas and characters via the novels of Wharton, Fitzgerald, and Waugh, to name a few. She complicates those archetypes by unwinding the illusions that wrap her characters in a sense of superiority. By the end of this tale, the emperor's children have no clothes, although one holdout, at least, remains blind to the naked truth . . . A lot of the pleasure of reading The Emperor's Children derives from its language, which entertains because of its droll precision . . . Superb."
–Maureen Corrigan, NPR/Fresh Air

"Riveting . . . . A cheeky exposé of the pundit class in all its privileged splendor. Messud's insights are nuanced enough that her flawed luminaries survive as more than mere types, and even minor characters make their mark. Messud extracts considerable suspense from the young cultural pretenders' attempts to topple the old guard . . . . An excellent read."
–The Atlantic Monthly

"Soft-spoken and worldly-wise beyond her years, Claire Messud has been praised for her precisely crafted, sharply intelligent fictions–her novels of manners have manners. [But] Messud's ambitious, glamorous, and gutsy new novel, The Emperor's Children, is a leap forward, a marvel of bold momentum and kinetic imagination. The story propels the tangled lives of a set of thirtyish Manhattanites right toward the historic fissure that ushered in 21st century America."
–Elle

"Known for her acuity in examining life's profound issues through intellectually probing and nuanced prose, Messud now evinces a higher level of sophistication in this darkly symbolic and satiric examination of the culturally enclosed world of today's East Coast media cognoscenti . . . Tangy dialogue, provocative asides [and] glittering imagery build toward an electrifying conclusion."
–Carol Haggas, Booklist

"Pitch-perfect, utterly irresistible . . . [Messud] strikes gold. [A] tightly knit web–a kind of mini-panorama of New York society–is at the heart of Messud's rather ingenious craft. The characters are all extraordinarily drawn . . . Stepping elegantly through the varieties of irony, Messud lifts superficially superficial characters out of the trivial; she endows them with tender complexity and then rips the carpet out from under their poor feet . . . . [Their] ambitions may be petty, but Messud's perspective on them is calibrated and so achingly real . . . Sit back and watch Messud, who takes care of [them] with style and zeal."
–Minna Proctor, Bookforum

"Messud's gracefully written new novel, [with] prose reminiscent of Henry James, focuses on the moral dilemmas of a group of affluent young New York professionals, and the shocks delivered to their complacent self-belief by acts of personal and political violence."
–The Independent (UK)

"[The Emperor's Children] carries a lot of weight: five fully developed, emotionally complex characters; a glittering city, described from the perspective of blasé insiders and from the viewpoint of those newly arrived and lonely; a historic calamity; an audaciously acknowledged pantheon of literary models that includes not only the Russians but also William Empson, the James brothers, Musil, the Book of Genesis and Napoleon's journal. It is a heavy load, but Messud's book is so broadly based, so resiliently humorous that it easily sustains it . . . . Messud is satirically observant of the surfaces of the modern city. She is funny and wonderfully awake to the comedy of misunderstanding . . . As large-hearted as it is ambitious, this is a novel that combines the old-fashioned art of storytelling with a clear-eyed view of the modern world."
–The Sunday Times (UK)

"The status of truth is one of the concerns running cleverly through Messud's new novel . . . [Messud is] attracted to the way fiction can explore existential questions, exposing the gaps between one person's view of themselves in the world and another's. The effect can be comic or satirical, and is often bracingly bleak . . . . [Yet] Messud does not invite us to judge the compelling characters who people her masterful novel, but to acknowledge that the truth can be overrated, and the myths by which we live more precious than we know."
–Ruth Scurr, Times Literary Supplement (UK)

"Wolfi-ian chronicle of three Manhattanites who are all searching for the meaning of life. Spry and interesting."
–Tatler Magazine (UK)

"Set after the turn of the millennium, The Emperor's Children follows the lives of three 30-year-old friends as they strive to carve out a meaningful future. Focusing on their struggles to find authenticity and value in the pressured environment of Manhattan, Claire Messud's latest novel will strike a chord with all who feel caught up in the rat race."
–In Style (UK)

"Wonderfully absorbing . . . head and shoulders above the others [on the Booker longlist]."
–Alex Clark, Observer (UK)

"Claire Messud's civilised prose has been attracting respect on both sides of the Atlantic."
–Claire Armistead, The Guardian (UK)

"[A] book of dazzling reach . . . Messud [writes] with precision, humour and loveliness."
–Gaby Wood, The Observer (UK)

"[A] great achievement. Claire Messud's new novel will make her name  . . . intelligent and unsparing . . . The Emperor's Children is likely to be one of the most talked-about novels of the Autumn. Buy two copies; give one to a friend."
–The Economist

"Delightful . . . The Emperor's Children [is] distinctive [because of] the author's uncompromising regard for the truth. [It is] a work of fiction, but one that rings true. Messud's portrayal of New York is spot-on. Her diction is precise and her characters wryly observant."
–Andrea Katz, The Financial Times (UK)

"A rare gem . . . Surprising . . . Luminously intelligent . . . In its scope, style and substance, The Emperor's Children is an attempt to return the novel to its golden age; it is engaged in a conversation with George Eliot, Henry James, Dostoevsky. Its psychological realism is perfect, its characters thrillingly real, alive and utterly convincing. Messud's prose is a timely and intensely pleasurable reminder of the possibilities of the English language. To use the word clarity about her style is to return the word to its origins; this is style as illumination, shining a searching yet sympathetic light on the minds and inner worlds of her characters, and as a radiant mode of moral inquiry."
–Neel Mukherjee, The Sunday Times (UK)

"A stinging portrait of life among Manhattan's junior glitterati, [including] three best friends [who], a decade after they met at Brown, are finding it hard to be 30. . . . Messud deftly paints the neurotic uncertainties of people who know they're privileged and feel sorry for themselves anyway; she makes her characters human . . . Intelligent, evocative and unsparing."
–Kirkus Reviews, starred review

"Messud, in her fourth novel, remains wickedly observant of pretensions–intellectual, sexual, class and gender. Her writing is so fluid, and her plot so cleverly constructed, that events seem inevitable, yet the narrative is ultimately surprising and masterful."
–Publishers Weekly, starred review





Knopf, 9780307264190, 448pp.
Publication Date: August 29, 2006
or
Not Currently Available for Direct Purchase