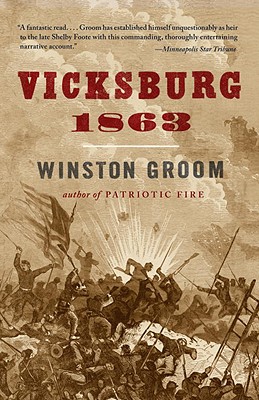 Vicksburg, 1863 (Hardcover)
Knopf, 9780307264251, 496pp.
Publication Date: April 7, 2009
* Individual store prices may vary.
Description
A riveting history of the battle that permanently turned the tide of the Civil War.

While Gettysburg is better known, Winston Groom makes clear in this engrossing narrative that Vicksburg was the more important battle from a strategic point of view. Re-creating the epic campaign that culminated at Vicksburg, Groom details the arduous struggle by the Union to gain control of the Mississippi River valley and to divide the Confederacy in two. He takes us back to 1861, when Lincoln chooses Ulysses S. Grant—seen at the time as a mediocre general with a drinking problem—to lead the Union army south from Illinois.

We follow Grant and his troops as they fight one campaign after another, including the famous engagements at Forts Henry and Donelson and the bloodbath at Shiloh, until, after almost a year, they close in on Vicksburg. We witness Grant's seven long months of battle against the determined Confederate army, and the many failed Union attempts to take Vicksburg, during which thousands of soldiers on both sides would be buried and, ultimately, the fate of the Confederacy would be sealed. As Groom recounts this landmark confrontation, he brings the participants to life. We see Grant in all his grim determination, the feistiness of William Tecumseh Sherman, and the pride and intransigence of Confederate leaders from Jefferson Davis and General Joseph E. Johnston to General John C. Pemberton, the Philadelphia-born Rebel who commanded at Vicksburg and took the blame for losing.

A first-rate work of military history and an essential contribution to our understanding of the Civil War.
About the Author
Winston Groom is the author of fourteen previous books, including "Patriotic Fire, ""Shrouds of Glory, Forrest Gump, " and "Conversations with the Enemy "(with Duncan Spencer), which was a Pulitzer Prize finalist. He lives with his wife and daughter in Point Clear, Alabama.
Praise For Vicksburg, 1863…
"With Vicksburg, 1863, [Groom] has fully arrived as a narrative historian, who proves again that facts skillfully woven can be more moving than the products of the busiest imagination . . . Groom's books is full of . . . authentically rendered excitement."
–Ernest B. Furgurson, The Washington Post

"Groom's lively account has a frighteningly contemporary sheen . . . His mastery of plot and storytelling leaves him inordinately well-disposed to piece together the tangled mass of major battles and peashooter skirmishes . . . that made up the Vicksburg campaign."
–Eric Banks, Chicago Tribune

"Groom brings the novelist's touch to history . . . Groom's version of the long campaign to capture Vicksburg . . . offers fresh insights on the human costs of the war and what it mean to the nation."
–Walter Putnam, Associated Press

"With the publication of Vicksburg, 1863 . . . Winston Groom attains the stratospheric narrative heights heretofore enjoyed by such popular-history masters as Bruce Catton, Shelby Foote and James M. McPherson. His pacing is so good, his attention to detail so riveting, and his flair for action writing so pitch-perfect that the reader is utterly absorbed and inexorably swept along . . . There have been many books about Vicksburg, but none better than this."
--John Sledge, Mobile Press-Register

"A galvanizing and harrowing account . . . Relying on southern sensibilities, historical scrupulousness and a novelist's feel for a good yarn, Winston Groom plunges into this cauldron with a presentation that gives full vent to the cost in human lives and the enormous stakes for both sides."
–Jonathan E. Lazarus, The Star-Ledger

"Groom's command of the military facts, and his extraordinary mixture of vignettes big and small, brings this distant, chaotic, and shockingly violent episode to life."
–Philip Terzian, The Weekly Standard

"[A] masterful telling of the pivotal Civil War siege and battle."
–Billy Heller, New York Post

"Vicksburg here receives a narrative equal to its significance and popular interest . . . [Groom] grasps commanders' options, senses the sturdiness of their military characters, and dramatizes their choices in a way that awakens the inner armchair general in Civil War readers."
–Booklist (starred review)

"Vivid Civil War storytelling in the tradition of Shelby Foote."
–Kirkus

"Groom presents grand events from a human perspective, introducing a spectrum of colorful characters."
–Publishers Weekly

"An exciting, balanced account of what may have been the most decisive campaign of the Civil War. Vicksburg demanded the most sustained efforts of the conflict from both land and naval forces. Though the denouement is now well known, the story unfolds here with a sense of drama and unpredictability, and no inevitable outcome. It is all there--bravery and cowardice, competence and folly, fear and endurance, all with the constant, imponderable undertow of dumb luck, good and bad."
--Stephen Fox, author of Wolf of the Deep: Raphael Semmes and the Notorious Confederate Raider CSS Alabama

"The author of the classic Forrest Gump has delivered another tour de force with his Vicksburg 1863. Beautifully written, Winston Groom places us in the minds and hearts of the citizens and soldiers who lived the battles and endured the hardships of war in the besieged city. This is a must read!"
--Frank J. Williams, Chief Justice of the Rhode Island Supreme Court and founding Chair of The Lincoln Forum

"In Vicksburg, 1863 Winston Groom bids fair to assume the mantle of the late Shelby Foote as a most eloquent and moving storyteller of the Civil War. His prose is unbeatable, with a fine flair for drawing the drama out of isolated and seemingly minor episodes, while his pen portraits of individuals are crisp and incisive. The feel and smell and hardship of soldiers and civilians alike in a siege are all here in Vicksburg, 1863."
–William C. Davis, author of Look Away! A History of the Confederate States of America
or
Not Currently Available for Direct Purchase