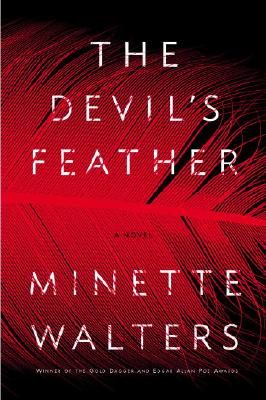 The Devil's Feather
Hardcover

* Individual store prices may vary.
Other Editions of This Title:
Digital Audiobook (11/20/2019)
Digital Audiobook (10/16/2006)
Compact Disc (10/17/2006)
MP3 CD (10/17/2006)
Paperback (7/17/2007)
MP3 CD (10/17/2006)
Compact Disc (10/17/2006)
Compact Disc (10/17/2006)
Description
In each of her previous ten critically acclaimed and hugely popular novels, Minette Walters has explored the dark terrain of the human psyche to give us thrillers of exceptional psychological complexity and suspense. Now, in The Devil's Feather, she gives us her most unexpected and electrifying novel yet.

In 2002, five women are discovered barbarously murdered in Sierra Leone. Reuters Africa correspondent Connie Burns suspects a British mercenary: a man who seems to turn up in every war-torn corner of Africa, whose reputation for violence and brutality is well-founded and widely known. Connie's suspicions that he's using the chaos of war to act out sadistic, misogynistic fantasies fall on deaf ears—but she's determined to expose him and his secret.

The consequences are devastating.

Connie encounters the man again in Baghdad, but almost immediately she's taken hostage. Released after three desperate days, terrified and traumatized by the experience—fearing that she will never again be the person she once was—Connie retreats to England. She is bent on protecting herself by withholding information about her abduction. But secluded in a remote rented house—where the jealously guarded history of her landlady's family seems to mirror her own fears—she knows that it is only a matter of time before her nightmares become real . . . .

With its sinuous plot, its acutely drawn characters, and its blistering suspense, The Devil's Feather keeps us riveted from first to last. It is a dazzling reminder of why Publishers Weekly has dubbed Minette Walters "Agatha Christie with the gloves off."
Praise For The Devil's Feather…
"The Devil's Feather seems like a mystery intent on being politically timely. But because Walters is a far better writer than that, her new novel is much more, dealing with the timeless theme of victimization . . . With a casual, easy-to-read writing style, Walters is a rare breed: the kind of author who can concoct believable characters and set them down in the middle of entertaining plots that address timeless moral issues."
–Dorman T. Shindler, Denver Post

"A scary thriller . . . Walters [has the] ability to use horror-movie logic to terrifying effect."
–The New Yorker

"Some of today's best young writers are moving the crime novel in the direction of the social novel, examining individual crimes against a background of larger injustice [and] The Devil's Feather moves in this direction . . . Its strongest scenes offer searing realism: rape and murder in Sierra Leone and Iraq, and flashbacks to Burns's family losing its Zimbabwe farm to thugs supported by the Mugabe regime. Those episodes have urgency and bite . . . Walters is a talented writer."
–Patrick Anderson, The Washington Post

"Walters keeps the details [of her heroine's kidnapping] chillingly vague . . . While awaiting her Eye of the Needle reckoning with MacKenzie, [Burns] unravels an appalling local crime. Walters gracefully balances crowd-pleasing theatrics with a wickedly ambiguous ending."
–Entertainment Weekly (EW pick)

"The number of high-grade thrillers set in and around the horrors of Iraq increases as writers catch up with the real crimes behind the headlines. Minette Walters' excellent new contribution, The Devil's Feather, begins in 2004 [in] Baghdad . . . Trying to recover her mental stability in a strange, haunted house in Dorset, England, Burns makes friends with some supportive residents and waits–as do we–for the inevitable return of her once and future nemesis. [The ending] certainly is worth waiting around for."
–Dick Adler, Chicago Tribune

"Readers can count on Britain's Minette Walters for a steady stream of creepiness. Her latest novel, The Devil's Feather, fills that quotient and then some . . . It's all chilling stuff, and it's everything Walters' fans have come to expect. Neither a series maker nor a formula writer, Walters makes her mysteries works of wide variety. But all are marked by a full measure of suspense and a hint of ambiguity . . . A fulfilling read."
–Jay Strafford, Richmond Times-Dispatch

"At one time, all it took to produce a page-turner was a clever variation on the standard formula of a plucky woman outwitting her maniacal stalker. But thanks to writers like Minette Walters, who keep pushing the boundaries, the old conventions are now more likely to be used as structural support for an analysis of timely social and political issues . . . [The Devil's Feather has a] psychologically complex protagonist [and] multilayered plot . . . The story is so involving, with its graphic accounts of mind control and sensitive observations about victim psychology, that you hardly realize how skillfully Walters has worked her unifying theme into three intersecting plot lines . . . She takes the suspense novel into new territory."
–Marilyn Stasio, New York Times Book Review

"[A] harrowing psychological thriller . . . Walters delivers an intense, engrossingly structured tour de force about survival and 'the secret of freedom, courage.'"
–Publishers Weekly (starred)

"Have current events finally caught up with Walters's unremittingly brutal imagination? The latest of her masterful psychological thrillers examines the effects of terrorism as it ranges from Baghdad to West Dorset . . . Genteel and horrifying as ever."
–Kirkus Reviews (starred)

"[The Devil's Feather] takes a sharp turn from hard-hitting war reporting in the Baghdad section to gothic chiller when the setting switches to England. Barton House is a spooky, Brontë-like construction . . . Walters really knows how to write convincing, ever-escalating psychological suspense."
–Booklist

"The Devil's Feather is another Walters tour de force. The combination of fast-moving thriller and acute exploration of the psychotic mind makes this a knockout."
–The Observer

"A thriller that really does thrill–partly because we care about its protagonists, and partly because Minette Walters has an enormous talent for old-fashioned story-telling."
–Spectator

"A thoughtful and accomplished thriller."
–Daily Telegraph

"Walters has succeeded in uniting the traditional crime narrative with a distressing and effective account of the private cruelties that can flourish amid general mayhem. In doing so, she takes the genre to a deeper level."
–The Independent

"This is high octane, on-the-edge stuff, at which Walters excels . . . The Devil's Feather [is] engrossing reading."
–The Times (London)
Knopf, 9780307264626, 368pp.
Publication Date: August 22, 2006
or
Not Currently Available for Direct Purchase