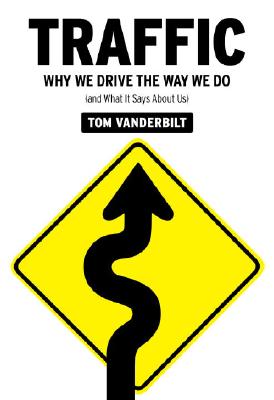 Traffic
Why We Drive the Way We Do (and What It Says about Us)
Hardcover

* Individual store prices may vary.
Other Editions of This Title:
Digital Audiobook (7/28/2008)
Digital Audiobook (7/28/2008)
Paperback (8/11/2009)
Paperback (8/1/2009)
Description
Would you be surprised that road rage can be good for society? Or that most crashes happen on sunny, dry days? That our minds can trick us into thinking the next lane is moving faster? Or that you can gauge a nation's driving behavior by its levels of corruption? These are only a few of the remarkable dynamics that Tom Vanderbilt explores in this fascinating tour through the mysteries of the road.
Based on exhaustive research and interviews with driving experts and traffic officials around the globe, Traffic gets under the hood of the everyday activity of driving to uncover the surprisingly complex web of physical, psychological, and technical factors that explain how traffic works, why we drive the way we do, and what our driving says about us. Vanderbilt examines the perceptual limits and cognitive underpinnings that make us worse drivers than we think we are. He demonstrates why plans to protect pedestrians from cars often lead to more accidents. He shows how roundabouts, which can feel dangerous and chaotic, actually make roads safer and reduce traffic in the bargain. He uncovers who is more likely to honk at whom, and why. He explains why traffic jams form, outlines the unintended consequences of our quest for safety, and even identifies the most common mistake drivers make in parking lots.
The car has long been a central part of American life; whether we see it as a symbol of freedom or a symptom of sprawl, we define ourselves by what and how we drive. As Vanderbilt shows, driving is a provocatively revealing prism for examining how our minds work and the ways in which we interact with one another. Ultimately, Traffic is about more than driving: it's about human nature. This book will change the way we see ourselves and the world around us. And who knows? It may even make us better drivers.
Praise For Traffic: Why We Drive the Way We Do (and What It Says about Us)…
"Traffic gets about as close to the heart of modern existence as any book could get . . . Engagingly written, meticulously researched, endlessly interesting and informative, [it] is one of those rare books that comes out of the depths of nowhere."
–Jonathan Yardley, The Washington Post Book World

"A surprising, enlightening look at the psychology of human beings behind the steering wheels . . . Jammed with delicious you've-got-to-be-kidding moments . . . My solution to the nation's vehicular woes would be to make this good book required reading for anyone applying for a driver's license."
–Mary Roach, The New York Times Book Review

"Smart and comprehensive . . . A shrewd tour of the much-experienced but little-understood world of driving . . . A balanced and instructive discussion on how to improve our policies toward the inexorable car . . . Vanderbilt's book is likely to remain relevant well into the new century."
–Edward L. Glaeser, The New Republic

"A delightful tour through the mysteries and manners of driving."–Tony Dokoupil, Newsweek

"A breezy . . . well-researched . . . examination of the strange interaction of humanity and multiton metal boxes that can roar along at . . . 60 m.p.h. or sit for hours in bumper-to-bumper traffic."
–Patrick T. Reardon, Chicago Tribune

"Traffic will definitely change the way you think about driving, which also means changing the way you think about being human."
–Michael Agger, Slate

"[A] joyride in the often surprising landscape of traffic science and psychology."
–Abigail Tucker, Smithsonian Magazine

"Tom Vanderbilt is one of our best and most interesting writers, with an extraordinary knack for looking at everyday life and explaining, in wonderful and entertaining detail, how it really works. That's never been more true than with Traffic, where he takes a subject that we all deal with (and worry about), and lets us see it through new eyes. In the process, he helps us understand better not just the highway, but the world. It doesn't matter whether you drive or take the bus--you're going to want to read this book."
--James Surowiecki, author of The Wisdom of Crowds

"A great, deep, multidisciplinary investigation of the dynamics and the psychology of traffic jams. It is fun to read. Anyone who spends more than 19 minutes a day in traffic should read this book."
--Nassim Nicholas Taleb, author The Black Swan

"Fascinating, illuminating, and endlessly entertaining as well. Vanderbilt shows how a sophisticated understanding of human behavior can illuminate one of the modern world's most basic and most mysterious endeavors. You'll learn a lot; and the life you save may be your own."
--Cass R. Sunstein, coauthor of Nudge: Improving Decisions About Health, Wealth, and Happiness

"Everyone who drives--and many people who don't--should read this book. It is a psychology book, a popular science book, and a how-to-save-your-life manual, all rolled into one. I found it gripping and fascinating from the very beginning to the very end."
--Tyler Cowen, author of Discover Your Inner Economist

"Fascinating, surprising . . . Vanderbilt's book will be a revelation not just to us drivers but also, one might guess, to our policy makers."
–Alan Moores, The Seattle Times

"A well-written, important book that should hold the interest of anyone who drives a car."
–Dennis Lythgoe, Deseret News

"An engaging, sociable tour of all things driving-related."
–Joel Rice, The Tennessean

"Manages to be downright fun."
–Dennis Simanaitis, Road and Track

"Traffic changes the way you think about driving. For that reason alone, it deserves your attention."
–Dan Danbom, Rocky Mountain News

"Intriguing . . . Somehow manages to plunge far more deeply than one would imagine a meditation on travel possibly could. Perhaps without intending to, Vanderbilt has narrowed in on the central question of our time . . . His book asks us to consider how we can persuade human beings to behave more cooperatively than selfishly."
–Elaine Margolin, The Denver Post

"Vanderbilt investigates . . . complexities with zeal. Surprising details abound."
–The New Yorker

"Fresh and timely . . . Vanderbilt investigates how human nature has shaped traffic, and vice versa, finally answering drivers' most familiar and frustrating questions."
--Publishers Weekly

"Fluently written and oddly entertaining, full of points to ponder while stuck at the on-ramp meter or an endless red light."
--Kirkus

"This may be the most insightful and comprehensive study ever done of driving behavior and how it reveals truths about the types of people we are."
--Booklist

"Tom Vanderbilt uncovers a raft of counterintuitive facts about what happens when we get behind the wheel, and why."
--BusinessWeek 

"Fascinating . . . Could not come at a better time."
--Library Journal

"Brisk . . . Smart . . . Delivers a wealth of automotive insights both curious and counterintuitive."
–Details

"A literate, sobering look at our roadways that explains why the other lane is moving faster and why you should never drive at 1 p.m. on Saturday."
--GQ

"An engaging, informative, psychologically savvy account of the conscious and unconscious assumptions of individual drivers–and the variations in 'car culture' around the world . . . Full of fascinating facts and provocative propositions."
–Glenn Altschuler, Pittsburgh Post-Gazette

"An engrossing tour through the neuroscience of highway illusions, the psychology of late merging, and other existential driving dilemmas."
–Michael Mason, Discover

"Funny . . . Enlightening . . . Want to spend 286 pages having a good time and learning a whole lot about something you do every day for an hour or two? Buy this book."
–Ben Wear, Austin American-Statesman

"I'm very glad I read this book . . . It tells you a lot about traffic. But of course it does more than this. It's really a book about human nature."
–William Leith, Evening Standard (UK)

"A richly extended metaphor for the challenge of organising competing human needs and imperfect human judgment into harmonious coexistence."
–Rafael Behr, The Guardian (UK)

"Automobile traffic is one of the most studied phenomena in advanced societies . . . Mr. Vanderbilt has mastered all of it. Arresting facts appear on every page."
–Christopher Caldwell, Financial Times (UK)


Knopf Publishing Group, 9780307264787, 402pp.
Publication Date: July 29, 2008
About the Author
Tom Vanderbilt writes about design, technology, science, and culture for Wired, Slate, The New York Times, and many other publications. He lives in Brooklyn and drives a 2001 Volvo V40.
or
Not Currently Available for Direct Purchase