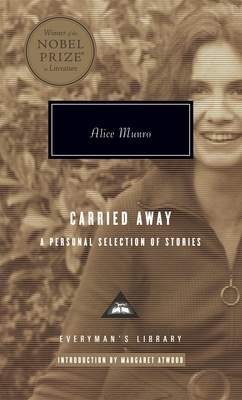 Carried Away
A Personal Selection of Stories (Everyman's Library Contemporary Classics Series)
Hardcover

* Individual store prices may vary.
Description
WINNER OF THE NOBEL PRIZE® IN LITERATURE 2013
Carried Away is a dazzling selection of stories–seventeen favorites chosen by the author from across her distinguished career. With an Introduction by Margaret Atwood.
Alice Munro has been repeatedly hailed as one of our greatest living writers, a reputation that has been growing for years. The stories brought together here span a quarter century, drawn from some of her earliest books, The Beggar Maid and The Moons of Jupiter, through her recent best-selling collection, Runaway. 

Here are such favorites as "Royal Beatings" in which a young girl, her father, and stepmother release the tension of their circumstances in a ritual of punishment and reconciliation; "Friend of My Youth" in which a woman comes to understand that her difficult mother is not so very different from herself; and "The Albanian Virgin," a romantic tale of capture and escape in Central Europe that may or may not be true but that nevertheless comforts the hearer, who is on a desperate adventure of her own.
Munro's incomparable empathy for her characters, the depth of her understanding of human nature, and the grace and surprise of her narrative add up to a richly layered and capacious fiction. Like the World War I soldier in the title story, whose letters from the front to a small-town librarian he doesn't know change her life forever, Munro's unassuming characters insinuate themselves in our hearts and take permanent hold.
Praise For Carried Away: A Personal Selection of Stories (Everyman's Library Contemporary Classics Series)…
"Munro stands as one of the living colossi of the modern short story, and her Chekhovian realism, her keen psychological insight, her instinctive feel for the emotional arithmetic of domestic life have indelibly stamped contemporary writing."
—NEW YORK TIMES

"In Alice Munro's hands, the smallest moments contain the central truths of a lifetime."
—MACLEAN'S

"Alice Munro has a strong claim to being the best fiction writer now working in North America."
—NEW YORK TIMES BOOK REVIEW

"Captivating . . . Munro does what most writers dream of doing and succeeds at it, page after page, story after story, collection after collection."
—THE OREGONIAN

"From a markedly finite number of essential components, Munro rather miraculously spins out countless permutations of desire and despair, attenuated hopes and cloudbursts of epiphany . . . Every one of these
women is different, and that is the wonder of Alice Munro."
—THE VILLAGE VOICE

"Alice Munro is among the major writers of English fiction of our time . . . In Munro's work, grace abounds, but it is strangely disguised: nothing can be predicted. Emotions erupt. Preconceptions crumble. Surprises proliferate. Astonishments leap out. Malicious acts can have positive consequences. Salvation arrives when least expected, and in peculiar forms."
—from the Introduction by Margaret Atwood
Everyman's Library, 9780307264862, 608pp.
Publication Date: September 26, 2006
About the Author
Alice Munro grew up in Wingham, Ontario, and attended the University of Western Ontario. She has published thirteen collections of stories as well as a novel, Lives of Girls and Women, and two volumes of Selected Stories. During her distinguished career she has been the recipient of many awards and prizes, including three of Canada's Governor General's Literary Awards and two of its Giller Prizes, the Rea Award for the Short Story, the Lannan Literary Award, England's W. H. Smith Book Award, the National Book Critics Circle Award, and the Man Booker International Prize. In 2013 she was awarded the Nobel Prize for Literature. Her stories have appeared in The New Yorker, The Atlantic Monthly, The Paris Review, Granta, and other publications, and her collections have been translated into thirteen languages. She lives in Clinton, Ontario, near Lake Huron.