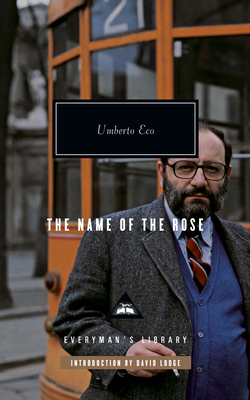 The Name of the Rose
Introduction by David Lodge (Everyman's Library Contemporary Classics Series)
Hardcover

* Individual store prices may vary.
Other Editions of This Title:
Digital Audiobook (12/9/2013)
Paperback (4/22/2014)
Paperback (9/28/1994)
Paperback (6/13/2023)
Paperback (5/1/2008)
CD-Audio (7/3/2014)
Hardcover (6/9/1983)
Description
A spectacular best seller and now a classic, The Name of the Rose catapulted Umberto Eco, an Italian professor of semiotics turned novelist, to international prominence. An erudite murder mystery set in a fourteenth-century monastery, it is not only a gripping story but also a brilliant exploration of medieval philosophy, history, theology, and logic.
In 1327, Brother William of Baskerville is sent to investigate a wealthy Italian abbey whose monks are suspected of heresy. When his mission is overshadowed by seven bizarre deaths patterned on the book of Revelation, Brother William turns detective, following the trail of a conspiracy that brings him face-to-face with the abbey's labyrinthine secrets, the subversive effects of laughter, and the medieval Inquisition. Caught in a power struggle between the emperor he serves and the pope who rules the Church, Brother William comes to see that what is at stake is larger than any mere political dispute–that his investigation is being blocked by those who fear imagination, curiosity, and the power of ideas.
The Name of the Rose offers the reader not only an ingeniously constructed mystery—complete with secret symbols and coded manuscripts—but also an unparalleled portrait of the medieval world on the brink of profound transformation.
Praise For The Name of the Rose: Introduction by David Lodge (Everyman's Library Contemporary Classics Series)…
"A brilliantly conceived adventure into another time, an intelligent and complex novel, a lively and well-plotted mystery."
—SAN FRANCISCO CHRONICLE

"The novel explodes with pyrotechnic inventions, literally as well as figuratively . . . The narrative impulse that commands the story is irresistible . . . Mr. Eco's delight in his narrative does not fail to touch the reader."
—NEW YORK TIMES BOOK REVIEW

"Like the labyrinthine library at its heart, this brilliant novel has many cunning passages and secret chambers . . . Fascinating . . . Ingenious . . . Dazzling."
—NEWSWEEK

"Whether you're into Sherlock Holmes, Montaillou, Borges, the nouvelle critique, the Rule of St. Benedict, metaphysics, library design, or The Thing from the Crypt, you'll love it. Who can that miss out?"
—SUNDAY TIMES (LONDON)

"[The Name of the Rose] is an example of that rare publishing phenomenon, the literary mega best seller which transcends linguistic boundaries . . . [It has] a gripping mystery, vivid characterization, an atmospheric setting, fascinating period detail, sly humour, dramatic confrontations, stunning set pieces, and a supple, eloquent prose that can shift its register to encompass the experience of faith, doubt, horror, erotic ecstasy, and despair."
—from the Introduction by David Lodge
Everyman's Library, 9780307264893, 600pp.
Publication Date: September 26, 2006
About the Author
Umberto Eco is a professor of semiotics at the Universityof Bologna. His other books include Foucault's Pendulum, The Island of the Day Before, and three collections of popular essays, Travels in Hyperreality, Misreadings, and How to Travel with a Salmon and Other Essays. He lives in Milan.