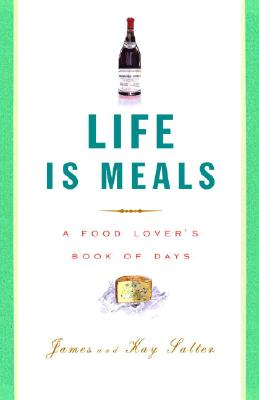 Life Is Meals: A Food Lover's Book of Days (Hardcover)
A Food Lover's Book of Days
Knopf, 9780307264961, 464pp.
Publication Date: October 17, 2006
* Individual store prices may vary.
or
Not Currently Available for Direct Purchase
Description
From the PEN/Faulkner Award-winning author James Salter and his wife, Kay—amateur chefs and perfect hosts—here is a charming, beautifully illustrated tour de table: a food lover's companion that, with an entry for each day of the year, takes us from a Twelfth Night cake in January to a champagne dinner on New Year's Eve. Life Is Meals is rich with culinary wisdom, history, recipes, literary pleasures, and the authors' own memories of successes and catastrophes.For instance: • The menu on the Titanic on the fatal night• Reflections on dining from Queen Victoria, JFK, Winnie-the-Pooh, Garrison Keillor, and many others• The seductiveness of a velvety Brie or the perfect martini• How to decide whom to invite to a dinner party—and whom not to• John Irving's family recipe for meatballs; Balzac's love of coffee• The greatest dinner ever given at the White House• Where in Paris Samuel Beckett and Harold Pinter had French onion soup at 4:00 a.m.• How to cope with acts of God and man-made disasters in the kitchenSophisticated as well as practical, opinionated, and indispensable, Life Is Meals is a tribute to the glory of food and drink, and the joy of sharing them with others. "The meal is the emblem of civilization," the Salters observe. "What would one know of life as it should be lived, or nights as they should be spent, apart from meals?"
About the Author
James Salter is the author of nine previous books, including the novel "A Sport and a Pastime; "the collection "Dusk and Other Stories, "which won the 1989 PEN/Faulkner Award; and "Burning the Days: Recollection. "Kay Salter, a journalist and playwright, has written for "The New York Times "and "Food & Wine, "among other publications. The Salters live in Colorado and on Long Island.Fabrice Moireau is a graphic artist, illustrator, and set and product designer. He lives in Olivet, France, with his wife and children. "From the Trade Paperback edition."
Praise For Life Is Meals: A Food Lover's Book of Days…
"I expected a leisurely, engaging conversation about living and eating from Life is Meals–largely because of my admiration for the penetrating and gorgeously written fiction of co-author James Salter, whose 1967 novel, A Sport and a Pastime, is one of a dozen of the most important novels of the past half century. And I got it. In this delectable ragout of food lore, history, anecdote, instruction and recipes, Salter and his equally engaging wife–journalist and playwright Kay–are like a couple you might encounter in a railway dining car wending its way through the Andes or Alps: welcoming, knowledgeable and enthusiastic eaters and drinkers . . . [And] they never met a piece of trivia they wouldn't chew on. . . . As its subtitle suggests, Life is Meals is broken into 365 brief entries–from a few paragraphs to a page and a half each–some of them seasonal or specific to a given day, others offered at random. . . . Other entries are built on reminiscences of wonderful outings to four-star restaurants and appealing dives around the world and to recollections of home-cooked meals with friends from the worlds of books, theater, film or art. . . . In a show of due diligence, Life is Meals also pays charming tribute to titans of modern American cooking–from Julia Child to James Beard to pioneering restaurateur and chef Alice Waters–either through appealing vignettes about their exploits in and out of the kitchen or through recipes they shared with the authors. On top of all that, there is plenty of kitchen wisdom dispensed, some of it ostensibly rudimentary but really worth being reminded of. . . . [This] is a frequently fascinating, always companionable book, one that most people will choose to keep by the bed or easy chair for occasional forays into the intriguing world the Salters describe and wax so lyrically and enthusiastically about. Alternatively, if you're the type who tends to be invited for dinner at the homes of others, the book might make what is commonly called a 'hostess gift.' . . . [You] can rest assured you'll be invited back."
–Rod Cockshutt, Raleigh News & Observer

"One of my favorite new books is Life is Meals."
–Joe Stumpe, Wichita Eagle

"It's such a joy when you stumble upon a book as delightful as Life is Meals. . . . This book is a fabulous little gem–the authors wrote an entry for each day of the year, all unrelated, so you can dip in and out as you wish. . . . If you're a foodie, a lover of trivia or just someone who appreciates a good, casual read, pick up Life is Meals. It's delicious."
–Susan Shinn, Salisbury Post

"Fond food memories are what make James and Kay Salter's Life is Meals a volume to savor. It's all about keeping a record of good food, good times, good friends."
–Jean Prescott, Sun Herald (South Mississippi)

"Evoking the mood of Ford Madox Ford's Provence, A.J. Liebling's Between Meals, Hemingway's A Moveable Feast, Robert Baldick's Dinner at Magny's, and Brillat-Savarin's Physiologie du goût, [Life is Meals is] a readable and quotable collection of thoughts and anecdotes inspired by an interest in food. It also recalls the sumptuous feasts in the novels of Huysmans, Proust, and Lampedusa; in James Salter's Light Years; and in Ingmar Bergman's Fanny and Alexander. This culinary calendar, which can be opened at random or read straight through, has entries for every day of the year, often pegged to birthdays of famous foodies. It evolved from the Salters' notebooks, recipes, and readings, and includes 'things of interest, bits of history, opinions, occurrences, odd facts.' Knowledgeable, lively, and amusing, it has a rare quality: charm. Filled with joie de livre as well as joie de vivre, it suggests a hedonistic yet civilized life . . . The Salters write about food history and wine lore, favorite cookbooks and classic recipes, great chefs from Carême to Alice Waters, and magnetic restaurants. There are social nuances and shopping hints, memorable and disastrous dinner parties, shrewd gossip and literary anecdotes, personal history and European travel, and famous friends . . . . The Salters describe aphrodisiacs from truffles to chocolate and, like Casanova, emphasize 'the sensual importance of dining, the opening act of so many seductions' . . . The authors serve up some superbly written recollections . . . . Life is Meals is really about living well. As Graham Greene wrote of Ford's Provence, it is 'an elaborate pattern of memories, historical and personal. The subject is the good life–as it should be lived by all the world.'"
–Jeffrey Meyers, Gastronomica: A Journal of Food and Culture

"Life is Meals is partly a memoir of parties [James and Kay Salter] have hosted together over the past 30-some years, partly a cookbook, partly a historical and literary food guide, and wholly an homage to the pleasures of creating and eating a meal."
–Aspen Home magazine

"A pleasant culinary collection of bits of history, essays, ideas, remembrances and recipes–one for each day of the year."
–Marion Sullivant, Post and Courier

"This exquisite little book has a story for every day, from a commentary on peanut butter to a list of a kitchen's barest necessities to the menu on the Titanic on that fateful April 14. A reader could sample one piece a day, or gulp them down all at once–it'd taste good either way."
–Eugene Weekly

"We need extra nourishment in the winter season. To me, that means feeding the body and feeding the mind. I have a recommendation that combines the two: Life is Meals: A Food Lover's Book of Days. A year's worth of deliciously textured day-by-day entries about preparation, tasting, culinary history and personal history."
–Alan Cheuse, All Things Considered, National Public Radio

"Divine . . . [Life is Meals] has now kept me up two nights reading until the wee hours and smacking my lips. It's a beauty, with charming illustrations. . . I appreciate the wit, the occasional recipe and the historical ambiance of this Salter effort toward fine living. What a great Christmas gift!"
–Liz Smith, New York Post

"A remarkable marriage of food book and life-well-lived memoir . . . This most unusual book, with delightful illustrations, is to be savored again and again."
–Seattle Post-Intelligencer

"A quirky cornucopia of recipes, historical notes, household hints, brief surveys of foodstuffs (eggs, salt, avocados, doughnuts, cheeses, olives, martinis, etc.) and utensils (forks, knives, or toothpicks, say), appreciation of friends met both in life (including Alice Waters and Julia Child) and through books (Lord Byron, Anna Karenina), random observations (what makes a good waiter), and advice of all kinds . . . . [When] I began reading Life is Meals, I started dog-earing pages containing information I wanted to remember. After a few weeks' worth of entries, I realized I'd marked every other page . . . . [With] its attractive packaging and charming illustrations, it should make the perfect hostess gift."
–Jerry Miller, San Diego Reader

"A charming collection of brief essays on food and wine, with 37 recipes and beautiful illustrations. The entries range from thumbnail biographies of the great chefs to the sauces of ancient Greece to dinner parties with John Irving . . . The Salters make entertaining seem an essential social act and will inspire anyone to get into the kitchen. The recipes represent home cooking at its best, including classics like Gazpacho, Blinis, and Chicken Marengo . . . This lovely miscellanea is fun."
–Library Journal

"James Salter is one of the great bon vivants of our time; his novels and stories are full of the details of fine living. This book of days pays homage to great writers, great meals, great conversations and essential ingredients. Auguste Escoffier, Brillat-Savarin, Waverly Root, Alice Waters, James Beard and others are notably remembered; dinners in Sag Harbor with Jason Epstein, dinners at the Salters' house in Aspen, Colorado with writers, snippets from the Salters' books of dinner-party details (kept for years) and recipes, of course (Tuscan meatloaf, figs in whiskey, chili con carne and many others), become tableaux in the reader's mind. Picture James and Kay Salter in Paris at the birth of their son, asking the doctor to wet the newborn's lips with Château Latour, like the ancient kings of France. The book is a safe haven, a bastion of civilization, protection from all kinds of heavy weather."
–Susan Salter Reynolds, Los Angeles Times Book Review

"As entertaining as it is informative, Life is Meals is beautifully illustrated and full of much more than recipes or food lore (although it includes both). Written by PEN/Faulkner Award-winner James Salter and his wife Kay, the book is packed with fascinating tidbits. The charm of Life is Meals is the quirky selection and arrangement of facts. Although some entries offer a historical food fact (the menu on the Titanic on the night it went down), others are random observations (what makes a good waiter) or tips on throwing a dinner party, which fruits go with which cheeses, or the evolution of the fork. This is a book to keep by the bedside and give to every foodie on your list."
–Lisa Waddle, Bookpage

"If you have ever read James Salter–and you would do well to–you will have no trouble recognizing [the] prose [in Life is Meals]. Every word is carefully chosen, measured, considered, sifted, chosen again. The superfluous disappears; the eternal endures. To read Salter is to catch a master in the act. James and Kay Salter have been together for three decades. Reading Life is Meals, you get the sense that the art of cooking and eating well is at least as potent for them as any esthetic connection . . . [They] have the knack of making each meal count–not just the food, but the company, the ambience and the conversation. This book is a record of their lifelong interest in food . . . Their book of days is casual: a personal anecdote here, a recipe there, a memory following. Read with pen in hand, for the Salters are the king and queen of tips . . . [and] they serve up tons of foodie trivia. Unsurprisingly, they have collected tasty anecdotes I've seen nowhere else. Some are wonderfully eccentric [others] are literary . . . . [The Salters] make you feel, in every sentence, that if you aim high, read widely and throw yourself into new experiences, you can create your own, equally tasty book of meals . . . [This] is taste in action . . . Three Stars."
–Jesse Kornbluth, HeadButler.com

"[A] thumbs-up . . . For decades, the Salters have cooked, dined and entertained side by side, all the while taking notes on recipes that worked or failed, food and wine that was served on what date and to whom, and memorable things that were said by their equally memorable guests . . . Their notes eventually gave rise to Life is Meals. The entries range from a single paragraph to two pages and riff on anything food-based, from a home recipe (John Irving's meatball recipe) to plant taxonomy (a banana is not a fruit but is the largest herb) to Marie Antoinette's last meal (only a little bouillon) . . . . In essence an epicurean's miscellany, Life is Meals is made for random dipping, but I recommend reading it in one fell swoop, as doing so amplifies the sense of being a guest of the urbane Salters . . . [They] write seamlessly as one voice, and that voice conjures up a dry martini–shaken, not stirred . . . . If only one could absorb merely by reading the skills necessary to create such fare and to be that elegant host. Alas, no book can do that, but Life is Meals certainly meets the authors' intent: 'It's not meant to replace favorite cookbooks but instead to embrace them, and in [so doing], give a year, perhaps more, of pleasure.' Life is Meals is a book to lend to your (dare I say?) snobbiest foodie friend–but only if she promises to return it."
–Julie Mayeda, San Francisco Chronicle

"[In Life is Meals] each day of the calendar gets its own mini-essay. For pleasure and for education, there are many advantages to this form of organization. For example, the entry on bread made me want to get up and buy a baguette. I was free to do so, but had I been reading a cookbook I would have had to buy a great many other things, distracting me from the bread. The September 13 entry, only three sentences long, gives the history of the 'en-cas,' the light snack or meal waiting at home, in case of late-night hunger. This detail would have been lost in any other format, but I lingered over it all day: 'King Louis XIV's en-cas at Versailles was bread, two bottles of wine, and a carafe of water for the night.' There are things here that you may not believe, but you will want to think about anyway. On June 7 you will be told that 'sake is not usually drunk with sushi–rice wine and rice is usually disfavored.' This claim is like the claims of Mr. Salter's fiction: neat, luxurious, and probably true. Most of the entries refer back to pleasure, and a few abandon food almost entirely, to describe love. Nonetheless, the most novelistic parts of the book are perhaps those that provide tips: on dinner parties, or on what tools–a vegetable peeler, a corkscrew, a good knife–to bring to a rented house, just in case. If information-glut is the sin of contemporary fiction, then it is strange to see how life-like, transporting and even morally instructive this book of facts can be."
–Benjamin Lytal, The New York Sun

"[Novelist] James Salter and playwright Kay Eldredge Salter have composed Life is Meals, 365 simple, delicious recipes; beloved menus; terrific tips for entertaining and memories (delicious too) of eating with such friends as Alice Waters and Julia Child . . . Salter and Eldredge, who have often collaborated on work, found that this book came easily. 'Cooking is how we spend our time,' Eldredge says. Readers who wish to do likewise, savoring the finer things in life with loved ones, would do well to share [this] book."
–Jenn Andrlik, More magazine

"The author of A Sport and a Pastime teams with his wife to produce a 'dinner book,' a cornucopia of recipes, historical notes, household hints, brief surveys of foodstuffs (eggs, salt, avocados, doughnuts, martinis, etc) and utensils (forks, knives, or toothpicks, say), appreciation of friends met both in life (including Alice Waters and Julia Child) and through books (Lord Byron, Anna Karenina) and random observations (what makes a good waiter) and advice of all kinds, for example, the useful art of giving a dinner party. Tips on, or accounts of picnics and parties (clearly a delight for both Salters), are everywhere. Their recipes are simple and good and can usually be made in advance, leaving the cooks free to socialize. But this volume is not chiefly one of recipes or hints (though both may prove practical). The Salters call it a 'bedside book' and, with its attractive packaging and charming illustrations, it should make the perfect hostess gift."
–Publishers Weekly

"James and Kay Salter's book is the fruit of a lifetime of informed and opinionated eating. Erudite and wholly compelling, it's more than a passionate inventory of food and recipes: Life is Meals describes how to integrate the best of our civilization into our daily lives."
–Alice Waters, Chez Panisse

"James and Kay Salter have woven memories and desires into this irresistible food lover's book of days, a rich feast of literary plums, formulas for dinner party chemistry, and musings on chocolate as an aphrodisiac." 
–Gael Greene

"Witty, superbly organized, and very informative, Life Is Meals epitomizes the best of the table which, according to Voltaire, would be boring if God had not made eating a pleasure as well as a necessity."
–Jacques Pépin

"What a delight! Besides telling you what you're eating, the Salters help you sound smart when you talk about it. Life Is Meals is a three-star feast."
–Patricia Wells, author of Food Lover's Guide to Paris and Bistro Cooking
Advertisement