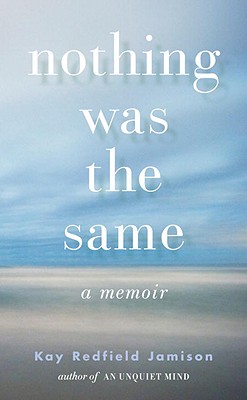 Nothing Was the Same (Hardcover)
Knopf, 9780307265371, 224pp.
Publication Date: September 15, 2009
* Individual store prices may vary.
or
Not Currently Available for Direct Purchase
Description
From the internationally acclaimed author of An Unquiet Mind, an exquisite, haunting meditation on mortality, grief, and loss.

Perhaps no one but Kay Redfield Jamison—who combines the acute perceptions of a psychologist with a writerly elegance and passion—could bring such a delicate touch to the subject of losing a spouse to cancer. In direct, straightforward, and at times strikingly lyrical prose, Jamison looks back at her relationship with her husband, Richard Wyatt, a renowned scientist who battled debilitating dyslexia to become one of the foremost experts on schizophrenia. And with her characteristic honesty, candor, wit, and simplicity, she describes his death, her own long, difficult struggle with grief, and her efforts to distinguish grief from depression.

But she also recalls the great joy that Richard brought her during the nearly twenty years they had together. Wryly humorous anecdotes mingle with bittersweet memories of a relationship that was passionate and loving—if troubled on occasion by her manic-depressive (bipolar) illness—as Jamison reveals the ways in which her husband encouraged her to write openly about her mental illness and, through his courage and grace taught her to live fully.

A penetrating psychological study of grief viewed from deep inside the experience itself, Nothing Was the Same is also a deeply moving memoir by a superb writer.
About the Author
Kay Redfield Jamison is Professor of Psychiatry at the Johns Hopkins University School of Medicine and codirector of the Johns Hopkins Mood Disorders Center. She is also Honorary Professor of English at the University of St. Andrews in Scotland. She is the author of the national best sellers "An Unquiet Mind" and "Night Falls Fast, " as well as "Exuberance" and "Touched with Fire;" the coauthor of the standard medical text on manic-depressive (bipolar) illness; and the author or coauthor of more than one hundred scientific papers about mood disorders, creativity, and psychopharmacology. She is the recipient of numerous national and international scientific awards and of a John D. and Catherine T. MacArthur Fellowship.
Praise For Nothing Was the Same…
"The great gift Jamison offers here, beyond her honesty and the beauty of her writing, is perspective: a cleared-eyed view of illness and death, sanity and insanity, love and grief . . . To write the truth with such passion and grace is remarkable enough. To do this in loving memory of a partner is tribute indeed."
—The Washington Post
 
"This is a finely told midlife love story, a romance as elegant as it is doomed . . . What a couple she and her husband . . . made! . . . Jamison writes simply and believably."
—AARP Magazine


"A unique account, filled with exquisitely wrought nuances of emotion, of her husband's death . . . In her brilliant explication distinguishing between madness and grief, her battle to remain sane is as stirring as his to beat cancer. "
"Elegiac and emotionally precise."
—Oprah Magazine
 
—Booklist (starred review)
 
"A soul-baring love letter. "
—Kirkus Reviews
 
"A superb read. "
—Library Journal (starred review)
Advertisement