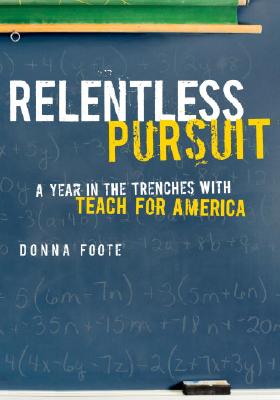 Relentless Pursuit
A Year in the Trenches with Teach for America
Hardcover

* Individual store prices may vary.
Other Editions of This Title:
Paperback (3/10/2009)
Description
A revealing look inside a national phenomenon, Teach For America, which, since its founding in 1990, has pursued one of the most daring—and controversial—strategies for closing the educational achievement gap between the richest and poorest students in the country.

The story is set in South Los Angeles at Locke High School, an institution founded in 1967 in the spirit of renewal that followed the devastating Watts riots but that, four decades on, has made frustratingly little progress in lifting the fortunes of the area's mostly black and Latino children. Into this place, which resembles a prison as much as a school, are dropped a group of "recruits" from Teach For America, the fast-growing organization devoted to undoing generations of disadvantage through a fiercely regimented selection and deployment of America's best and brightest. Nearly twenty thousand top college graduates apply for two thousand slots. Then, with only a summer of training, the lucky ones are sent to face the most desperate of classroom environments.

Giving us a year in the life of Locke through the absorbing experiences of four TFA corps members—Rachelle, Phillip, Hrag, and Taylor—Donna Foote recounts the progress of their idealistic but unorthodox mission and shares its results, by turns exhausting, exhilarating, maddening, and unforgettable. As the four struggle to negotiate the expectations of their Locke colleagues (most conventionally trained, many skeptical) and the relentlessly exacting demands of the overseers at TFA headquarters (to say nothing of the typical stresses of youth), we see these young people assume a level of responsibility that might crush a seasoned educator. Limited training must often be supplemented with improvisation in a school where Rachelle's special ed biology students prove to need remedial reading more urgently than lab work, while Taylor's ninth-grade English classes show themselves equal to discussing Shakespeare. Through it all, these teachers are sustained not only by the missionary fervor of their cause but also by the intermittent evidence that they can make a tangible difference.

Without romanticizing the successes or minimizing the failures, Relentless Pursuit relates, through the experiences of these four new teachers, the strengths, the foibles, and the peculiarities of an operation to accomplish what no government program has yet managed — to overcome one of the most basic and vexing of social inequities, a problem we can no longer afford to ignore.
Praise For Relentless Pursuit: A Year in the Trenches with Teach for America…
Praise for Donna Foote's Relentless Pursuit

"Here is skilled, attentive documentary work become an instrument for the reader's moral and social reflection — educational idealism, its achievements and its tribulations as they envelop the lives of schoolchildren, and their longtime teachers, their newly arrived ones: the effort to 'teach for America' become a social, psychological lesson all its own."
- Robert Coles, author of Children of Crisis

"This important book is also a gripping read. From the first page, when Locke High School is locked down, Foote's compelling and inspiring characters draw us into the dizzying challenge of trying save the next generation and redeem the promise of America. Relentless Pursuit is not just for anyone who cares about poor kids and education. It's for anyone who cares about the future of the country."
- Jonathan Alter, author of The Defining Moment: FDR's Hundred Days and the Triumph of Hope

"This book beautifully conveys the spirit, dedication and heroism of Teach For America and shows why it is such a valuable experience both for its corps members and their students."
- Walter Isaacson, author of Benjamin Franklin: An American Life

"I will put this simply — this is one of the most profound books I have ever read. Donna Foote's Relentless Pursuit will make you cringe. It will make you cry. It will make you cheer. Most important, it gives proof that education, under conditions that should make every American ashamed, can work with a beauty beyond all imagination. Just magnificent and inspiring."
- Buzz Bissinger, author of Friday Night Lights and A Prayer for the City

"Foote's account couldn't be better-timed. Her inside view of TFA's self-reinvention…demonstrates what relentless reflection on, and revision of, a mission and its methods can accomplish. The lessons on display are especially important for an era in which a ruthless focus on student outcomes risks overlooking a key ingredient of that enterprise: inputs for teachers, who need all the help they can get as they face an educational culture of new pressures and expectations, along with age-old challenges….Foote's fine-grained account of Locke supplies the larger context and a corrective."
- Sara Mosle, Slate

"Richly detailed…[Foote's] book is the most interesting account of inner-city high school life in many years and only whets my appetite for more."
- Jay Mathews, Washington Post Book World

"a vivid parallel account of the challenges these new teachers face and the challenges of building a movement for change within education….this could be the book that moves Teach For America firmly into the broader national consciousness."
- Andrew J. Rotherham, New York Post

Knopf, 9780307265715, 352pp.
Publication Date: April 15, 2008
or
Not Currently Available for Direct Purchase