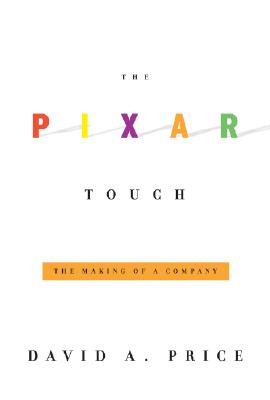 The Pixar Touch
The Making of a Company
Hardcover

* Individual store prices may vary.
Other Editions of This Title:
Digital Audiobook (7/16/2008)
Paperback (5/5/2009)
Paperback (7/1/2010)
MP3 CD (7/1/2008)
Compact Disc (7/1/2008)
Compact Disc (7/1/2008)
Description
The roller-coaster rags-to-riches story behind the phenomenal success of Pixar Animation Studios: the first in-depth look at the company that forever changed the film industry and the "fraternity of geeks" who shaped it.

The Pixar Touch is a story of technical innovation that revolutionized animation, transforming hand-drawn cel animation to computer-generated 3-D graphics. It's a triumphant business story of a company that began with a dream, remained true to the ideals of its founders—antibureaucratic and artist driven—and ended up a multibillion-dollar success.

We meet Pixar's technical genius and founding CEO, Ed Catmull, who dreamed of becoming an animator, inspired by Disney's Peter Pan and Pinocchio, realized he would never be good enough, and instead enrolled in the then new field of computer science at the University of Utah. It was Catmull who founded the computer graphics lab at the New York Institute of Technology and who wound up at Lucasfilm during the first Star Wars trilogy, running the computer graphics department, and found a patron in Steve Jobs, just ousted from Apple Computer, who bought Pixar for five million dollars. Catmull went on to win four Academy Awards for his technical feats and helped to create some of the key computer-generated imagery software that animators rely on today.

Price also writes about John Lasseter, who catapulted himself from unemployed animator to one of the most powerful figures in American filmmaking; animation was the only thing he ever wanted to do (he was inspired by Disney's The Sword in the Stone), and Price's book shows how Lasseter transformed computer animation from a novelty into an art form. The author writes as well about Steve Jobs, as volatile a figure as a Shakespearean monarch . . .

Based on interviews with dozens of insiders, The Pixar Touch examines the early wildcat years when computer animation was thought of as the lunatic fringe of the medium.

We see the studio at work today; how its writers, directors, and animators make their astonishing, and astonishingly popular, films.

The book also delves into Pixar's corporate feuds: between Lasseter and his former champion, Jeffrey Katzenberg (A Bug's Life vs. Antz), and between Jobs and Michael Eisner. And finally it explores Pixar's complex relationship with the Walt Disney Company as it transformed itself from a Disney satellite into the $7.4 billion jewel in the Disney crown.
Praise For The Pixar Touch: The Making of a Company…
"Well-crafted. . . . [Price tells] the Pixar story briskly and with great clarity."
—The Boston Globe
"It's a rags-to-riches story, a classic example of the cream rising to the top. And it's as entertaining and heartwarming as, say, a Pixar movie. It's The Pixar Touch, and its topsy-turvy, roller-coaster plot has all the thrills of a ride at Disneyland. In this unauthorized account of Pixar, journalist David A. Price paints the most complete picture yet of the little studio that could. He talks to scores of insiders, Pixar colleagues and members of the 'fraternity of geeks,' true believers in the potential of the pixel to revolutionize animation. With the precision of a technical writer and the sensitivity of an artist, Price spins the story of the Pixar vision, its achievement, and its art."
—The Christian Science Monitor

"Using vivid character profiles and lucid descriptions of complicated technology, Price gives the reader a behind-the-scenes look more accessible than any television special. His admiration for Pixar is palpable but contagious, and The Pixar Touch is an engaging modern history that tears back the Wizard's curtain without breaking the spell."
—The Buffalo News

"Price is a smart reporter and a solid writer. He deftly makes computer arcana palatable, even interesting. And he is excellent when explaining how much work went into creating the complex images we take for granted today."

—The New York Times Book Review

"[Price] weaves an absorbing chronicle that functions not only as the history of an unconventional business but also serves as witness to the dawn of a digital revolution in mass entertainment."

—Newsday

"You don't have to belong to the computer-animation generation to enjoy The Pixar Touch. This history of the company that made the world's first fully computer-animated feature is an entertaining look at digital derring-do."

–The Dallas Morning News

"The Pixar Touch is a little like a Pixar movie. It has a compelling mix of interrelated story arcs (technological, financial and artistic) and an impressive cast of intriguing characters."

—Richmond Times-Dispatch

"A number of interesting things about Disney emerge in this excellent, readable account of Pixar's early years."

—The Economist
"The first comprehensive look at the phenomenon of Pixar…[that] successfully brings to life the band of animation enthusiasts behind Toy Story, Finding Nemo, and The Incredibles. The book deserves a thumbs-up for its artful recounting of the studio's formative years ….full of fascinating characters, all struggling–in classic Pixar film style–to overcome seemingly impossible odds."
—Business Week

"Unprecedented detail about the notoriously press-shy company's workings, a story that abounds with lessons for business people and creative artists alike."

—Wall Street Journal

"David A. Price, a tough, unsentimental reporter, ferrets out lots of backstage drama from fresh sources, weaving a commendably unvarnished history."

—Entertainment Weekly

"It's quite a story, and David Price has finally got it right, it's details and the players. This is the definitive history of Pixar."

—Alvy Ray Smith, co-founder of Pixar

"[A] brisk history of an entertainment juggernaut that is also the history of computer animation…a heck of a yarn, full of vivid characters, reversals of fortune and stubborn determination: Pixar should make a movie out of it."

—Kirkus Reviews (starred)

"A tale of our times, and David Price tells it with page-turning drama, total veracity, and wonderful wit."

—Mark Cotta Vaz, author, of The Art of Finding Nemo, The Art of The Incredibles and Living Dangerously: The Adventures of Merian C. Cooper, Creator of King Kong
Knopf, 9780307265753, 304pp.
Publication Date: May 13, 2008
About the Author
David A. Price was raised in Richmond, Virginia, and was educated at the College of William and Mary, where he received his degree in computer science. He graduated from Harvard Law School and Cambridge University. Price has written for "The Wall Street Journal," "Investor's Business Daily," "Business 2.0," "The Washington Post," "Forbes," and "Inc." and is the author of "Love and Hate in Jamestown." He lives with his wife and sons in Washington, D.C.
or
Not Currently Available for Direct Purchase