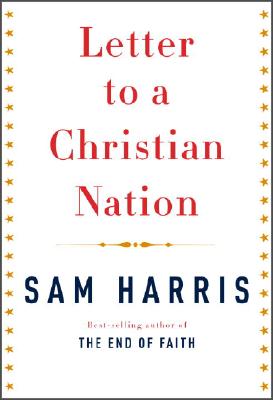 Letter to a Christian Nation (Hardcover)
Knopf, 9780307265777, 112pp.
Publication Date: September 19, 2006
* Individual store prices may vary.
Description
"Thousands of people have written to tell me that I am wrong not to believe in God. The most hostile of these communications have come from Christians. This is ironic, as Christians generally imagine that no faith imparts the virtues of love and forgiveness more effectively than their own. The truth is that many who claim to be transformed by Christ's love are deeply, even murderously, intolerant of criticism. While we may want to ascribe this to human nature, it is clear that such hatred draws considerable support from the Bible. How do I know this? The most disturbed of my correspondents always cite chapter and verse."

So begins Letter to a Christian Nation…



www.samharris.org
About the Author
Sam Harris is the author of the "New York Times" best seller "The End of Faith: Religion, Terror, and the Future of Reason," winner of the 2005 PEN/Martha Albrand Award for First Nonfiction.
Praise For Letter to a Christian Nation…
"A breath of fresh fire."–Wall Street Journal

"This combination of ruthless argument with polemic designed to provoke (he describes the Catholic Church as the "institution that has produced and sheltered an elite army of child-molesters") will further delight Harris' supporters and infuriate his critics." – San Francisco Chronicle

"Harris has consolidated his disdain for religion in a withering attack on Christianity, delivered in the form of an open letter. . . . Mr. Harris wants to grab your lapels and give you a good shake. . . . [he] makes a good case for a new and intellectually honest conversation about morality and human suffering."–NY Observer

"As infidels go, Harris is an astonishingly successful one. . . . Letter is a readable, exhortatory screed."–Newsweek

"Bracing."–The Nation

"[Letter to a Christian Nation] crackles with a focused, potent energy. . . . [Harris'] arguments resonate with a satisfying common sense."–Contra Costa Times

"Sam Harris's elegant little book is most refreshing and a wonderful source of ammunition for those who, like me, hold to no religious doctrine. Yet I have some sympathy also with those who might be worried by his uncompromising stance. Read it and from your own view, but do not ignore its message."
–Sir Roger Penrose, emeritus professor of mathematics, Oxford University,
author of The Road to Reality

"Reading Harris' Letter to a Christian Nation was like sitting ring side, cheering the champion, yelling 'Yes!' at every jab. For those of us who feel depressed by this country's ever increasing unification of church and state, and the ever decreasing support for the sciences that deliver knowledge and reduce ignorance, this little book is a welcome hit of adrenalin."
–Marc Hauser, Harvard College Professor, author of Moral Minds: How Nature Designed Our Sense of Right and Wrong

"I can't sign my name to this blurb. As a New York Times best selling author of books about business, my career will evaporate if I endorse a book that challenges the deeply held superstitions and bigotry of the masses. That's exactly why you should (no, you must) read this angry and honest book right away. As long as science and rational thought are under attack by the misguided yet pious majority, our nation is in jeopardy. I'm scared. You should be too. Please buy two, one for you and one for a friend you care about."
–Unsigned, New York Times best selling author

"It's a shame that not everyone in this country will read Sam Harris' marvelous little book Letter to a Christian Nation. They won't but they should."
–Leonard Susskind, Felix Bloch Professor in theoretical physics, Stanford University, author of The Cosmic Landscape: String Theory and the Illusion of Intelligent Design

"We all know about good things that have been derived from bad ideas. Modern religions serve many social goods such as health care for the poor. The problem is that is also services many reprehensible ideas. Harris blows the whistle, pointing out the religions of the world are based on human generated vengeful stories. Read this book and you decide your stance for the future."
–Michael S. Gazzaniga, Director of the Sage Center for the Study of Mind, University of California, Santa Barbara, author of The Ethical Brain

"Sam Harris fearlessly describes a moral and intellectual emergency precipitated by religious fantasies–misguided beliefs that create suffering, that rationalize violence, that have endangered our nation and our future. His argument for the morality, the honesty, and the humility of atheism is galvanizing. It is a relief that someone has spoken so frankly, with such passion yet such rationality. Now when the subject arises, as it inevitably does, I can simply say: Read Sam Harris' Letter to a Christian Nation."
–Janna Levin, Columbia University, author of How the Universe Got Its Spots and A Madman Dreams of Turing Machines
or
Not Currently Available for Direct Purchase