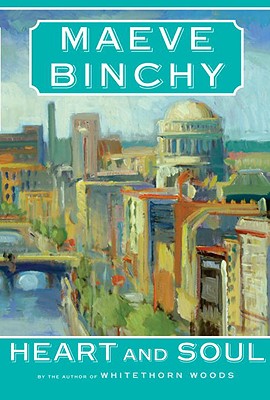 Heart and Soul (Hardcover)
Knopf, 9780307265791, 432pp.
Publication Date: February 17, 2009
* Individual store prices may vary.
or
Not Currently Available for Direct Purchase
Description
With the insight, humor, and compassion we have come to expect from her, Maeve Binchy tells a story of family, friends, patients, and staff who are part of a heart clinic in a community caught between the old and the new Ireland.

Dr. Clara Casey has been offered the thankless job of establishing the underfunded clinic and agrees to take it on for a year. She has plenty on her plate already—two difficult adult daughters and the unwanted attentions of her ex-husband—but she assembles a wonderfully diverse staff devoted to helping their demanding, often difficult patients.

Before long the clinic is established as an essential part of the community, and Clara must decide whether or not to leave a place where lives are saved, courage is rewarded, and humor and optimism triumph over greed and self-pity.

Heart and Soul is Maeve Binchy at her storytelling best.
About the Author
Maeve Binchy is the author of numerous best-selling books, including her most recent novel, " Whitethorn Woods, " in addition to "Nights of Rain and Stars, ""Quentins, ""Scarlet Feather, ""Circle of Friends, " and "Tara Road, " which was an Oprah Book Club selection. She has written for "Gourmet;""O, The Oprah Magazine; "and "Good Housekeeping," among other publications. She and her husband, Gordon Snell, live in Dalkey, Ireland, and London.
Praise For Heart and Soul…
"A modern day women's writer in the Jane Austen sense." –Lauren Daley, The Standard-Times

"Sweet indulgence...Heart and Soul is a delicious delight." –Lindsey Losnedahl, Las Vegas Review-Journal

"Heart and Soul is a pleasant escape into an entertaining fantasy world across the ocean...[Binchy] once again paints a delightful picture of Ireland that elevates the everyday joys and tragedies of her characters to ones of pure romance." –Karin Greenberg, Woodbury Magazine

"A new Maeve Binchy novel is always welcome...Binchy has a true gift of creating characters we either know or wish we knew...Heart and Soul creates a perfect escape." –Michele Ross, Cleveland Plain Dealer

"At the end of a long week, a long winter, a long economic downturn, [Maeve Binchy's Heart and Soul is] exactly what we need." –Laurie Hertzel, Minneapolis Star Tribune

"Good-hearted [and] entertaining...[Heart and Soul] reflects a pervasive generosity of spirit [and] offers many honest pleasures." –Bill Sheehan, The Washington Post

"Another delightful Binchyesque amalgamation of intersecting lives...the collective, charming effect of these story lines suggests that individuals are more connected than they might think." –Publishers Weekly

"Only a curmudgeon could resist this master of cheerful, read-by-the-fire comfort." –Kirkus Reviews

"Interweaving the domestic narratives of a dissimilar collection of individuals is beloved Binchy's stock-in-trade, and once again, she does so with sublime ease, inventively engaging readers through a reassuring and persuasive combination of gracious warmth, gentle humor, and genuine affection." –Carol Haggas, Booklist

"Ambitious and intelligently conceived...A heart clinic is really the perfect metaphor for how this book feels. It's a warm and comfy world [and reading Heart and Soul is] not unlike getting a hug from your mother...Binchy's millions-strong readership...will not be disappointed." –William Kowalski, The Globe and Mail (Toronto)

"Oh, the bliss...Maeve's back, on top form...The heart is the theme, literally and metaphorically, and this is heartwarming stuff–sweet but never cloying." –The Times

"[Maeve Binchy] knows how to fashion a minor drama into a crisis, and the book rattles along from one gripping story to another, leaving the reader with a satisfying glow...It does exactly what it says on the tin: gives heart and soul." –Daily Mail

"[Heart and Soul] brings together the secret hopes and dreams of a disparate group of characters...with [Binchy's] trademark warmth and empathy." –Irish Sunday Independent

"Maeve Binchy's latest novel is packed as usual with wonderful characters...Full of warmth, caring and commonsense." –CHOICE
Advertisement