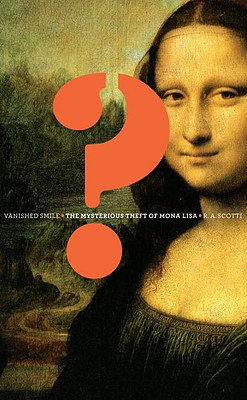 Vanished Smile (Hardcover)
The Mysterious Theft of Mona Lisa
Knopf, 9780307265807, 256pp.
Publication Date: April 7, 2009
Other Editions of This Title:
Digital Audiobook (4/6/2009)
Paperback (4/6/2010)
Compact Disc (4/7/2009)
Paperback, Large Print (4/7/2009)
* Individual store prices may vary.
Description
In Paris at the start of a radically new century, the most famous face in the history of art stepped out of her frame and into a sensational mystery.

On August 21, 1911, the unfathomable happened—Leonardo da Vinci's Mona Lisa vanished from the Louvre. More than twenty-four hours passed before museum officials realized she was gone. The prime suspects were as shocking as the crime: Pablo Picasso and Guillaume Apollinaire, young provocateurs of a new art. As French detectives using the latest methods of criminology, including fingerprinting, tried to trace the thieves, a burgeoning international media hyped news of the heist.

No story captured the imagination of the world quite like this one. Thousands flocked to the Louvre to see the empty space where the painting had hung. They mourned as if Mona Lisa were a lost loved one, left flowers and notes, and set new attendance records. For more than two years, Mona Lisa's absence haunted the art world, provoking the question: Was she lost forever? A century later, questions still linger.

Part love story, part mystery, Vanished Smile reopens the case of the most audacious and perplexing art theft ever committed. R. A. Scotti's riveting, ingeniously realized account is itself a masterly portrait of a world in transition. Combining her skills as a historian and a novelist, Scotti turns the tantalizing clues into a story of the painting's transformation into the most familiar and lasting icon of all time.
About the Author
R. A. Scotti is the author of three previous works of nonfiction, including "Basilica: The Splendor and the Scandal--Building St. Peter's "and "Sudden Sea: The Great Hurricane of 1938," and four novels. She lives in New York City.
Praise For Vanished Smile: The Mysterious Theft of Mona Lisa…
"R.A. Scotti's pen is as deft as Leonardo's brush. . . . Sublime." —The Washington Times

"Luminous…. Scotti narrates the investigation with gusto and grace." —The Washington Post Book World

"A story that La Gioconda herself would have smiled at—enigmatically, of course." —Time
 
"Beguiling…. An absence of clues meant an abundance of theories, and Scotti advances them all in an arresting…narrative." —The New York Times Book Review 
 
"Elegant and erudite…. Scotti follows the trail of the missing masterpiece with the same zestful sense of adventure that she brought to Basilica…. An unabashed literary diva, Scotti commands attention from page one." —The Boston Globe

"The painting was missing for more than two years, and the names of the prime suspects in the case—Pablo Picasso and his friend, the poet and art critic Guillaume Apollinaire—push this story past something even Dan Brown could concoct. . . . A rolling . . . piece of entertainment. . . . Reminds us of the bedrock appeal of the Mona Lisa's gaze." —The New York Times
 
"Captivating. . . . Scotti's sophistication, wit, style, and illuminating research makes this a delightfully suspenseful read." —Providence Journal
 
"A charming [book] that delves deeper into the mystique of the Mona Lisa herself. . . . Readers hankering for more of da Vinci and his enigmatic sitter, whose smooth smile has been bewitching men for centuries . . . should reach for Vanished Smile." —St. Petersburg Times  
 
"Equal parts art history and crime caper. . . . This rollicking tale makes for fascinating reading." —The Christian Science Monitor  
 
"Reads like a prose poem with narrative gallop." —Time
 
"Superb. . . . An art-heist page-turner that will delight art enthusiasts as well as true-crime buffs. (Note to Hollywood: This may be your best hope for a caper starring Brad Pitt and George Clooney as Picasso and Apollinaire.)" —Richmond Times-Dispatch
 
"As full of twists, turns and suspense as any mystery novel. . . . Makes the Mona Lisa's story even more significant—and her smile even more alluring." —BookPage
 
"Remarkable. . . . R.A. Scott combines her skills as a historian and novelist to recreate this sensational crime, which has all the twists and turns of a mystery novel, except that it's true." —Florida Weekly 
 
"A book that nonfiction lovers, true-crime lovers, and especially art lovers will thoroughly enjoy." —Curled Up With a Good Book
 
"Who needs The Da Vinci Code when you can have the real thing?" —The Daily Beast
 
"An apt tribute to Leonardo da Vinci's mysterious muse. . . . In Vanished Smile, R.A. Scotti deftly uncovers the mysterious theft of the art world's prima donna. . . . Thanks to Scotti's meticulous research and atmospheric writing, a crime that had all the trappings of insanity, national prestige and obsession is brought to light marvelously." —The Business Standard
 
"A crime caper . . . that convey[s] l'air du temps. . . . Enthralling." —Financial Times
or
Not Currently Available for Direct Purchase