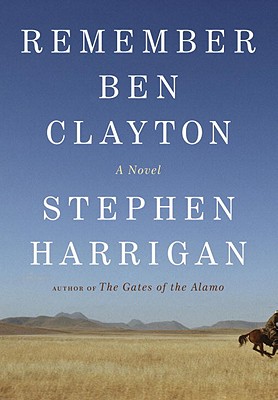 Remember Ben Clayton
Hardcover

* Individual store prices may vary.
Other Editions of This Title:
Paperback (5/29/2012)
Description
From the author of the acclaimed best seller The Gates of the Alamo, a new novel that confirms and enlarges Stephen Harrigan's reputation as a major voice in American fiction.

Francis "Gil" Gilheaney is a sculptor of boundless ambition. But bad fortune and his own prideful spirit have driven him from New York into artistic exile in Texas just after World War I. His adult daughter, Maureen, serves as his assistant, although she has artistic ambitions of her own and is beginning to understand how her own career—perhaps even her life—has become hostage to her driven father's "wild pursuit of glory." When Lamar Clayton, an aging, heartbroken rancher, offers Gil a commission to create a memorial statue of his son Ben, who was killed in the war, Gil seizes the opportunity to create what he believes will be his greatest achievement.

As work proceeds on the statue, Gil and Maureen come to realize that their new client is a far more complicated man than he appeared to be on first acquaintance, and that Lamar is guarding a secret that haunts his relationship with his son even in death. But Gil is haunted as well: by the fear that his work will be forgotten and by an unconscionable lie whose discovery could cost him his daughter's love. The creation of the statue leads to a chain of dramatic encounters, through which Maureen will test the boundaries of her independence and Gil and Lamar, each in his own painful way, will confront their worth as fathers.

Remember Ben Clayton vividly depicts a rich swath of American history, from the days when the Comanches ruled the Southern plains to the final brutal months of World War I. It ranges from outlaw settlements on the Texas frontier to the cafés of Paris, from Indian encampments to artists' ateliers to the forgotten battlefield in France where Ben Clayton died. It shows us the all-consuming labor that a monumental work of sculpture demands and the price it exacts from both artist and patron. And with unforgettable power and compassion it presents a deeply moving story about the bonds between fathers and children, and about the power and purpose of art.
Praise For Remember Ben Clayton…
"Mr. Harrigan is a confident dramatist, skillfully jumping from one point of view to another without disrupting the flow of the scenes. [And] by devising a novel about the art of memorialization, he has crafted a poignantly human monument to our history."—Sam Sacks, The Wall Street Journal

"A superior piece of storytelling, a historical novel, a Texas saga, an allegory of art and all the important issues it can raise, an onion of a book with many leathery layers to be unpeeled, eventually revealing our vast capacity to love, and to hurt the ones we love, and to forgive."—Steve Bennett, San Antonio Express

"It's not too early to anoint Remember Ben Clayton as one of the best novels of 2011. . . . Skillfully composed, emotionally engaging, the story (set just after World War I ends) of a Texas rancher trying to reclaim his son by the commission of statue is alternately heartbreaking and uplifting. Like Ian McEwan's Atonement and Michael Chabon's The Amazing Adventures of Kavalier and Clay, Harrigan magically re-creates a point in history while engaging readers with a mesmerizing story."—Rege Behe, Pittsburgh Tribune-Review

"Stephen Harrigan ranks among the finest atmospheric novelists. [In his new novel],  set just a few years after World War I, he takes full advantage of the opportunity to conjure amazing scenes ranging from frontier Comanche raids to doomed Allied charges on German strongholds. …Yet atmospherics aren't even the apex of Harrigan's art. As with his previously lauded The Gates of the Alamo and Challenger Park, in Remember Ben Clayton the author is only using vividly re-created history as a framework for probing the complexities of human relationships. …
"Simply put, storytelling does not get any better than this." —Jeff Guinn, Dallas Morning News
 
"A young Texan is killed World War I, and his stoically grieving father commissions a statue to honor him . . . but like the unforgiving bullets that pierce Clayton's flesh, the story goes unflinchingly deeper into the human failings of fathers, the need for children to forgive and what it means to create art. …With Remember Ben Clayton, Harrigan has created art." —Joe O'Connell, Austin American Statesman
 
"A heartening novel about art, war, and the tug of family relationships." —Kirkus Reviews

"Like the statue at its center, Harrigan's novel is a stunning work of art resting on a solid base of heartbreak.  The action ranges from the Texas plains to the devastated northern French landscape, with the presence of the violent Wild West strongly lingering. . . . The story builds with determined momentum, providing a grimly vivid sense of place and deep insight into the creative process and family relationships.   Harrigan's The Gates of the Alamo has become a modern classic, and his latest deserves similar acclaim."—Sarah Johnson, Booklist (starred)
 
"If it were possible to give Stephen Harrigan's novel six stars, I would.   I have not been able to stop thinking about Remember Ben Clayton since putting it down a final time.   It is so moving, with a kind of West Texas majesty that reminds us of what the west was like not that long ago.   And it is readable—compulsively so.  I was a huge fan of Harrigan's earlier Gates of the Alamo so I was aware of his writer's skill. Ben Clayton is even more nuanced and complex. . . . My favorite book this year."—Candace Siegle, Goodreads
 
"I read the first chapter and I was hooked . . . The prose is sparse and reminds me of Hemingway, but it fit the characters perfectly.  The musings of the characters on art and its role in society—and what it means to the individual artist—were exceptionally absorbing. . . . This novel should appeal to a wide audience—fans of cowboy lit, fans of historical fiction, and artists of all stripes."—Chiron, Rabbit Reader
 
 
Alfred A. Knopf, 9780307265814, 353pp.
Publication Date: May 24, 2011
About the Author
Stephen Harrigan is the author of seven previous books of fiction and nonfiction, including the novels "Challenger Park "and the "New York Times "best seller "The Gates of the Alamo. "A longtime writer for "Texas Monthly "and other magazines, he is also an award-winning screenwriter who has written many movies for television. He lives in Austin, where he is a faculty fellow at the Michener Center for Writers at the University of Texas and a founding member of Capital Area Statues, Inc.
or
Not Currently Available for Direct Purchase