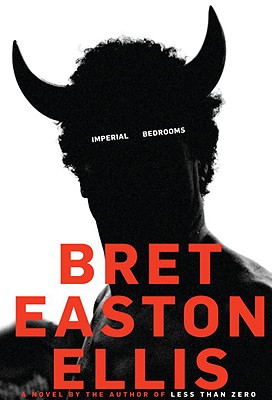 Imperial Bedrooms (Hardcover)
Knopf, 9780307266101, 192pp.
Publication Date: June 15, 2010
Other Editions of This Title:
Digital Audiobook (6/14/2010)
Paperback (5/3/2011)
Compact Disc (6/15/2010)
Paperback (4/1/2011)
Paperback (4/1/2011)
* Individual store prices may vary.
Description
Bret Easton Ellis's debut, Less Than Zero, is one of the signal novels of the last thirty years, and he now follows those infamous teenagers into an even more desperate middle age.

Clay, a successful screenwriter, has returned from New York to Los Angeles to help cast his new movie, and he's soon drifting through a long-familiar circle. Blair, his former girlfriend, is married to Trent, an influential manager who's still a bisexual philanderer, and their Beverly Hills parties attract various levels of fame, fortune and power. Then there's Clay's childhood friend Julian, a recovering addict, and their old dealer, Rip, face-lifted beyond recognition and seemingly even more sinister than in his notorious past.

But Clay's own demons emerge once he meets a gorgeous young actress determined to win a role in his movie. And when his life careens completely out of control, he has no choice but to plumb the darkest recesses of his character and come to terms with his proclivity for betrayal.

A genuine literary event.
About the Author
Bret Easton Ellis is also the author of "American Psycho, Glamorama, The Informers, Less Than Zero, Lunar Park" and "The Rules of Attraction. "His work has been translated into twenty-seven languages. He lives in Los Angeles.
Praise For Imperial Bedrooms…
"Taut and ultimately terrifying….In six novels, the author has emerged as one of the most gifted and serious novelists working in America today." —Hari Kunzru, Financial Times
 
"Brutally conceived, and effectively done….There is no doubt that Ellis retains the ability to startle and disquiet." —Stephen Abell, The Times Literary Supplement
 
"Ellis remains a bold ignorer of literary boundaries.  Imperial Bedrooms is but another unexpected swerve in a wonderfully weird career." J. Robert Lennon, London Review of Books
 
"Enough talk of [Ellis's] literary genius, let's call him what he really is: a terrific horror writer.  Imperial Bedrooms is an absolute creepfest [and] a festival of panting paranoia."  —Thomas Conner, Chicago Sun-Times
 
"A profoundly talented—and occasionally even brilliant—writer…Ellis has a fictional territory all his own and, heaven forbid, a mastery there." —Jeff Simon, Buffalo News
 
"A page-turning read [with] a sneaky subtlety…Holding a mirror to our desires, Ellis shows us how much scarier what we think we want can be when severed from even the possibility of innocence, [employing] noirish staples to lure his reader along while subtly circling back to the older—and more frightening—theme: the dead soul." —Michael McGregor, The Oregonian
 
"This is the most Chandleresque of Bret's books, and the most deeply steeped in L.A. noir…As Dante's hell is circular, so is [Ellis's] L.A. Everywhere in Imperial Bedrooms there is a sense of time frozen, time collapsed and time rounding back on itself in various diabolical ways…What stays with [the reader] is not so much the concluding note of betrayal and horror as the mournfulness of the book, its eerie sense of stasis: clear skies, vacuum-sealed calm, the BlackBerry flashing on the nightstand in the middle of the night, everywhere the subliminal hum of menace." —Donna Tartt, Amazon.com
 
"A page-turner…Imperial Bedrooms is a quicker, more controlled fire than its predecessor, and, like a good showman, Ellis has learned to save the best of the novel's many tricks for last…Devastating…Old age and treachery have served Bret Easton Ellis quite well." —Foster Kamer, The Village Voice
 
"Arrestingly spare…Imperial Bedrooms will leave you feeling bruised, guarded and a little nervous about noises at night…What you really notice is Ellis's newfound love of noir.  He's reinvigorated and ready to get mysterious and mean…As ever, Ellis's details crystallize into elegant remoteness (and) if this is shallowness, the word needs a new definition." —Joshua Rothkopf, Time Out New York
 
"It's worth following Ellis down this rabbit hole." —Sam Kaplan, Philadelphia City Paper
 
"Hypnotic…A haunting vision of disillusionment, 21st-century style." —People Magazine
 
"This sequel is very much on target…[Ellis] uses the thriller framework to infuse nerve-rending unease into this look at Tinseltown mores, a dissection that also comes nicely weighted with both bleak hilarity and firsthand authorial experience." —Clark Collis, Entertainment Weekly
 
"Visceral and often harrowing, Ellis delivers a work that matches such career peaks as Lunar Park and the infamous American Psycho…It is remarkable how [he] has tailored the narrative in exactly the same style as the original novel, yet offering an assured and mature voice to chronicle Clay's nightmarish return to L.A." —Jorge Carreon, The Examiner
 
"Reading Ellis is a thrilling and strangely voyeuristic experience, [and] you can't look away." —Venus Zine
 
"Its dirty charms are indisputable." —Amy Grace Lloyd, Playboy Magazine
 
"Ellis explores what disillusioned youth looks like twenty-five year later in this brutal sequel to Less Than Zero….The story takes on a creepy noirish bent as it barrels toward a conclusion that reveals the horror that lies at the center of a tortured soul….Though the novel's synchronicity with Zero is sublime, this also works as a stellar stand-alone." —Publishers Weekly, starred review
Book Videos
Coverage from NPR
or
Not Currently Available for Direct Purchase