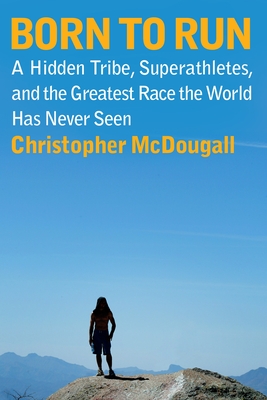 Born to Run
A Hidden Tribe, Superathletes, and the Greatest Race the World Has Never Seen
Hardcover

* Individual store prices may vary.
Other Editions of This Title:
Digital Audiobook (5/4/2009)
Paperback (3/29/2011)
Compact Disc (12/28/2010)
Compact Disc (5/5/2009)
Paperback (3/1/2010)
Hardcover (2/1/2010)
Paperback (3/1/2010)
Description
Full of incredible characters, amazing athletic achievements, cutting-edge science, and, most of all, pure inspiration, Born to Run is an epic adventure that began with one simple question: Why does my foot hurt? In search of an answer, Christopher McDougall sets off to find a tribe of the world's greatest distance runners and learn their secrets, and in the process shows us that everything we thought we knew about running is wrong.

Isolated by the most savage terrain in North America, the reclusive Tarahumara Indians of Mexico's deadly Copper Canyons are custodians of a lost art. For centuries they have practiced techniques that allow them to run hundreds of miles without rest and chase down anything from a deer to an Olympic marathoner while enjoying every mile of it. Their superhuman talent is matched by uncanny health and serenity, leaving the Tarahumara immune to the diseases and strife that plague modern existence. With the help of Caballo Blanco, a mysterious loner who lives among the tribe, the author was able not only to uncover the secrets of the Tarahumara but also to find his own inner ultra-athlete, as he trained for the challenge of a lifetime: a fifty-mile race through the heart of Tarahumara country pitting the tribe against an odd band of Americans, including a star ultramarathoner, a beautiful young surfer, and a barefoot wonder.

With a sharp wit and wild exuberance, McDougall takes us from the high-tech science labs at Harvard to the sun-baked valleys and freezing peaks across North America, where ever-growing numbers of ultrarunners are pushing their bodies to the limit, and, finally, to the climactic race in the Copper Canyons. Born to Run is that rare book that will not only engage your mind but inspire your body when you realize that the secret to happiness is right at your feet, and that you, indeed all of us, were born to run.
Praise For Born to Run: A Hidden Tribe, Superathletes, and the Greatest Race the World Has Never Seen…
"Compelling. . . . Entertaining. . . . [McDougall] uses an extended portrait of one of the world's least known cultures, the Tarahumara Indians of Mexico's Copper Canyons, to put modern American running under an exacting magnifying glass."–San Francisco Chronicle

"Equal parts quest, physiology treatise, and running history. . . . [McDougall] seeks to learn the secrets of the Tarahumara the old-fashioned way: He tracks them down. . . . The climactic race reads like a sprint. . . . It simply makes you want to run."–Outside Magazine

"Hugely entertaining. . . . One of the most joyful and engaging books about running to appear for many years."— The Irish Times.

"An enthralling story. . . . McDougall's background as a magazine writer is readily apparent–his prose is light and airy, informative without being pretentious. Most passages are short and engaging with extra doses of drama and exclamatory phrases thrown in to great effect. McDougall wisely grounds the narrative in his own struggle to engage in the concluding race–he was frustrated with his tendency to get injured–and he offers insightful sidebars on a variety of topics, from the development of the modern running shoe to an evolutionary argument that humans are literally born to run. . . . A terrific ride, recommended for any athlete."–Kirkus, starred review

"A wildly fascinating story, perfectly told. Born to Run is an instant classic." –Daniel Coyle, author of The Talent Code

"Born to Run is hilariously funny, weird, and nonstop fun to read. Runners can sink their teeth into it."–Bill Rodgers, Four time winner of the Boston Marathon

"Driven by an intense yet subtle curiosity, Christopher McDougall gamely treads across the continent to pierce the soul and science of long-distance running. McDougall's ambitious search leads him deep into the ragged folds of Mexico's Copper Canyon, where he somehow manages the impossible: He plumbs the mystic secrets of the fleet-footed Tarahumara Indians while never losing his deep enchantment for the majesty of their culture."–Hampton Sides, author of Blood and Thunder and Ghost Soldiers

"Christopher McDougall writes like a world-class ultramarathoner, with so much ease and heart and gusto that I couldn't stop reading this thrilling, fascinating book. As soon as I finished, all I wanted to do was head out for a run."–Benjamin Wallace, author of The Billionaire's Vinegar

"I love Christopher McDougall's Born To Run! The book is wonderful. It's funny, insightful, captivating, and a great and beautiful discovery. There are lessons here that translate to realms beyond running. The book inspires anyone who those seeks to live more fully or to run faster."–Lynne Cox, author of Swimming to Antarctica

"Galloping along through a multi-faceted landscape that is by turns exhilarating, funny and weirdly absorbing, Born to Run is a breathless read, but sheer endorphinous pleasure."–John Gimlette, author of Panther Soup

"Quite simply the best book you'll ever read about running. . . . Brilliant, and brilliantly life-affirming."–Lloyd Bradley, author of The Rough Guide to Running

"Born to Run is a fascinating and inspiring true adventure story, based on humans pushing themselves to the limits. A brilliantly written account of extraordinary endurance, far from home–that also explains how anyone can run better–it's destined to become a classic."–Sir Ranulph Fiennes, author of Mad, Bad and Dangerous To Know
Knopf, 9780307266309, 304pp.
Publication Date: May 5, 2009
About the Author
Christopher McDougall is the author of Born to Run: A Hidden Tribe, Super Athletes, and the Greatest Race the World Has Never Seen. He began his career as an overseas correspondent for the Associated Press, covering wars in Rwanda and Angola. He now lives and writes (and runs, swims, climbs, and bear-crawls) among the Amish farms around his home in rural Pennsylvania.

Christopher McDougall is available for select readings and lectures. To inquire about a possible appearance, please contact Random House Speakers Bureau at rhspeakers@randomhouse.com or visit www.rhspeakers.com.