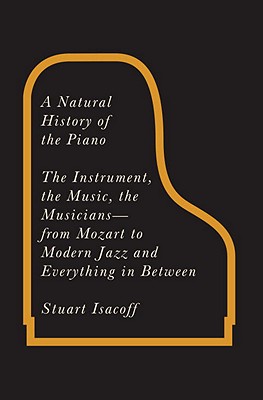 A Natural History of the Piano
The Instrument, the Music, the Musicians--from Mozart to Modern Jazz and Everything in Between
Hardcover

* Individual store prices may vary.
Other Editions of This Title:
Paperback (11/20/2012)
Description
A beautifully illustrated, totally engrossing celebration of the piano, and the composers and performers who have made it their own.
 
With honed sensitivity and unquestioned expertise, Stuart Isacoff—pianist, critic, teacher, and author of Temperament: How Music Became a Battleground for the Great Minds of Western Civilization—unfolds the ongoing history and evolution of the piano and all its myriad wonders: how its very sound provides the basis for emotional expression and individual style, and why it has so powerfully entertained generation upon generation of listeners. He illuminates the groundbreaking music of Mozart, Beethoven, Liszt, Schumann, and Debussy. He analyzes the breathtaking techniques of Glenn Gould, Oscar Peterson, Vladimir Ashkenazy, Arthur Rubinstein, and Van Cliburn, and he gives musicians including Alfred Brendel, Murray Perahia, Menahem Pressler, and Vladimir Horowitz the opportunity to discuss their approaches. Isacoff delineates how classical music and jazz influenced each other as the uniquely American art form progressed from ragtime, novelty, stride, boogie, bebop, and beyond, through Scott Joplin, Fats Waller, Duke Ellington, Bill Evans, Thelonious Monk, Chick Corea, Herbie Hancock, Cecil Taylor, and Bill Charlap.
 
A Natural History of the Piano distills a lifetime of research and passion into one brilliant narrative. We witness Mozart unveiling his monumental concertos in Vienna's coffeehouses, using a special piano with one keyboard for the hands and another for the feet; European virtuoso Henri Herz entertaining rowdy miners during the California gold rush; Beethoven at his piano, conjuring healing angels to console a grieving mother who had lost her child; Liszt fainting in the arms of a page turner to spark an entire hall into hysterics. Here is the instrument in all its complexity and beauty. We learn of the incredible craftsmanship of a modern Steinway, the peculiarity of specialty pianos built for the Victorian household, the continuing innovation in keyboards including electronic ones. And most of all, we hear the music of the masters, from centuries ago and in our own age, brilliantly evoked and as marvelous as its most recent performance.
 
With this wide-ranging volume, Isacoff gives us a must-have for music lovers, pianists, and the armchair musician.
Praise For A Natural History of the Piano: The Instrument, the Music, the Musicians--from Mozart to Modern Jazz and Everything in Between…
"Like listening to a fascinating raconteur who informs and entertains and really knows his stuff . . . Passion and unstoppable enthusiasm are palpable throughout this beautifully written and illustrated book . . . Isacoff's heartfelt history of the piano will make you want to Stop! Read! and then go Listen!"
            -Eugenia Zukerman, The Washington Post
 
"That rarest of treats: a substantial book about music that's actually easy to read . . . The book's strongest passages are those in which Isacoff dwells on the instrument itself, relating several fascinating tales about its invention, metamorphosis and extra-musical developments . . . As a primer on the piano and music history . . . it executes the job with distinction."
            -Zachary Lewis, Cleveland Plain Dealer
 
"Isacoff follows the piano into the honkytonk, the drawing room, the middle-class home and the jazz club, tracking the evolution of the physical instrument itself as well as the composers and performers who made the piano an emblem of cultural variety and a laboratory for musical form . . . His discussion of jazz piano reflects an intense affection for the music and its practitioners."
            -James Penrose, The Wall Street Journal
 
"Stuart Isacoff, pianist, critic and academic, leads readers on a journey of discovery in A Natural History of the Piano…the music, the musicians and 'the wondrous box' itself: a volume to inspire and delight."
            -Liz Thomson, The Independent (UK)

"Deft . . . In A Natural History of the Piano, Isacoff proves as fleet-fingered as any virtuoso."
            -Peter Monaghan, The Chronicle of Higher Education
 
"A history written by a pianist and historian with a lively touch and a reach that spans octaves of science, culture and politics . . . A generous, welcoming book, full of oddities and insights."
            -Bill Marvel, The Dallas Morning News
 
"On every page we sense Isacoff's enthusiasm and lifelong dedication to the art of the piano . . . A Natural History of the Piano contains a wealth of information, lavish illustrations, thought-provoking comments, and, most of all, it is a pleasure to read."
            -Susan Geffen, Clavier Companion
 
"An exhaustive and entertaining cultural history of the piano . . . 'Sparkling discourse' is his aim, and he succeeds . . . An enjoyable read."
            -Susan E. Saltus, Newark Star-Ledger
 
"Entertaining . . . Crammed with great anecdotes and mini-essays."
            -Melinda Bargreen, The Seattle Times
 
"Informative, comprehensive, and conversational . . . Refreshing . . . A deft rendering."
            -Choice
 
 "The perfect gift book . . . A Natural History of the Piano, so layered with anecdote that it reads like a novel or a good biography, explores the story of the piano: its players, composers, and inventors, teachers and students, patrons, critics, and performers . . . Wonderful."
            -Ann La Farge, Hudson Valley News
 
"A lively, virtually all-inclusive survey of all things pianistic . . . Isacoff's ability to convey his formidable erudition in the most engaging terms, coupled with his infectious enthusiasm for music of all kinds, make this a charming and highly readable potpourri. Informative fun for every variety of music lover."
            -Kirkus
 
"Engrossing . . . Witty . . . Pianists at all levels, music history buffs, and academics will appreciate Isacoff's insights and clever way with words; this is an enjoyable and informative book."
            -Library Journal
 
"An encyclopedic and argumentative overview of all things piano . . . [Isacoff's stylistic] groups—combustibles, alchemists, rhythmizers, and melodists—shape a piano gestalt through which readers will be impressed . . . by the depth and diversity of Isacoff's research and references."
            -Publishers Weekly
 
"Dizzy Gillespie used to tell his musicians, whatever their instruments, to come to the piano with him as he said, 'The music is all there.' In Stuart Isacoff's A Natural History of the Piano, never before have I learned and enjoyed so much about the instrument and its most distinctive practitioners—transcending so many categories of music. Whether the subject is jazz or classical music, the writing is unfailingly engaging and revealing."
            -Nat Hentoff
 
"Anybody who cares about the piano—past, present and future—will find this book irresistible reading. I always learn so much from Stuart Isacoff and have a good time in the process."
            -Tim Page
 
"Stuart Isacoff's A Natural History of the Piano is a dazzling structural juxtaposition from Mozart, Liszt and Horowitz to Joplin, Tatum and Jerry Lee Lewis, written with verve and sensitivity. Piano lovers will eat it up!"
            -David Dubal, author of The Art of the Piano
 
"Every page of this book is filled with the poetry of Isacoff's writing as he outlines the fascinating development of the piano and its effect on music tradition throughout the centuries. The research is of great depth: how Isacoff weaves what he has discovered into a gripping and entertaining narrative is sheer magic. Essential reading for anyone who embraces not only the piano, but music, history, and culture. Bravo, Maestro Isacoff!" 
            -Frank Brady, author of Endgame
 
"I loved this book. Isacoff tells the story of the piano through every conceivable device and viewpoint: profiles of the jazz and classical masters of the instrument, technical details, social history, anecdotal sidebars, interviews and unexpected digressions. And he never forgets that piano lore includes the highest of high culture as well as the pop-est of pop. It's a terrifically enjoyable read."
            -Sara Fishko, Producer/Host, WNYC (New York Public Radio)
 
"Supremely informative as well as fascinating and entertaining—highly recommended."
            -Vladimir Ashkenazy
 
"Stuart Isacoff's great meditation on all piano-related matters is a delight, both informative and entertaining. To borrow the author's categories, I find the writing both melodic and combustible."
            -Dick Hyman
 
"Irresistible! Stuart Isacoff charts the three-century evolution of the world's most popular instrument with insight, love, and wit, garnished with the wisdom of today's foremost masters of classical and jazz."
            -Sedgwick Clark, editor, Musical America International Directory of the Performing Arts  
Knopf, 9780307266378, 384pp.
Publication Date: November 15, 2011
About the Author
Stuart Isacoff, a pianist and writer, was the founder of "Piano Today" magazine, which he edited for nearly three decades. A winner of the ASCAP Deems Taylor Award for excellence in writing about music, he is a regular contributor on the arts to "The Wall Street Journal "and has written for" The New York Times, Chamber Music, Symphony, Musical America, Stagebill," and "The New Grove Dictionary of American Music. "Mr. Isacoff is also the author of "Temperament: How Music Became a Battleground for the Great Minds of Western Civilization." He is on the faculty of the SUNY Purchase College Conservatory of Music. He lives in Closter, New Jersey.
or
Not Currently Available for Direct Purchase