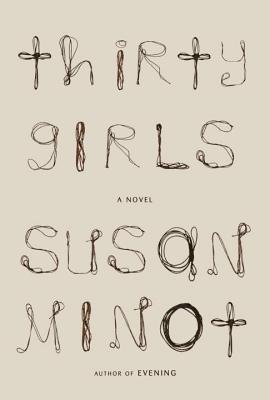 Thirty Girls (Hardcover)
Knopf Publishing Group, 9780307266385, 309pp.
Publication Date: February 11, 2014
Other Editions of This Title:
Digital Audiobook (2/10/2014)
Paperback (3/3/2015)
Pre-Recorded Audio Player (2/11/2014)
Compact Disc (2/11/2014)
Hardcover, Large Print (4/25/2014)
Compact Disc (2/11/2014)
MP3 CD (2/11/2014)
* Individual store prices may vary.
Description
The long-awaited novel from the best-selling, award-winning author of Evening is a literary tour de force set in war-torn Africa.

Esther is a Ugandan teenager abducted by the Lord's Resistance Army and forced to witness and commit unspeakable atrocities, who is struggling to survive, to escape, and to find a way to live with what she has seen and done. Jane is an American journalist who has traveled to Africa, hoping to give a voice to children like Esther and to find her center after a series of failed relationships. In unflinching prose, Minot interweaves their stories, giving us razor-sharp portraits of two extraordinary young women confronting displacement, heartbreak, and the struggle to wrest meaning from events that test them both in unimaginable ways.  

With mesmerizing emotional intensity and stunning evocations of Africa's beauty and its horror, Minot gives us her most brilliant and ambitious novel yet.
About the Author
SUSAN MINOT is an award-winning novelist, short-story writer, poet, and screenwriter. Her first novel, Monkeys, was published in a dozen countries and won the Prix Femina Etranger in France. Her novel Evening was a worldwide best seller and became a major motion picture. She received her MFA from Columbia University and lives with her daughter in New York City and on an island off the coast of Maine.
Praise For Thirty Girls…
"Wrenching . . . Suspenseful . . . By far her best."
            —The New York Times

"A novel of quiet humanity and probing intelligence . . . Minot is particularly good on the topology of desire . . . But it's the story of what happened to those 30 abducted girls that shows Minot's gifts as a writer . . . Minot takes huge questions and examines them with both a delicate touch and a cleareyed, unyielding scrutiny."
            —The New York Times Book Review
 
"Clear and searing . . . Pulls you in from the first page . . . The details are rendered with empathy, and both main characters occupied honorably in their struggles. It forces the reader to consider how much luck fashions the basic architecture of our lives. And how, despite all the vast differences in that architecture, what we strive for is remarkably the same . . . A book that looks hard at trauma, love, and humanity, that contemplates the wide potential spectrum of life, concluding perhaps that life is not competition between us, but instead a struggle within each of us for whatever 'twigs' of love and happiness we can manage, no matter what the context."
            —The Boston Globe

"Extraordinary . . . Panoramic . . . Poetic . . . Minot shows her readers that war zones cannot be contained within one country, or one region. When cruelty and violence reign, we are all at risk."
            —NPR
 
 "Daring . . . Minot's cleanly sculpted prose and capacity to penetrate and open the mind and heart challenge us to step outside our comfort zone. Finally, there comes this realization: Esther and Jane aren't so different at all. We recognize their stories as ours . . . Minot succeeds, through her fictionalized version, in making us care as much as she does."
            —O Magazine

"Africa—described in Minot's muscular, evocative, and unflinching prose—offers itself up to Jane in all its beguiling beauty, its unremitting violence, and breaks her open like an egg. When she meets Esther Akello, whose time in captivity has left her silent and self-hating, the two recognize in each other something that needs healing, and together they create a transcendent moment (for the reader as well) in a 'cracked and sad' world where 'everything was lit and love happened.'"
            —MORE Magazine
 
"Using candid, staccato sentences that ricochet off the page like bullets on metal, the full array of Esther's emotions about what happened to her—anger, self-loathing, fear, remorse—is respectfully portrayed and duly felt . . . Too, Minot jabs at the heart of what it means to be white and privileged in a world riddled with racial prejudice and class inequality . . . Minot can be applauded."
            —San Francisco Chronicle  

"Transfixing . . . Esther, taken from harsh reality, is an extraordinary character . . . If you keep patient, all [the novel's] scattered, neurotic strands will wind into a tight cord, and, in the end, you may calm down, stay in this writer's hands and make sense of the exhilaration and horror."
            —Washington Post
   
"Taut, harrowing . . . By the time Esther and Jane meet, each has come through tragedy to a kind of peace. But quiet, stoic Esther is the one you'll be rooting for."
            —People
 
"This is Minot unlike we have ever read her . . . Thirty Girls, a book that deserves to win a wide international readership, stands as her most powerful novel yet . . . A forceful address to readers too familiar with the inertia that buffers us from distant lands and their unknown terrors."
            —Sydney Morning Herald

"When there is a story the world needs to know, does it matter who tells it, or just that it gets told? . . . The nexus of white guilt and privilege is raised in Thirty Girls again and again . . . Minot tells both stories with such harsh, lyrical beauty that neither is easy to forget. Grade: A-."
            —Entertainment Weekly
 
"A novel as raw, beautiful, and seemingly serendipitous as the politics, landscape, and culture of the sub-Saharan Africa it describes . . . Minot has an uncanny feel for the emotional hit-or-miss connections between people."
            —Shelf Awareness
 
"Gripping . . . Sensual . . . Immediate . . . Minot wants to do more than sound a drumbeat of atrocities . . . She wants to use literature to transmute a human horror into something that can be understood and in time healed."
            —Miami Herald
 
"Exceptional . . . Represents a broadening vision for Minot . . . She has earned a trademark on the subject of desire."
            —Elle 

"Poignant . . . The true heart of this novel comes from Esther and the children of the LRA. Minot captures their characters so effectively that, throughout the many scenes, one almost forgets that these specific stories and children are fiction. Esther is a stunning character whose strength and bravery is an inspiration to readers . . . Thirty Girls conveys an important story that people need to hear."
            —Pittsburgh Post-Gazette
 
"Skillful and moving . . . Esther's story gives Thirty Girls moral weight, like that offered in Graham Greene's best novels . . . We're all suffering humans, but our capacity for empathy offers a chance of reducing that suffering. Thirty Girls brings faraway calamity home in the form of Esther, a character so endearing that shutting out her story is not an option."
            —Dallas Morning News 

"Visually intense . . . Minot's writing is so potent and the story told so tragic, the novel sears the mind."
            —New York Daily News
 
"Exquisitely written . . . Harrowing."
            —Time Out New York

"Truthful . . . Minot's careful observations of emotion are as precise and honest as they were in [Evening] . . . Minot does her utmost to imagine the unimaginable."
            —PopMatters 

"Esther's struggles are universally compelling—heartbreaking, stomach-churning . . . Factual undergirding lends a lightning crackle to her troubled sentiments . . . But by narrative's end, it is Jane who will be tested to see if she is ready to meet life's terrible challenges with transformative grace."
            —Kirkus
 
"A book about the relativity of pain; the grace of forgiveness; and the essential unknowability of a lover."
            —Daily Beast
 
"Spellbinding Minot, a writer of exquisite perception and nuance, contrasts Esther's and Jane's radically different, yet profoundly transforming journeys in a perfectly choreographed, slow-motion, devastatingly revealing collision of realities. So sure yet light is Minot's touch in this master work, so piercing yet respectful her insights into suffering and strength, that she dramatizes horrific truths, obdurate mysteries, and painful recognition with both bone-deep understanding and breathtaking beauty."
            —Booklist (starred review)
 
"Dreamlike . . . Though the shifting narratives start out highlighting the stark contrasts between the two worlds, they eventually collide as violence enters the privileged white enclave . . . A deeply affecting title that manages to express weighty sentiments and horrific events with subtlety and poetry."
            —Library Journal (starred review)
 
"Hotly anticipated . . . Wins the reader's heart."
            —Vogue
 
 "Haunting . . . With brilliantly effective understatement, the novel conveys Esther's complex psychological evolution . . . Minot's risky narrative ploy . . . pays off at the end, when senseless tragedy shows Jane how quickly lives can be changed and invests her with a higher sense of purpose."
            —Publishers Weekly
 
"Riveting . . . Heartbreaking . . . Hauntingly beautiful prose."
            —Kirkus Reviews 
or
Not Currently Available for Direct Purchase