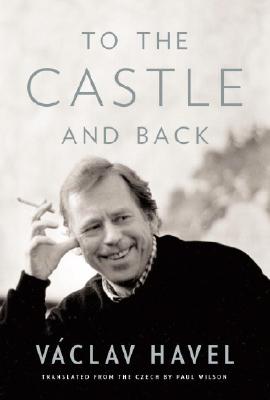 To the Castle and Back (Hardcover)
Knopf, 9780307266415, 400pp.
Publication Date: May 15, 2007
* Individual store prices may vary.
or
Not Currently Available for Direct Purchase
Description
As writer, dissident, and statesman, Václav Havel played an essential part in the profound changes that occurred in Central Europe during the last decades of the twentieth century, and became a powerful intellectual and political force for the reestablishment of democratic principles and institutions. Now, in this intimate, illuminating memoir, he recollects the pivotal experiences and ideas of his remarkable life.

Known in his native Prague for his theatrical productions, and imprisoned for his anticommunist views, Havel emerged on the international stage in 1989 as the elected president of Czechoslovakia, and, in 1993, as president of the newly formed Czech Republic. He writes with eloquence and candor about his transition from playwright to politician, and the surreal challenges of governing a young democracy. But the scope of his writing extends far beyond the circumstances he faced in his own country. He shares his thoughts on the future of the EU, the reach of the American superpower, and the role of national identity in today's world. He explains why he has come to believe the war in Iraq is a fiasco, and he discusses the reverberations from his initial support of the invasion.

This is also a personal book, in which he writes for the first time about his battle with lung cancer, the death of his first wife, Olga, and the controversy that has dogged his relationship with his second wife, the Czech actress Dagmar Veškrnová. And, finally, it is a meditation on mortality and on the difficulties of writing itself.

Infused with characteristic wit and well-honed irony, To the Castle and Back is a revelation of one of the most important figures of our time.
Praise For To the Castle and Back…
"An artful, sly and touching self-portrait . . . illuminate[s] the implausible incongruities that make up Havel's strange and appealing personality."
--The New York Times Book Review


"A political memoir like no other . . . A compelling record of what candour and moral authority can . . . achieve in politics."
--The Economist

"Even among the handful of politicians who can rival Havel's personal qualities, who can write like him? His calm good humor never breaks, even as his eyes remain fixed on the cliff the Western world is barreling toward."--Bloomberg News

"A fresh and intimate self-portrait . . . A diarylike glimpse into a leader simultaneously confronting challenges both major . . . and mundane."
--Booklist

"An illuminating memoir by an admirable writer and leader."
--Kirkus Reviews

Advertisement