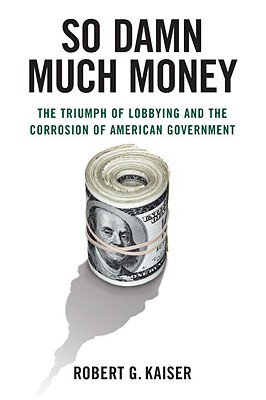 So Damn Much Money (Hardcover)
The Triumph of Lobbying and the Corrosion of American Government
Knopf, 9780307266545, 416pp.
Publication Date: January 20, 2009
Other Editions of This Title:
Paperback (2/9/2010)
* Individual store prices may vary.
Description
The startling story of the monumental growth of lobbying in Washington, D.C., and how it undermines effective government and pollutes our politics.

A true insider, Robert G. Kaiser has monitored American politics for The Washington Post for nearly half a century. In this sometimes shocking and always riveting book, he explains how and why, over the last four decades, Washington became a dysfunctional capital. At the heart of his story is money—money made by special interests using campaign contributions and lobbyists to influence government decisions, and money demanded by congressional candidates to pay for their increasingly expensive campaigns, which can cost a staggering sum. In 1974, the average winning campaign for the Senate cost $437,000; by 2006, that number had grown to $7.92 million. The cost of winning House campaigns grew comparably: $56,500 in 1974, $1.3 million in 2006.

Politicians' need for money and the willingness, even eagerness, of special interests and lobbyists to provide it explain much of what has gone wrong in Washington. They have created a mutually beneficial, mutually reinforcing relationship between special interests and elected representatives, and they have created a new class in Washington, wealthy lobbyists whose careers often begin in public service. Kaiser shows us how behavior by public officials that was once considered corrupt or improper became commonplace, how special interests became the principal funders of elections, and how our biggest national problems—health care, global warming, and the looming crises of Medicare and Social Security, among others—have been ignored as a result.

Kaiser illuminates this progression through the saga of Gerald S. J. Cassidy, a Jay Gatsby for modern Washington. Cassidy came to Washington in 1969 as an idealistic young lawyer determined to help feed the hungry. Over the course of thirty years, he built one of the city's largest and most profitable lobbying firms and accumulated a personal fortune of more than $100 million. Cassidy's story provides an unprecedented view of lobbying from within the belly of the beast.

A timely and tremendously important book that finally explains how Washington really works today, and why it works so badly.
About the Author
Robert G. Kaiser, with "The""Washington Post "since 1963, has covered Congress, the White House, and national politics; reported from abroad as the "Post"'s correspondent in Saigon and Moscow; served as the paper's national editor and managing editor; and is now associate editor and senior correspondent. He has written for "Esquire, Foreign Affairs, "and "The New York Review of Books," and""is the author or coauthor of six books, including "Russia: The People and the Power. "He has received awards from both the Overseas Press Club and the National Press Club. He lives in the town where he was born: Washington, D.C.
Praise For So Damn Much Money: The Triumph of Lobbying and the Corrosion of American Government…
"With bold insight and telling detail, Robert G. Kaiser raises the curtain on Washington to reveal a tragic drama in which money triumphs over principle. Here, in a single book, is the reason why our politics must be transformed."
-Robert B. Reich, former secretary of labor

"Bob Kaiser has written the real story of the breakdown of our political system. In the pages of this enormously important book, we can also glimpse a path toward reform–as a new president and Congress take office."
-Carl Bernstein

"With the keen eye of a novelist and the precision of a social anthropologist, Bob Kaiser ventures deep into the alluring if soulless world of the archetypal Washington lobbyist and returns with a vivid and unforgettable story. In some ways, So Damn Much Money is the book Kaiser has prepared his entire career to write, and we are all the better for it."
-David Maraniss, author, First in His Class

"So Damn Much Money tells you how Washington, D.C., really works. After over 40 years in Washington, Kaiser knows that if leaders lead from convictions and the people wake up to their power as citizens, we can still do great things in America."
-Senator Bill Bradley

"So Much Damn Money is an accurate and frank description of how lobbyists and money have come to run Washington. It is very much in the spirit of the great muckraking books at the turn of the 20th century."
-Representative Leon E. Panetta

"A colorful and well-reported saga of one superlobbyist and the web he was able to weave. A very timely book."
-Walter Isaacson, author, Kissinger: A Biography

"Bob Kaiser takes the reader past the clichés and caricatures of Washington, and tells a very human story. He leaves the reader with an understanding of how it is possible that American government has reached a point where it now struggles to meet our most basic challenges. Kaiser calls upon a deep understanding of Washington and a writer's gift for telling a fascinating but true story. This is an important and compelling book."
-Senator Chuck Hagel

"So Damn Much Money tells the story of how lobbyists and lobbying have hijacked American government and made Washington into an unexpected venue for getting rich. Well documented and fascinating."
-Kevin Phillips, author, Bad Money

"Illuminating . . . Kaiser's narrative skills are formidable. He can make a suspenseful story out of a twenty-five or thirty-year-old dustup over academic earmarks . . . But where So Damn Much Money really stands out is in the chapters that trace the broader trends that Cassidy's rise represented . . . If the outlines of this squalid story are familiar, the details . . . still have the power to shock, and the corrosive influence of high-powered lobbying is clear."
-Michael Tomasky, The New York Review of Books

"A timely and important read . . . The American people may not be pushing for reform of the appropriations method or the campaign finance system, but So Damn Much Money will at least show its readers why they should care. Kaiser brilliantly succeeds in illuminating the little-known ways that American policy is made, and how well-placed and well-connected people are able to profit from the holes in the American system."
-Joshua Spivak, San Francisco Chronicle

"Fascinating . . . This book will help us understand national politics."
-James Q. Wilson, The Washington Post

"Penetrating . . . Kaiser is right, and so is Barack Obama in his attempt to attenuate the corrosive links between lobbying and government."
-Norman Ornstein, The New Republic

"Robert G. Kaiser's new book could not be timelier . . . fascinating and well told."
-John W. Dean, The Boston Globe

"The biography of Mr. Cassidy is a delight . . . The twists and turns in Mr. Cassidy's career make for engrossing reading . . . Mr. Kaiser enlightens us when he shares the secrets behind a lobbyist's success."
-Matthew Continetti, The Wall Street Journal

"Kaiser knows the terrain . . . His portrayal of the lobbying boom will confirm what you probably already suspect: The craft's practitioners operate just this side of bribery."
-Andrew J. Glass, The New Leader

"Unusually good . . . [Kaiser is] an extremely fluent storyteller and an expert finder-outer . . . [So Damn Much Money] is a wonderfully complete and fair-minded account."
-David Warsh, economicprincipals.com

"Eye-opening, and a key to understand how money works in Washington–for the most part, corruptly."
-Kirkus

"In-depth and critical . . . Surely, Washington insiders will rush to bookstores to snatch up Kaiser's detailed book . . . Let's hope that some of those insiders in the brand-new administration pick up So Damn Much Money and start addressing the problem."
-Harry Levins, St. Louis Post-Dispatch
or
Not Currently Available for Direct Purchase